CLICK TO SUPPORT OUR SPONSORS

---
---
Monday, February 18, 2002
[ HAWAII'S SCHOOLS ]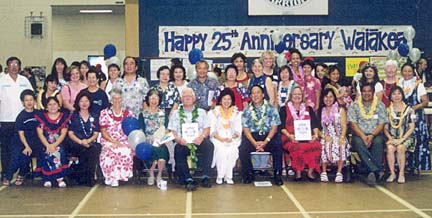 COURTESY WAIAKEA HIGH SCHOOL
Present and past Waiakea High School staff members gathered last October to share in the 25th-anniversary celebration.
---
Waiakea shines
at silver anniversary


Opening with just 385 students in
1977, the school is now one
of the largest in the state

---

By Tiffany Quillen and Brennan Takayama
Waiakea High School

Happy birthday, Waiakea High School! It's been 25 years of success and outstanding academic and co-curricular accomplishment, and on Oct. 7, Waiakea High School celebrated its silver anniversary.

When Waiakea High School first opened its doors in September 1977, it opened to 385 sophomores and 17 teachers. Since then, Waiakea has exploded to be one of the largest high schools in the state and the epitome of what a school should be.

Currently, the enrollment has decreased due to the opening of Keaau High School. Only three of the original teachers and one support staff member remain: Merle Yao, biology teacher; Corliss Yamaki, who retired but is back teaching English; Helen Kobayashi, history teacher; and Gayle Yamamoto, finance officer.

The original campus had only three buildings and two portables, which served as the office and library. There was no cafeteria, and it took another 10 years for the Warrior gym to open. School lunches were trucked over from Kaumana Elementary across town, and students ate on sidewalks, benches, stairwells and picnic tables made by students in wood shop.

The immense Waiakea campus now has 21 buildings -- including the gym, library and cafeteria -- and more than 30 portables.

In 1977, a few sports entered competition, including junior varsity football, baseball, wrestling, track, cross-country, swimming, tennis, bowling, golf, canoe paddling, volleyball and basketball.

In 1978, WHS entered varsity football, winning its first game against cross-town rival Hilo High School, 26-20. On the victorious night of Oct. 14, 1978, the mighty Warriors sang the alma mater for the first time. To date, Waiakea has claimed 17 state championships and countless Big Island Interscholastic Federation titles.

Waiakea did not know Homecoming until 1980 and instead had Spirit Week. The Homecoming flagship activities commenced with the theme "Give It All You've Got" under Queen Noelani Nobriga and King Bert Macanas. That same year, Waiakea boasted its first graduating class, and in 1981 it welcomed its first class of freshmen, finally becoming a four-year high school. The student body then consisted of 1,520 students and a faculty of 103.

In 1989 and 1995, Waiakea High School was awarded the coveted Frito-Lay National Blue Ribbon Award. In 1992 and 1996, Redbook Magazine selected it as one of America's Best High Schools. This is more than any other school in the state of Hawaii.

Since its beginning, Waiakea has had six principals: Robert Bean, John Sosa, Danford Sakai, Michael Tokioka, Patricia Nekoba and currently Judith Saranchock. It has had three principals and two interim principals in the past four years.

Waiakea High School has accomplished many things in the past 25 years. The students, faculty and alumni are proud to be a part of a school with such an incredible past behind it and such a future to come.

BACK TO TOP

---

|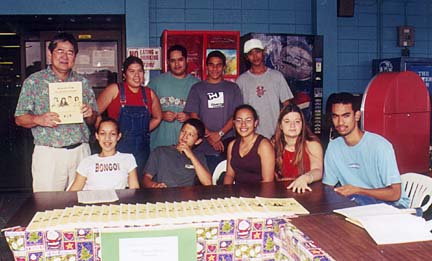 COURTESY WAIAKEA HIGH SCHOOL
Customers at Waiakea's Junior English Technologies class cookbook sale recently included Derek Kurisu, left, KTA Super Stores vice president and project-based learning supporter.
---
School puts kids
in real-world classroom


Project-based learning helps students
blend the classroom with their community

---

By Joelle Penisten
Waiakea High School

Many classes at Waiakea High School are engaged in activities involving project-based learning. These classes strive to reach content standards by hands-on research and development.

Project-based learning is integrated into the curriculum through exciting and fun projects. The first semester Junior English Technologies class marketed student-raised hydroponic lettuce under the name "Lettuce and Friends." The class also created an intergenerational cookbook, with proceeds going to the Hawaii Island Food Bank.

Students in the third quarter Junior English Technologies have provided a midday surf report over the P.A. system and are currently working on hydroponics kits for children called "Hydroponics at Home."

The Health Career Pathways class also had unique assignments, including "Keiki ID" programs in partnership with the Hawaii County Police Department, a special hand-washing lesson for elementary school students, and blood-pressure screenings for selected teachers.

The sophomore Gifted and Talented English class has also been asked by the Hawaii District Department of Education to plan and conduct the first island-wide Gifted and Talented Day, which may potentially host 1,000 students on the Big Island.

These classes are taught by Shellie Naungayan, Janet Iokepa, Gerod Victorine and other supportive faculty who have integrated project-based learning into Waiakea High School's curriculum.

Among other classes incorporating project-based learning into their programs include Marketing: Principles and Applications; Marketing: Advertising; Communication and Arts Career Pathways; Newswriting; Yearbook; and the Comprehensive Student Alienation Program (CSAP).

Project-based learning at Waiakea High has many advantages. It takes the lectures from the textbook directly into the real world.

"It is a method of differentiation; it engages the learner through application rather than pure theoretical knowledge," Naungayan said.

Secondly, project-based learning is not reserved only for certain levels of students. Instead, project-based learning appeals to all students, and is particularly beneficial for kinesthetic learners -- those who learn best through hands-on experiences.

Additionally, project-based learning offers the opportunity to work with talented community members and important companies, including Derek Kurisu, vice president of KTA Super Stores.

BACK TO TOP

---

|


ABOUT THIS PAGE

Each week, Hawaii's teenage reporters and photographers tell us about their high school. This week's school is Waiakea High School.

Newspaper: Ka Leo o Ke Koa, "The Voice of the Warrior"
Editor: Joelle Penisten
Adviser: Donna Tanabe
Next week: King Kekaulike High School


BY THE NUMBERS

Address: 155 W. Kawili St., Hilo, HI 96720
Phone: 808-974-4888
Fax: 808-974-4840
Principal: Judith Saranchock
Colors: Royal blue and white
Mascot: Warriors
Web site: waiakeahigh.k12.hi.us
Opened: 1976; celebrated 25th anniversary last October
Enrollment: 1,437 (male, 730; female, 707)

FASCINATING FACTS

Famous alumni:
>> Onan Masaoka, Los Angeles Dodgers pitcher (1995)
>> Kuualoha Taylor, former KGMB weatherperson (class of 1989)
>> Harold Kama Jr., entertainer (1986)

Awards:
>> National Blue Ribbon School Recognition (1989, 1995)
>> Redbook Magazine's America's Best High School (1992, 1996)
>> National Service Learning Leader School (2000)

Other trivia:
>> First public high school in the state to have uniforms
>> Began year-round modified schedule in 2000
>> Began block scheduling in 1996

BACK TO TOP

---

|


YOU ASKED

"By Waiakea High School's 50th anniversary, what do you plan to be doing?"

Kellen Scarla
Freshman
"I'll be living in a big, nice house with lots of nice cars with my family and have a good job."

Aaron Brown
Junior
"I plan to be supporting and raising my family, enjoying my job and life."

Alain Takane
Freshman
"I will be working at a good job in Hilo, have a family and a nice car."

Troy Milhoan
Sophomore
"I plan to be retired from my profession and support my family."

Aaron Jones
Senior
"I assume I will be a prosecutor for the state of California."

Carline Higaki
Senior
"I will be a prominent graphic artist in a design company in Honolulu."

Mandy Waiau
Freshman
"I plan to already have a family and be a pediatrician."

Howard Kim
Senior
"Working at an engineering firm in Washington."

Joelle Penisten
Sophomore
"I hope to be an investigative reporter for 'Prime Time Thursday.'"

Jason Shimazu
Senior
"Hopefully, I'll be working in a recording studio with well-known musical acts."





Click for online
calendars and events.
E-mail to Features Editor
---
---

© 2002 Honolulu Star-Bulletin
http://archives.starbulletin.com