CLICK TO SUPPORT OUR SPONSORS

---

---




Newswatch
Police, Fire, Courts
By Star-Bulletin Staff
Tuesday, February 5, 2002
---
Foreign-born local grads may get UH tuition break

Foreign students who received high school or general equivalency diplomas in Hawaii could qualify for resident tuition at the University of Hawaii under a bill that passed through the House Higher Education Committee yesterday.

The bill seeks to address the financial needs of children who have lived in Hawaii most of their lives but who have not become residents, perhaps because their parents have not been able to obtain permanent residency or citizenship.

The bill stipulates that the students qualifying for resident tuition rates must agree to seek permanent residency as soon as eligible to do so.

State, rental car industry oppose $5 daily surcharge

Maui Mayor James Apana's request for county authority to tax rental cars up to $5 a day to pay for highway improvements won approval yesterday from the House Transportation Committee.

However, it faces an uncertain fate as it advances to the Consumer Protection and Finance committees.

Apana said something needs to be done soon to improve the state's Honoapiilani Highway linking Kahului to Lahaina, a route taken by nearly every visitor to the island.

Matt Tanimoto of the state Department of Taxation said the administration opposes a county surcharge on top of the $3 daily state surcharge.

Also opposing the measure was car rental industry spokesman James Bowen, who said there is sufficient money going into the state highway fund from the state's surcharge.

UH-Manoa expansion bill on hold for more study

The state House Higher Education Committee held a bill that would have allowed the University of Hawaii-Manoa to expand the campus farther down into Moiliili.

House Speaker Calvin Say introduced the bill, which would allow the state to purchase 40 lots on the Diamond Head and Ewa sides of University Avenue. The bill said that condemning the land would greatly benefit both UH and the public by enabling the university to grow.

Noting that the university did not initiate the bill, David Morihara, director of governmental relations for UH, testified that the university supported further discussion on the bill, but with reservations.

Morihara said that the university is developing a planning process to create a college town atmosphere, but would like to work with the community to develop those ideas.

James W.Y. Wong, owner of Puck's Alley, supports the bill.

$202 million for Hawaii schools

The $50.3 billion education budget President Bush is sending to Congress includes $202 million for Hawaii's schools, $5.9 million more than the current level.

The 3 percent increase is smaller than the 4 percent to 6 percent most states would receive under the president's spending plan for 2003.

If approved, Hawaii would receive $36.9 million to help turn around low-performing schools and improve teacher quality, $3.86 million more than the current level.

The president's spending plan also includes $13.56 million in grants for Hawaii to improve the quality of teaching and raise student achievement, the same amount as the current level.

The president is asking for an increase of $1 billion, or 13 percent, next year for special education grants to states. If approved, Hawaii would receive $32.6 million of the $8.5 billion the president has requested, $3.89 million more than the current level.

Low-income college students qualifying for Pell Grants would have more money to tap into under the president's spending plan, which calls for a boost to the program that would earmark $31.4 million for Hawaii, $300,000 more than the current level.




Corrections and clarifications

The Honolulu Star-Bulletin strives to make its news report fair and accurate. If you have a question or comment about news coverage, call Managing Editor Frank Bridgewater at 529-4791 or email him at fbridgewater@starbulletin.com.








---




Police, Fire, Courts



By Star-Bulletin staff



LUCKY RETURN

---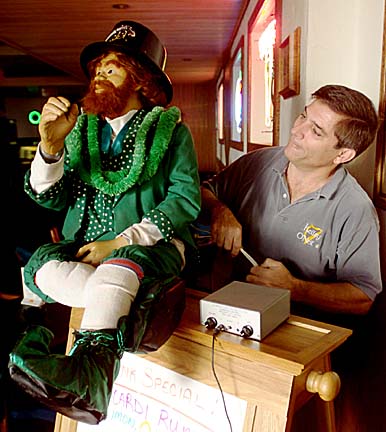 GEORGE F. LEE / GLEE@STARBULLETIN.COM
Fred Remington, vice president of Kelley O'Neil's Bar, inspected Kelley the Leprechaun for damage yesterday as it sat in its regular spot near the bar's door on Lewers Street in Waikiki after it was stolen on Sunday night. The statue was recovered by a police officer who stopped two suspects in Waikiki on an unrelated traffic offense and noticed the leprechaun in the back seat. Both men were arrested for theft, and one of the suspects also was arrested for driving while intoxicated.
---
HONOLULU

Police officer injured evading a stolen car

A police officer received minor injuries yesterday after jumping out of the way of a stolen car that was reversing toward him.

Police said the officer went to check on a report of a suspicious vehicle near the ends of Makaa Street and Hawaii Kai Drive just before 4 a.m.

The officer said when he arrived, he saw a black and a silver car parked at the end of a cul-de-sac and two or three men removing the tires from the silver car. Both cars were reported stolen, police said.

One of the men fled on foot while two others got into the black car and reversed toward the officer who was standing behind the vehicle, police said.

The 21-year-old man who fled on foot was arrested for auto theft and released pending further investigation.

Other officers pursued the black car to Kalihi before losing sight of the vehicle. It was later found near Bishop Museum.

Juvenile punching-case suspect is arrested

Honolulu police arrested a juvenile male suspect who is alleged to have punched another juvenile in the face five months ago.

Police said on Sept. 8, 2001, the suspect reached in through the passenger-side window of a vehicle parked along Salt Lake Boulevard and punched the victim's nose.

On Jan. 24, police said the victim identified the suspect in a police photo lineup.

The suspect was arrested for unauthorized entry into a motorized vehicle and released pending an investigation.

LEEWARD OAHU

Man charged in 7-hour standoff at Ko Olina

Police charged Bernaray Oili, 23, of Nanakuli with multiple charges in connection with a seven-hour standoff over the weekend outside the Ko Olina resort.

Oili is charged with several firearm violations, including the use of a firearm in the commission of a felony, terroristic threatening, reckless endangering and criminal property damage.

He is being held in lieu of $250,000 bail.

Police arrested Oili Saturday morning for allegedly shooting at and injuring his former girlfriend and another woman.

Police said Oili confronted his former girlfriend and the other woman at the Nanakuli Fastop Friday night, chased them, rammed their car from behind on Farrington Highway and fired at them on the roadway.

He fired at the women when they sought help from guards at the Marriott Ihilani Resort & Spa, striking his ex-girlfriend in the wrist and grazing the other woman in the arm, police said.

The ex-girlfriend was taken to Queen's Medical Center.

The other woman was treated at the scene and released.

Boy arrested in rampage at ex-girlfriend's house

A 15-year-old boy was arrested yesterday for allegedly breaking into his ex-girlfriend's Makaha residence and throwing a spear at the girl's father.

Police said the boy, who also lives in Makaha, broke into the home about 5:30 p.m. by pulling a screen door off its hinges.

Once inside, police said the boy threw a chair at a ceiling fan. After family members were able to get the boy out of the house, police said he threw items through the windows and a three-pronged spear at the girl's father, nearly hitting him.

NEIGHBOR ISLANDS

Man found dead in old Big Isle hotel identified

HILO >> Police have identified a man found dead Thursday in downtown Hilo as Carl Otis Johnston, 55, of no permanent address.

Johnston was found at the foot of a staircase of the old City Hotel.

He died of a fractured skull and brain injury, and foul play is not suspected, police said.




E-mail to City Desk
---
---
© 2002 Honolulu Star-Bulletin
http://archives.starbulletin.com