CLICK TO SUPPORT OUR SPONSORS

---

---
Monday, February 4, 2002
HAWAII'S SCHOOLS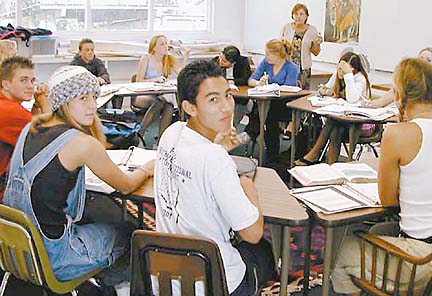 SEABURY HALL
Several students took a break recently from U.S. history lessons to peek at the camera, including, from left front, Azeo Fables, Sal Marino, Lauren Powley and Joe McFarlin.
---
Excellence is key
at Seabury


Maui students strive to succeed
in and out of the classroom

---

By Karen Stephens and Wailana Perfetti
Seabury Hall

Nestled in the lush upcountry landscape above Makawao on Maui lies Seabury Hall, an independent college preparatory school dedicated to helping its students achieve excellence in all areas.

The school was founded in 1964 as an all-girls boarding school and is now a coeducational day school serving grades 6 through 12.

Its beautifully landscaped campus affords a magnificent view of the ocean and the West Maui Mountains beyond the playing fields and horse pastures. The summit of Haleakala, too, is visible from many of the classrooms.

Seabury Hall is accredited by the Western Association of Schools and Colleges and is a member of the National Association of Independent Schools and the National Association of Episcopal Schools.

In its last accreditation report, the school was commended for "attracting a well-qualified, talented and committed faculty who are able to effectively engage their students in the process of learning." Through teamwork and collaboration, Seabury Hall teachers support students in their pursuits of excellence in the classroom, on the stage, on the playing field and out in the community.

According to Kaimana Lee, a junior who came to Seabury Hall as a freshman, this collaborative approach to education works for her: "This school encourages students to take risks. I am committed to athletics and [also] had a great experience in a play, thanks to the encouragement and help from the director. All my teachers care about my progress, and I learn actively in the small classes.

"The school helps you develop into a better version of yourself as you define your level of competence and excellence. I am not a 4.0 student, but I consider myself in the process of achieving excellence."

The importance of excellence in the classroom is demonstrated by the rigorous courses that Seabury Hall offers to its students. Advanced Placement (A.P.) courses are offered in science, foreign language, history, English, computer science and mathematics.

Last fall, Seabury learned that the valedictorian of the Class of 2001 had been selected as the sole male A.P. State Scholar as a result of taking the most A.P. courses and achieving the highest test scores of any young man in the state. Each year, Seabury Hall has several students recognized by the National Merit Competition as well.

Seabury Hall is a place set up to encourage students to explore their talents and find their passions. Talents and passions are exemplified in the selection of colleges students choose to attend upon graduation, from Stanford, Yale, Harvard and Brown to the University of California, St. Mary's College in Moraga, Santa Clara University and Claremont-McKenna, to the University of Hawaii, Hawaii Pacific University and Chaminade.

AT SEABURY HALL, students are encouraged to pursue excellence in areas beyond the purely academic. For a small school -- 250 students, grades 9-12 -- there is a wealth of offerings.

Students have the opportunity to participate in a varsity sport, become involved in any of the fine or performing arts, and volunteer their time helping a variety of community organizations including Camp Imua, Habitat for Humanity, Hospice Maui and the Food Bank of Maui. Central to Seabury Hall's school mission is the desire to "cause students to realize their responsibility to community."

Student performances in a wide variety of endeavors are always impressive. In the fall season alone, Seabury Hall's girls varsity volleyball team was undefeated in the MIL; the boys varsity volleyball team tied for fifth in the state; the girls varsity cross-country team placed second in the MIL, with sophomore Tia Ferguson coming in second at the state meet; and the boys varsity cross-country team came in sixth in the state.

"Seabury Hall's athletic successes are especially noteworthy because, even though Seabury is a small school competing against schools many times its size, it is still able to compete successfully and even win," said Dan Molin, the school's athletic director. "That shows the remarkable work ethic of its athletes."

THE HIGH QUALITY OF Seabury's dance, drama and music productions have made the school one of the leading entertainment choices for the entire Maui community.

In the fall, student performers played to packed houses in "Witness for the Prosecution" and the Christmas Performing Arts Concert.

A full array of classes in the visual arts, such as drawing, painting and sculpture, also offer students the opportunity to excel. In September the Hawaii Alliance for Arts Education honored Seabury Hall's dedication to the arts with a 2001 Arts Excellence Award. This honor recognizes schools where the arts are integrated throughout the curriculum and are a visible part of the school's atmosphere.

Seabury Hall provides the young people of Maui with a talented and dedicated faculty, a dynamic and rigorous college preparatory program and an atmosphere that encourages them to seek and pursue their passions. It is a place with heart, ever striving to define and achieve excellence.

---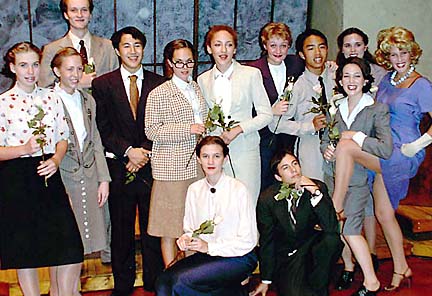 SEABURY HALL
Cast members of "Witness for the Prosecution" enjoyed playing to packed houses last fall.
---
Arts help feed the soul
at Seabury Hall

---

By Derek Prestegard
Seabury Hall

Seabury Hall's play "Witness for the Prosecution" played to packed houses for all five of its performances last fall. This is not an unusual feat for this small school's Performing Arts Department, which has some of the finest choreographers, directors and performers on the island.

As an example, Performing Arts Chairman Todd Van Amburgh was educated at Trinity College. He has been the set and lighting designer at Seabury Hall for 11 years. And during his tenure, Van Amburgh has directed more than 40 plays and has performed the leading role in more than two dozen of them. In addition, Van Amburgh has written several plays that have been performed at Seabury.

Sally Sefton-Johnoston, Seabury's acting and speech teacher, was educated at CSU Fullerton. She has taught speech and acting for more than 14 years, and has directed 30 productions at Seabury. Her most recent production, "Witness for the Prosecution," is based on an Agatha Christie murder mystery.

Erin Griffith teaches drama in the Seabury Hall Middle School. She graduated from Grinnell College, where she majored in theater. Griffith teaches storytelling and other drama classes at the middle-school level and directs both the sixth-grade play and the middle-school play.

Seabury Hall provides students with opportunities to learn from professional dancers. David Ward, who attended Jefferson School of Performing Arts, is director of the dance program. He has danced professionally all over the world, studying in New York and Europe.

Andre Morissette is another principal dance instructor at Seabury. Morissette has performed in many places, including Canada, the United States and Europe. With extensive training in Montreal, he is an influential part of Seabury's arts department. Ward and Morissette also established the Maui Dance Alliance in 1988 and have won awards for their choreography.

Vanessa Cerrito, a newcomer to Seabury's Dance Department, offers ballet classes. Her choreography, Ward's and Morissette's, along with various student pieces, are always performed at the Spring Dance Showcase. This performance is always sold out.

The Visual Arts Department at Seabury Hall also has a dedicated and talented faculty. Lenda McGehee and Kathleen Barber are its principal art teachers. McGehee attended the University of Santa Barbara in California, and the University of Hawaii at Manoa. She has worked as a professional artist for more than 20 years, and her work has been exhibited throughout the United States and Japan. She has been teaching art at Seabury for four years. Under McGehee, students learn drawing, design, sculpture, art history and interdisciplinary art.

McGehee said one goal of her department is to branch out and make art more of an interdisciplinary subject: "We are interested in working collaboratively, within and without of the classroom."

Barber was educated at University of Victoria, and has a M.Ed. in art education. She has been at Seabury for 13 years, teaching drawing, painting, advanced-placement art, printmaking and figure drawing. Barber said she "hopes to see students get involved in art on a community level, to instigate community art projects and inspire the love of art in the community."

While arts classes at Seabury Hall are mandatory for graduation, Barber said she feels that once a student takes one of the arts classes, they find they learn something about themselves.

"Art is essential to the human spirit," she said, adding, "The soul thrives on creativity. Why else are we not able to keep from decorating our tools, our clothing and other things?"

Seabury also has an excellent music department, offering both choir and band. Stephen Haines directs the Seabury upper- and middle-school choruses, as well as a chorus at Keawalai Congregational Church in Makena. He is also an accomplished pianist and singer.

Lisa Owen teaches middle- and upper-school band, as well as a music theory class. She plays tuba professionally in various local bands.

Although the Performing Arts and Visual Arts departments have traditionally been separate, changes are afoot this year. McGehee's sculpture students and the Dance Department have created a "Paper & Movement" piece that will be performed at the spring concert at the Seabury Hall Performing Arts Studio.

---

YOU ASKED

Why do you go to a college preparatory school?

Kauila Rivera
Senior
"So I can obtain excellent education and hopefully can attend a great college that will prepare me for life."

Justin Davis
Senior
"To be financially safe forever."

Adam Michaud
Senior
"So I can gain all the tools that will help me be successful in college."

Michael White
Senior
"To get the foundation that I need for an awesome college career."

Kyle Niehaus
Junior
"Because I enjoy the diversity and equanimity among the students."

Sommer Tulius
Sophomore
"Because I feel it will create more opportunities for me throughout my life."

Paul Eisenberg
Senior
"Because it is the first step of my life plan. I also feel that education is the best asset that we can earn."

Jesse Mercado
Sophomore
"So I will be prepared for college."

Soo Lee
Junior
"Why not give yourself an early opportunity and start in the many things that will come to be important to you later?"

Bethany Brady
Sophomore
"Because it not only prepares you for college, but it introduces you to life. You have to push yourself and find out about things you wouldn't necessarily find out about in other schools."

---

ABOUT THIS PAGE

Each week, Hawaii's teenage reporters and photographers tell us about their high school. This week's school is Seabury Hall on Maui.

Newspaper: Seabury Tides
Editor: Wailana Perfetti
Faculty adviser: Susan Pirsch
Next week: Iolani School
About Seabury Hall on Maui
Address: 480 Olinda Road
Makawao, HI 96768
Phone: 572-7235
Admissions: 572-0807
Web site: www.seaburyhall.org
Founded: 1964
Accreditation: Western Association of Schools and Colleges through June 2003
National Recognition:
>> Blue Ribbon Award, US Department of Education
>> Cum Laude Society
>> Horatio Alger School of Excellence
Headmaster: Joseph Schmidt
Head of Upper School: Lou Young (grades 9-12)
Head of Middle School: Lehn Huff (grades 6-8)
Dean of Students: Steve Colflesh

A FEW FACTS

Colors: Red, white and blue
Nickname: Spartans
400: Students
51: Teachers and faculty
100: Percent of class of 2001 accepted to college
90: Percent of students scoring 3 or above on A.P. tests, spring 2001





Click for online
calendars and events.
E-mail to Features Editor
---
---
© 2002 Honolulu Star-Bulletin
http://archives.starbulletin.com