CLICK TO SUPPORT OUR SPONSORS

---

---
Monday, February 4, 2002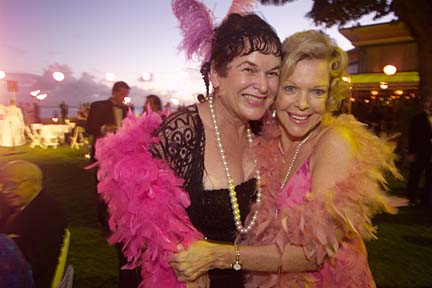 DENNIS ODA / DODA@STARBULLETIN.COM
Gaye Glaser, left, and Joan Andersen were full of feathers Friday night at the Royal Hawaiian Hotel's 75th-anniversary celebration. They took to heart the invitation to come dressed in 1920s-period clothes as a remembrance of opening night, Feb. 1, 1927.
---
Royal reflections


The Royal Hawaiian was pretty
in pink for a 75th birthday party

---

By Burl Burlingame
bburlingame@starbulletin.com

It was one of those oh-look nights, as in, "Oh look, isn't the Royal Hawaiian pretty tonight?" Or "Oh look, there are vintage automobiles pulling into the hotel's porte-cochere!" Or "Oh look, there's the Royal Hawaiian Band playing on the beach." Or "Oh look, isn't that TV producer Al Masini -- yes, THAT Masini -- looking spiffy in a bow tie and tux?"

The event was a kind of re-creation of the Royal Hawaiian Hotel's opening night 75 years ago. As the hotel enters another quarter-century, the management felt it was time to look back while preparing for the future.

The theme was the 1920s, and a very Gatsby vibe it was, too. Men in black tuxes (some with top hats) and women in bosomless shifts with long strings of pearls. Twenty-three-skidoo! There were re-creations and restorations of '20s fashions parked on mannequins about the lobby, as if the moment were frozen in time, like amber.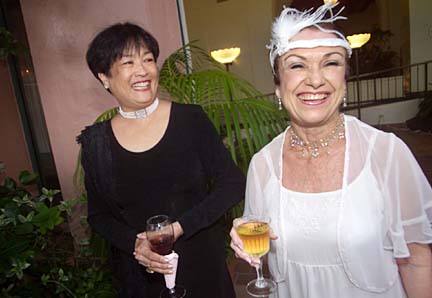 DENNIS ODA / DODA@STARBULLETIN.COM
Ginny Lloyd, right, was chairwoman for the big party Friday night, but she had time to enjoy the event, sharing a drink with friend Anne Wright.
---
Oh look, isn't that Mary and Sam Cooke -- yes, THOSE Cookes -- sitting there beaming?

"It's magnificent," Mary Cooke said. "It has the feel and ambience of Hawaii in that time."

Sam Cooke said: "It reminds me of when I went to work here as the night auditor in 1950, and I lived right on the grounds. What a great place to be. People would come then and stay two or three months. You'd see Johnny Weismuller, Bing Crosby, Clark Gable, the Guggenheims wandering around the beach.

"The people who worked here were such individuals, I remember them to this day," Sam Cooke said, and named a couple of dozen.

Oh look, isn't that Burda Atherton -- yes, of THOSE Athertons -- gazing fondly at the strung Chinese lanterns that are raining a soft glow on the hula dancers?

"I was here the night of Dec. 6, 1941, at a dance event, and it was so late, we almost stayed the night," Atherton recalled. "It was beautiful. It was just like heaven, at least the way I want heaven to be. As youngsters we came here all the time to dance. There was no cover charge, no minimum drink order, and the band was always wonderful. And it was the most romantic place on Earth. I don't know how many times I fell in love here!"

The band stopped playing on the beach lawn, and the guests began to move inside for dinner and more entertainment. It was a full house, said the hotel's B.J. Whitman. More guests continued to arrive.

On look, isn't that the Watumulls -- yes, THOSE Watumulls -- alighting grandly from a shining cream-and-burgundy automobile? The car gleamed like a treasure under the lights, but it's hard to place.

"Gotcha," said owner and driver Arthur "Tuffy" Medeiros. "It's a Riley 2.5-liter Drophead Coupe, built in England in 1950. But it's just right for events like this."

Burda Atherton was gazing dreamily at the sky as the guests rose and posed in the scented evening. "The only thing that's missing is a full moon," she whispered. "That would make it perfect."

You read it here first: So there is at least one thing the Royal Hawaiian can't arrange.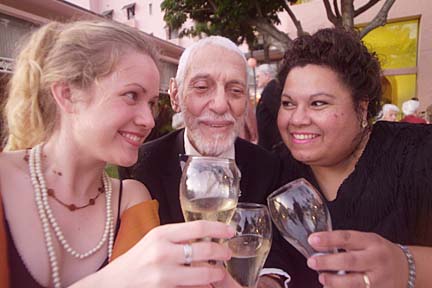 DENNIS ODA / DODA@STARBULLETIN.COM
Above, Bill Tapia, 94, performed when the Royal opened in 1927. He shared a toast with niece Alyssa Archambault, left, and Delia Broughton, a granddaughter-in-law.
---
---

Musician Bill Tapia takes
a trip down memory lane
as an honored guest

---

By Burl Burlingame
bburlingame@starbulletin.com

Already a musician with several professional years under his belt, Bill Tapia was 19 and playing banjo with Johnny Noble's band at the grand opening of the Royal Hawaiian Hotel three-quarters of a century ago. Friday, he was an honored guest at the hotel's birthday bash.

How did the events compare?

"Oh, the one in 1927 was better because everyone in town was there, and everyone was just dressed to kill," recalled Tapia, now 94 and a California resident. "Wall-to-wall tuxes and elegant dresses. It was the best-dressed group I'd ever seen in my life, and we played our hearts out for them."

He listened appreciatively to the Royal Hawaiian Band and called them "a good bunch of musicians."

"Our band wasn't nearly so large -- eight pieces," he said. "I played banjo and ukulele, Hawaiian and popular songs. It was the Roarin' '20s, you know? 'Five-foot-two, eyes of blue, has anybody seen my gal?' Local songs like 'Royal Hawaiian Hotel,' of course. Everyone danced. Everyone!

"The hotel is just as nice now as it was then, but then it was the biggest thing in the islands. Being here brings back memories of those days," he said.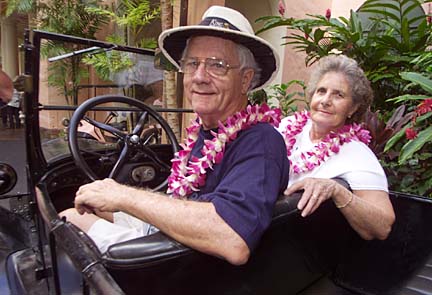 DENNIS ODA / DODA@STARBULLETIN.COM
Robert and Jermaine Thompson arrived at the party in their 1926 Ford Model T.
---
He was hired by the hotel in 1933 as a "musical driver." Of the 12 touring cars and drivers kept on call by the hotel, five were "musical," catering to the charms of movie stars and celebrities.

"We'd pick up a load of guests and caravan them to a scenic location like the Blowhole or Punaluu or the Pali lookout, and then the drivers would pull out musical instruments and entertain them on the spot.

"We'd also pick them up from the steamers on Boat Day and deliver them to the hotel. The grounds were so large then and so beautiful. When we'd enter the grounds, the guests would shout out in wonder at what they were seeing. They'd scream and rave! It was so much fun.

"We only drove Cadillacs and Packards, of course. My Packard was yellow and blue, seven-passenger. They borrowed it to drive President Roosevelt around when he visited. We had to keep it spick and span, and I had a devil of a time cleaning up lei petals between trips."

The war came and, smelling opportunity, Tapia created his own orchestra and played for the duration. "We used to call the old Civic (Auditorium) the Blackout Ballroom," he chuckled. "We had to memorize our charts, and folks danced in total darkness." One of the youngsters playing with him was Gabe Baltazar.

After the war, Tapia went to where the music was: California. He's been there ever since.

"Come to think of it, this party IS better than the one in 1927, at least for musicians," Tapia said after reconsideration. "We didn't get dinner in 1927. This time, I got fed!"





Click for online
calendars and events.
E-mail to Features Editor
---
---
© 2002 Honolulu Star-Bulletin
http://archives.starbulletin.com