CLICK TO SUPPORT OUR SPONSORS

---

---


Whatever
Happened...
An update on past news
Saturday, February 2, 2002
---
GEORGE F. LEE / GLEE@STARBULLETIN.COM
It's never quite bedtime for a 7-year-old, especially for Alyshia Shimizu, as she bounced from bed to bed Tuesday night in the family's Ewa home. Mom Annette and sister Angelica were also in the room.
---
Alyshia, 5-year-old beset
by flesh-eating bacteria,
is doing well

---

By Rosemarie Bernardo
rbernardo@starbulletin.com

Question: What ever happened to Alyshia Shimizu, the 5-year-old child afflicted with a flesh-eating bacteria two years ago?

Answer: Anthony Shimizu, Alyshia's father and a police officer in the East Honolulu patrol district, said: "She's doing great. She's gaining all her weight back and getting back to her defiant self."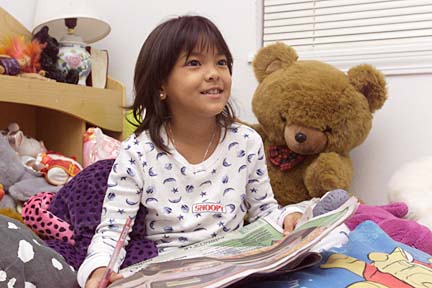 GEORGE F. LEE / GLEE@STARBULLETIN.COM
Two years ago, Alyshia fought a battle with flesh-eating bacteria. Now she's recovering well.
---
"There's nothing she cannot do. ... She falls down, but she gets right back up and keeps going," said Shimizu, adding that his daughter spends time riding her bicycle, Heelys and Razor scooter.

Alyshia contracted the flesh-eating bacteria when she fell in the garage of her Wahiawa home in June 2000. Alyshia cut her knee after she fell from a clothesline that broke. Though her cut was cleaned and stitched, it later became infected and developed into a flesh-eating disease called Necrotizing fasciitis.

Alyshia lost more than 33 percent of skin tissue before doctors stopped the spread of the disease. Scarring extended from her right calf up her leg, under her right arm and down the middle of her back and chest.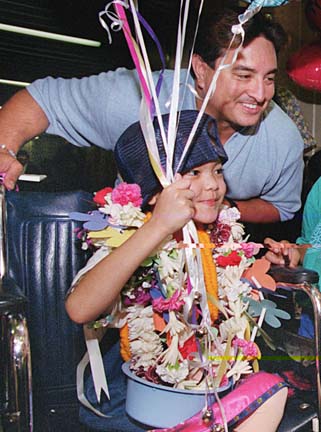 GEORGE F. LEE / GLEE@STARBULLETIN.COM
Alyshia at 5 years old with her father, Tony, shown returning home in August 2000 after she received treatment in California.
---
"The scars will never go away. I tell her it's OK," Shimizu said.

Alyshia had two surgeries at Kapiolani Medical Center, where doctors removed the dead tissue. She and her mother, Annette, flew to Shriners Hospital in Sacramento, Calif., where she underwent skin grafts to replace skin on her legs and torso.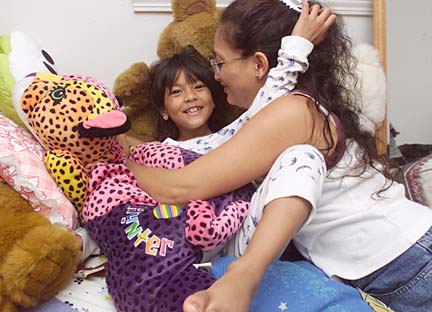 GEORGE F. LEE / GLEE@STARBULLETIN.COM
Mom Annette Shimizu had a time putting 7-year-old Alyshia Shimizu to bed for the night in the family's Ewa home on Tuesday.
---
Alyshia, now 7, is expected to undergo skin grafts until she is 18 years old because of growth spurts which cause the scar tissue to tighten.

The Shimizu family now lives in Ewa, where Alyshia attends Ewa Elementary School as a second-grader. Also, the Shimizus have welcomed a new addition to the family, 1-month-old Alexander.

Since Alyshia overcame the disease, Anthony Shimizu and his family continue to live each day to the fullest.

"Tomorrow may never come. We live every day to the max," he said. "Our family has gotten stronger through this."

---




Ever wonder what happened to a person, event or issue
that has been in the news? We'll try to find out
for you if you call the City Desk
at 529-4747, email to citydesk@starbulletin.com or write us at
500 Ala Moana Blvd., Suite 7-210, Honolulu, HI 96813.
E-mail to City Desk
---
---
© 2002 Honolulu Star-Bulletin
http://archives.starbulletin.com