CLICK TO SUPPORT OUR SPONSORS

---

---
Saturday, February 2, 2002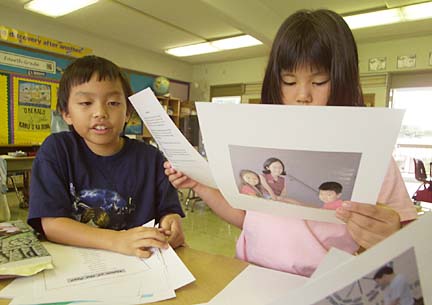 DENNIS ODA / DODA@STARBULLETIN.COM
Hongwanji Mission School fourth-graders Troy Marumoto, 10, and Lauren Ikeda, 9, reviewed their class's just-completed book on Thursday. The students interviewed Hongwanji Mission School alumni for the book project, which includes photos and student drawings.
---
Full circle at ... 100


A small Buddhist school in
Nuuanu celebrates its past

---

By Mary Adamski
madamski@starbulletin.com

Richard Kaichi said he looked up to see Japanese fighter planes zipping overhead while he played volleyball in the schoolyard.

"We were playing before Sunday school, and we thought it was just practice flights until we saw black smoke," he told students at his alma mater.

What the 15-year-old boy had seen was the beginning of World War II.

It was also the end of the school he'd attended for 10 years, the Japanese Language School, which had been operated by Honpa Hongwanji, a Buddhist temple. The political climate of the times forced the closing of Japanese schools and cultural events.

The school was reopened in 1949 in a reincarnation as Hongwanji Mission School. The private school, still affiliated with Honpa Hongwanji Betsuin Hawaii, now has about 300 students in preschool through eighth grade. Its small Nuuanu campus is also home to Fort Gakuen Japanese Language School -- now with 80 after-school language students -- which will celebrate its 100th anniversary this year.

Next year, the facility will begin expansion into middle and high school as the Pacific Buddhist Academy offers its first ninth-grade class.

But that's present and future. It's the past that interested Scott Bowling's fourth-grade students when they interviewed Kaichi and other alumni. The tales of small-kid times will be published in "Alumni of the Past," a class project offering glimpses of history, nostalgia and even an element of mystery.

"It's an enrichment activity," said Vice Principal Teddi Yagi.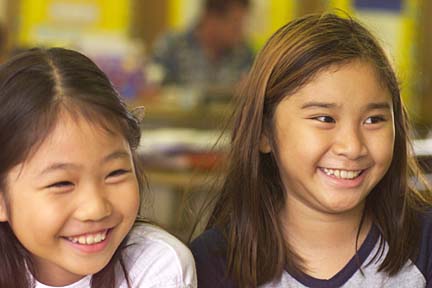 DENNIS ODA / DODA@STARBULLETIN.COM
Rachel Matsuoka, left, and Brandi Kong smiled as they recalled interviews with Hongwanji Mission School alumni for their class book project.
---
Each class prepares a book that is printed on the mainland each year as a keepsake. Work by each student is included in a class volume which may be a compilation of essays or poetry, often with a particular theme.

"It's a great project," said Bowling, who came from Arizona and is in his first year at the school. "It's authentic, it sharpens the kids' oral skills and is a way to practice writing."

Considering their age, it isn't surprising that the 13 contributing authors weren't awed at the historic content of the adults' stories.

"I think it is difficult for them to relate to the past," said Kaichi, a retired schoolteacher.

They were very focused on the environmental changes, the facts that a classroom wing wasn't there yet and there was no roaring river of Pali Highway traffic then, just the trickle of Nuuanu Stream -- which is now contained in an underground tunnel.

Kaichi said he used to climb to the roof of the former wooden schoolhouse and look down into Nuuanu Stream, a memory that inspired Nolan Higa to draw an illustration for the book.

Lea Feldhuhn and Jay Kishi had a brush with history, too, just by interviewing octogenarian Sumiko Yanagisako, who attended from 1919 to 1932. They didn't record her age, but their report did remark that Yanagisako drove herself to school for her interview.

"She said it was very strict," said Lea. "They had to wear uniforms."

And Yanagisako remembered that there was "a Chinese house with chickens in the yard" next to school.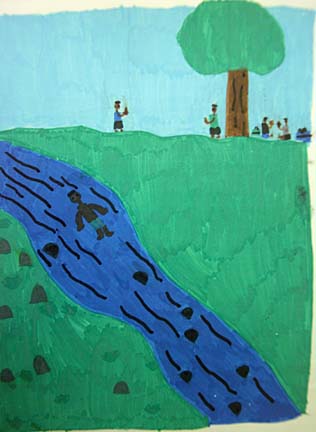 DENNIS ODA / DODA@STARBULLETIN.COM
Hongwanji Mission School fourth-grader Devin Furutani drew this scene after talking with alumnus Scott Long, who recalled his favorite field trip was to a park in Nuuanu because "he would play in the water, which is now polluted."
---
Dentist John Kotake told Brandi Kong and Rachel Matsuoka about a favorite extracurricular activity, watching "Mickey Mouse" cartoons projected on a screen in a building next to class. The girls frowned in disbelief when told that the movies were special because, during Kotake's 1950s schooldays, kids didn't have televisions at home.

Not to accuse adults of putting a spin on their schooldays, but, as Rachel reports, Kotake "said if he was in school now, he would try to do better work."

And not to accuse a politician of playing to his audience, but, as Lea reports, state Rep. Dennis Arakaki (D, Kamehameha Heights-Kalihi Valley), 1951-58, told her "kids have changed because they dress nicer and are more independent and smarter."

Scott Long's 1962-64 memory of swimming in nearby Nuuanu Stream during field trips to a park inspired Devin Furutani to paint a colorful illustration for the book.

"I think it was better in the old days," said Devin. "I couldn't do that now. It's polluted."

But he agreed these are good days, too, as he and Kelsey Hamaguchi described a North Shore field trip to the James Campbell Wildlife Refuge and the natural history museum at Brigham Young University-Hawaii.

The note of mystery came in an interview by Mahealani Reyes and Tyler Yamasaki-Kawamura. The alumnus wanted to share his memories, but he didn't want to be identified. Indeed, he required questions to be faxed in advance and his interview to be off campus. The teacher played along, taking a photograph of the back of Mr. X's head as he was interviewed.

"He's a grandpa," said Tyler, who knows his name but is respecting the request for anonymity.

Mr. X attended the Japanese language school from 1927 to 1934.

"He is glad he learned Japanese. He can speak and read a little."

There are no shocking revelations in Mr. X's report -- which makes a reader wonder why the mystery about elementary school experiences.

Some interview subjects are now teaching at their alma mater, including kindergarten teacher Miki Moriguchi, whose memories included the Junior Police Officers field trip to Disneyland and experiencing Hurricane Iwa.

Alan Muraki, 1957-1964, now a Boy Scout leader, told his interviewer that "his worst thing he remembers was when President Kennedy was assassinated," said Troy Marumoto, who may find the events of Sept. 11 similarly seared into his memory.

Christie Gibo's tale of the Hokule'a "parked in front of school" and navigator Nainoa Thompson speaking to students about the voyaging canoe's historical journeys is backed up with a 1988 photo. And Trisha Ogimoto conjured up the kite contests of old when "my brother's one would always be one of the nicest, but it could never fly."

It was the field trips, rather than classroom experiences, that intrigued students Bryson Mitsui and Lyndsey Sawa. And several alumni told of the school's annual humungous luau, for which, they said, fathers put as many as 40 pigs into an imu on the grounds and mothers chopped fish and vegetables for the lomilomi salmon and steamed coconut for haupia in the school cafeteria. Morris Moribe, 1962-69, had a graphic memory of the "salty crispy skin" when the meat came out of the imu.

No such fond memory of the major cooking event was expressed by Aunty Edie Koomoa, cafeteria manager for 30 years, who was interviewed as an honorary alumna.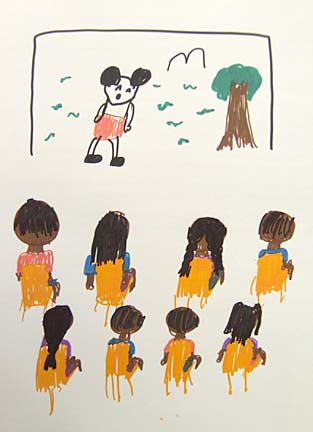 DENNIS ODA / DODA@STARBULLETIN.COM
This drawing showing students with Mickey Mouse was done by Hongwanji Mission School student Rachel Matsuoka.
---
The luau is a thing of the past, and the May Day Festival -- an extravaganza that grew so it was staged at nearby Kawananakoa Intermediate School -- has been whittled down.

But the days of fun activities aren't over, said Lauren Ikeda. "We just had our carnival.

"All the classes made one game. This class made a sponge throw."

Hongwanji Mission School maintains its Buddhist character, observing St. Shinran Day on Jan. 16 and Buddha Day April 8 among its holidays. Students march to the Honpa Hongwanji temple one day a week for religious instruction, now linked by a tunnel under the busy highway that separates them.

Japanese language is a facet of education, as it was for the previous generations. The school's extensive Web site, www.hongwanjihi.org, states, "Recognizing that we live in a world of global interdependence, students from K-8 study Japanese as a foreign language."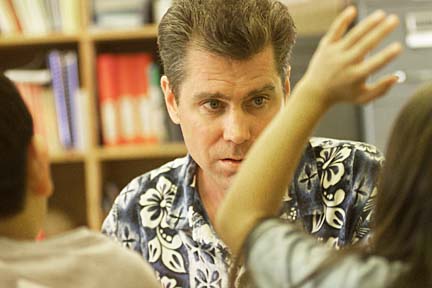 DENNIS ODA / DODA@STARBULLETIN.COM
Fourth-grade teacher Scott Bowling, whose Hongwanji Mission School students interviewed alumni for a class book project, interacted Thursday with his pupils.
---
The children unknowingly are linked to the alumni as they recite the "Golden Chain of Love" at the beginning of each day: "I am a link in Amida Buddha's golden chain of love that stretches around the world. I must keep my link bright and strong.

"I will try to be kind and gentle to every living thing and protect all who are weaker than myself. I will try to think pure and beautiful thoughts, to say pure and beautiful words, and to do pure and beautiful deeds, knowing that on what I do now depends not only my happiness or unhappiness, but also those of others.

"May every link in Amida Buddha's golden chain of love become bright and strong, and may we all attain perfect peace. Namo Amida Butsu."





Click for online
calendars and events.
E-mail to Features Editor
---
---
© 2002 Honolulu Star-Bulletin
http://archives.starbulletin.com