CLICK TO SUPPORT OUR SPONSORS

---

---

Local Color



Sunday, January 27, 2002
BY SUZANNE TSWEI
---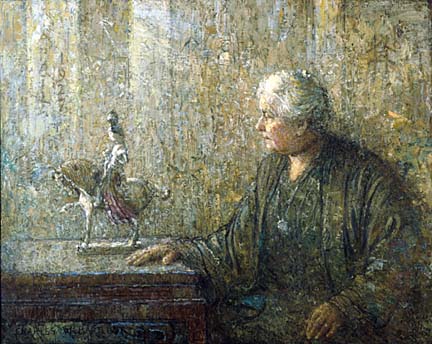 Anna Rice Cooke, painted in an oil on canvas by Charles W. Bartlett, almost single-handedly established the Honolulu Academy of Arts 75 years ago.
---
The matriarch who made art
education her mission

---


There are ladies who lunch, and then there was Mrs. Charles Montague Cooke, who, to be sure, did lunch as was expected of a woman of her wealth and social ranking, but also accomplished great things when she wasn't eating lunch.

Better known as Anna Rice Cooke, her name is synonymous with art in Hawaii. She was a lover of art, a friend to artists, an avant-garde art patron, an eclectic collector who had a particular fondness for Asian objects, and a visionary who wanted to create a unique museum in Hawaii.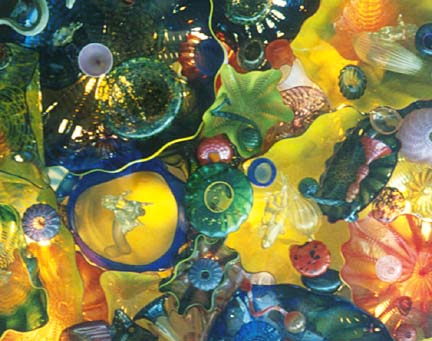 Cooke envisioned a multicultural museum, and the academy has become that. A blown glass piece by Dale Chihuly is titled "Reef."
---
Cooke didn't want a sterile space where people came to gawk at great works of European art on the wall, which was typical of museums of her day 75 years ago. She wanted a multicultural and educational museum reflective of Hawaii's many racial communities.

"Education was always her mission," said Anna Derby Blackwell, a great-granddaughter named after Cooke. "She wanted the children of Hawaii, who are so far from the centers of art, to know the roots of their own cultural heritage."

When the Honolulu Academy of Arts opened on April 8, 1927, Cooke noted in her dedication speech that she wished for Hawaii's children of different cultures to find commonality through art and that they "may perceive a foundation on which a new culture, enriched by the old strains, may be built in the islands."

Cooke practiced what she preached. She personally put art before schoolchildren with the help of her granddaughter, Dora Cooke Derby, Blackwell said.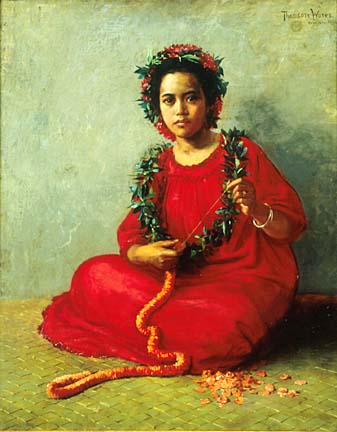 Theodore Wore's 1902 portrait of Lizzie Victor is called "The Lei Maker."
---
Arriving in a limousine with a picnic lunch, Cooke would pick up Derby, who worked at the museum's education department, and the two would go to rural schools with selections from the museum's latest acquisitions.

"They'd go visit two or three schools in a day. They'd show the kids the new artwork and answer questions about them. It was really an informal lending library before there was a lending library," Blackwell said.




Founder's Day Celebration

Observing the 75th anniversary of the Honolulu Academy of Arts
Place: Honolulu Academy of Arts, 900 S. Beretania St.
Date: April 14, noon to 5 p.m.
Admission: Free
Call: 532-8700




Cooke's interest in education perhaps grew out of her childhood experience with art. Born the youngest of five children to New England missionaries, William Harrison Rice and Mary Sophia Hyde, Cooke learned about art through her brother-in-law Paul Isenberg.

Isenberg, a young German immigrant, talked often of his boyhood in Europe and shared with Cooke his album of Dresden museum masterpieces.

In 1874, when she was 20, she married the son of a prominent missionary family, and the couple moved from Kauai to Honolulu. He found financial success in a hardware business as Honolulu was undergoing a building boom. The wealth allowed Cooke to pursue her art interest as well as philanthropic deeds.

"She became very educated in the arts. She developed a grand eye for art," said Stephen McClaran, a retired naval commander and a museum volunteer docent who researched Cooke's life.

"She really studied for it, and she always sought advice from others. From what I read, she was a very good judge of character, also. She knew which dealer she could trust," McClaran said.

For a wealthy woman, Cooke was neither ostentatious nor "stuck up," he said. She was soft spoken and reserved, preferring not to be the center of attention.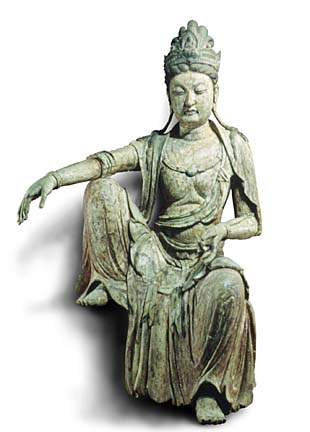 A Kuan-Yin statue from the Sung dynasty.
---
Her husband died in 1909, and Cooke continued to collect art, eventually receiving a charter in 1922 for the museum to be built on the site of the Cookes' home on Beretania Street.

The museum opened when she was 72, with more than 5,000 pieces of art from her personal collection. Her collection of Korean celadon pottery was especially admired at the time and remains in high esteem among similar holdings in American museums. Her generous endowment also began the museum on financially sound footing.

"She must have had nerves of steel to achieve this kind of thing. She established an art museum, a full-blown art museum, almost single-handedly. She achieved something quite extraordinary," McClaran said.

Cooke died in 1934, just short of her 81st birthday.

---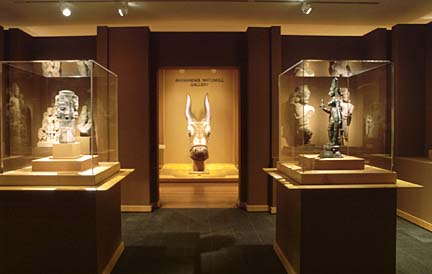 The renovated Indian art gallery is among a series of expansions and remodeling at the academy.
---
Museum recalls roots
in 75th-anniversary bash

The 67,500 square feet of land under the Honolulu Academy of Arts cost a royal sum of $2,000, plus $5 for paperwork, when King David Kalakaua granted it to Anna Rice Cooke on March 5, 1880.

The parcel occupying an entire city block on Beretania Street remains the same size to this day, but its building has changed substantially. The first structure was the Victorian-style home Cooke shared with her family. It was torn down to make way for the museum.

Prominent New York architect Bertram Goodhue was hired to design the museum. He died before completion of the job, and another noted architect, Hardie Phillip, was enlisted. The building design, incorporating Asian and Mediterranean influences, has made the museum a Honolulu landmark, winning awards and being imitated many times over.

The museum structure has doubled in size since its opening on April 8, 1927. Under current Director George Ellis, the museum underwent a recent ambitious $16 million expansion to include new galleries, a cafe and a gift store. The museum, with many renovations, now totals about 26,000 square feet under roof.

The 32 galleries feature a nearly encyclopedic art collection of various historical periods and regions of the world. Its Asian art collection is particularly noted for its quality.

In honor of Cooke, and to mark its 75th anniversary, the museum will host an April 14 celebration recreating the original opening-day festivities. Admission will be free, and the museum will open an hour earlier, from noon to 5 p.m.

The Royal Hawaiian Band, Kamehameha Schools Choir and other performing artists will be among the entertainers. A highlight of the musical program will be the performance of "Haaheo Kilohana Ika La'i," a song especially written for the original opening by Mary Jane Montano (words) and Bina Mossman (music).

Cooke's symbolic presence will be marked by her wheelchair, a Ming dynasty chair fitted with wheels. It will be placed at the entrance and draped with a strand of ilima lei. The royal deed granting her the land will be on display at the entrance, also.

"The Flower Ladies," a volunteer group devoted to creating floral arrangements for the museum since it opened, will put up kahili-like arrangements similar to those made for the original opening.

Artwork with a birthday-cake theme created especially for the celebration by Hawaii artists will be shown throughout the museum. Birthday cards made by children also will be on display. The museum's education department will hold gallery games, including identify-that-art scavenger hunts, and children will take home a keepsake activity book.

A giant birthday cake -- of the nonedible variety made of plywood and other materials -- will be constructed on the front lawn. Edible cakes and punch will be passed out to visitors until the supplies run out.





---




---

Suzanne Tswei's art column runs Sundays in Today.
You can write her at the Star-Bulletin,
500 Ala Moana, Suite 7-210, Honolulu, HI, 96813
or email stswei@starbulletin.com
E-mail to Features Editor
---
---
© 2002 Honolulu Star-Bulletin
http://archives.starbulletin.com