CLICK TO SUPPORT OUR SPONSORS

---

---
Tuesday, January 22, 2002
STAR-BULLETIN / DECEMBER 2001
This traffic camera at the intersection of Punchbowl Street and Vineyard Boulevard, designed to catch red-light violators, is one of two ready to be activated.
---
Automatic red-light
cameras set to go


Pali-School and Vineyard-Punchbowl
monitoring may begin by next week

---

By Nelson Daranciang
ndaranciang@starbulletin.com

State Department of Transportation officials are hoping to activate red-light enforcement cameras at two Honolulu intersections by the end of next week but are not sure what kind of reception they will get from motorists.

The department has not had much feedback on the red-light cameras, said DOT spokeswoman Marilyn Kali, but it did not get much feedback on the speed enforcement cameras prior to the start of that program either.

Since speeding citations started to be issued earlier this month, angry motorists have yelled at camera operators in their vans, thrown things at them, swerved at them and made obscene gestures, Kali said.

"I didn't expect this for the speed (enforcement)," Kali said.

Republican state lawmakers are asking the state to scrap the program or at least amend it. And Honolulu Mayor Jeremy Harris has informed the DOT that he does not want the speed enforcement cameras on city streets.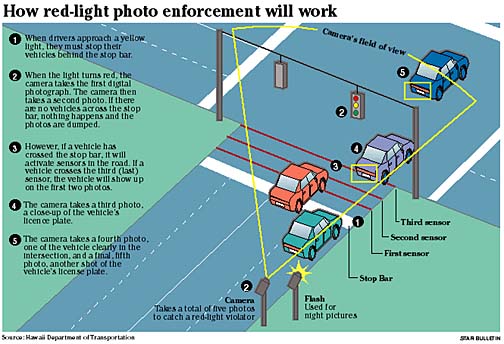 "I think there needs to be a degree of discretion involved," Harris said last week. "I think police officers are much better able to do that, and traffic-calming measures that the city is putting in all over the island that will change the engineering of the streets to bring the speeds down, not perhaps creating more safety problems with this traffic camera system."

Harris, however, does support using traffic cameras to catch drivers who run red lights.

The first two intersections slated to have the red-light enforcement cameras are Pali Highway and School Street, and Vineyard Boulevard and Punchbowl Street.

State officials say they have yet to decide whether there will be a warning period for the red-light cameras as there was with the speeding cameras. The state issued warning citations for a month until Jan. 2 when actual tickets started going out to speeders caught by the cameras.

Unlike the speed cameras, which require an operator and are mobile, the red-light cameras are automatic and stationary, mounted on a separate pole.

When the traffic light turns red, it activates magnetic sensors in the roadway to detect vehicles entering the intersection. The vehicle will need to cross three sensors to be cited. The fine is $77, and the infraction will appear on the driver's abstract of the vehicle's registered owner, potentially affecting insurance rates.

State and city engineers are working out details for providing a separate power source for the cameras.

Cameras at eight other intersections will be activated as soon as their design and plans are completed, Kali said.

The other intersections are at Likelike and Kahekili highways; H-1 Exit 18 East and Middle Street; Nimitz Highway and Kalihi Street; Kunia Road and Kupuna Loop; Kalanianaole Highway and Ainakoa Avenue/Waikui Street; Farrington Highway and Nanakuli Avenue; Fort Weaver Road and Aawa Drive/Old Fort Weaver Road; and Kamehameha Highway and Pali Momi Street.
E-mail to City Desk
---
---
© 2002 Honolulu Star-Bulletin
http://archives.starbulletin.com