CLICK TO SUPPORT OUR SPONSORS

---

---
Tuesday, January 22, 2002
Samoan students get taste
of UH opportunities

---

By Treena Shapiro
tshapiro@starbulletin.com

In 1993, entertainer Latai Loa was in a car accident that broke his neck and has forced him to use a walker and a wheelchair since.

The high school graduate worried about going back to school and people's reactions.

But today, he holds a degree in welding and sheet metal from Hawaii Community College on the Big Island and is in his last semester of the college's drafting program. He has the highest grade-point average among Samoans and is vice president of the student government.

The 32-year-old flew to Oahu yesterday to attend the Samoan Scholarship Program at Leeward Community College to help convince Samoan middle and high school students that they can achieve their goals through higher education, too.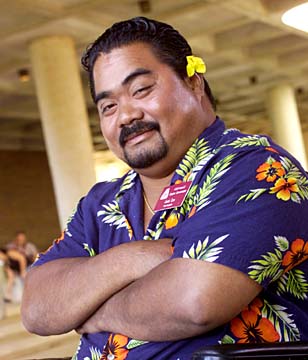 FL MORRIS / FMORRIS@STARBULLETIN.COM
Hawaii Community College student Latai Loa urged students yesterday to continue on to higher education.
---
"Plenty of people think they cannot do it," he said. "I just want to let everyone know that if I can do it, anyone can do it."

About 285 Samoans attended the conference, which featured workshops on applying for admission and financial aid in the University of Hawaii system and testimony from Samoans who have already achieved success.

The culminating event was the presentation of a $10,000 check to start a Samoan Scholarship Fund at the UH Foundation.

Bob Franco, director of planning and institutional research at Kapiolani Community College, said, "The University of Hawaii has done a very good job with Samoans who come from Samoa -- both American and independent Samoa.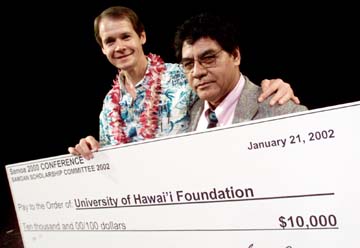 FL MORRIS / FMORRIS@STARBULLETIN.COM
LCC Provost Mark Silliman accepted a $10,000 check from Loia Fiaui to establish a new Samoan Scholarship Fund at the UH Foundation.
---
"Our focus is to highlight that, but to really encourage local Samoans to connect with community colleges and the UH."

Loia Fiaui, a community organizer, said local Samoans often do not feel encouraged to attend college. "I think it can be a lack of support both from the system and the community itself," he said.

Mayoral candidate Mufi Hannemann offered the audience a rousing charge, telling his fellow Samoans that their time had come.

"If we are good enough to play football for all the schools in Hawaii that go on to win championships, if we are good enough to sing and dance and entertain in Waikiki for all the tourists that come here and sing and dance at the Polynesian Cultural Center for all the visitors that visit these beautiful islands, if we are good enough to wipe your car at McKinley Car Wash, then we are good enough to lead. Not just on the football field, but any field of endeavor," Hannemann said.

Farrington High School freshman Matthew Levao, 14, said he had trouble understanding some of the presentations, but added that he intended to pursue a career in law enforcement in North Dakota.

"It got me thinking about scholarships," he said.

Jermaine Seei, 15, said he was impressed by the range of professions open to him.

"It made me be aware of how college is important to my life," he said.

Seei said the message that he is taking away is, "If you work hard, you can be whatever you want to be."
E-mail to City Desk
---
---
© 2002 Honolulu Star-Bulletin
http://archives.starbulletin.com