CLICK TO SUPPORT OUR SPONSORS

---

---
Sunday, January 13, 2002
[ SUNDAY TRAVEL ]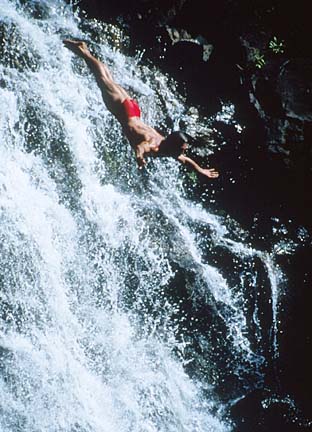 ATLANTIS ADVENTURES
Divers leap from the cliffs of Waimea Falls five times a day. A hike gives visitors a diver's-eye view from the top of the falls.
---
Waimea Falls Park
gets back to its roots


A renewed emphasis on nature and
culture makes the park on Oahu's
North Shore a treasure to behold

---

By Cheryl Chee Tsutsumi
Special to the Star-Bulletin

Nature embraces you from the moment you enter Waimea Falls Park. Mammoth trees nod in the breeze, their thick limbs festooned with leaves mirroring the deep green of the finest jade. Vivid flowers impart a thousand wonderful scents. Streams flow swiftly -- cool, clear water giving life to the land and the creatures and plants that inhabit it.

Waimea was the first place on Oahu to be visited by foreigners, and this is how they found it. On Feb. 22, 1779, the crews of the HMS Discovery and HMS Resolution sailed into Waimea Bay to rest and replenish their water supplies before continuing on to Kauai. The British ships were led by Resolution captain Charles Clerke, who assumed command of the Pacific expedition after the death of James Cook at the Big Island's Kealakekua Bay a week before.

"Uncommonly beautiful and picturesque" is how Clerke described 1,800-acre Waimea Valley in his Feb. 28, 1779, journal entry.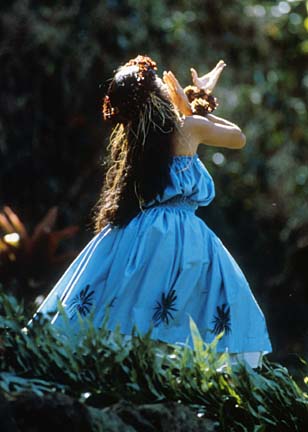 ATLANTIS ADVENTURES
The home of Hawaiians until 1898, Waimea Valley houses 78 archaeological sites.
---
Approximately 1,000 Hawaiians lived there until 1898, when a huge flood destroyed their homes and crops. The people moved to the safety of the coastline. Vestiges of their life in the valley remain, however, including agricultural terraces; a kauhale kahiko (ancient living site); Hale O Lono, a heiau dedicated to Lono (god of agriculture, weather, medicine and peace) that dates back at least 300 years; and Hale Iwi (House of Bones), a 40-by-30-foot platform of stacked boulders rising 7 feet high that is believed to have been the burial place of a high priest or chief.

In all, 78 archaeological sites have been documented in Waimea Falls Park, along with artifacts such as stone bowls, bone fishhooks, plant stem brushes, poi pounders and fiber mat fragments.

Since opening in 1974, the park has undergone a number of changes in an effort to find the right mix of culture, history, activities and entertainment. It has been known by six different names over the years, including Waimea Valley: Home of Waimea Falls Park, Waimea Valley Adventure Park and the Parks at Waimea.

The attraction opened as Waimea Falls Park, and it has come full circle by once again adopting the name most kamaaina never stopped using, no matter what was printed on the entrance sign.

The name changes coincided with marketing gurus' experiments, some of which strayed onto strange paths. For a while, the park's core program of Hawaiiana and history was augmented with paintball, camping, all-terrain vehicle tours and other adventures that disrupted the beautiful, tranquil environment. These activities didn't fit; in fact, they bordered on being irreverent.

Reverting to the simple, familiar name Waimea Falls Park seems to have set caretakers back on the right track: Honor Hawaii's past, showcase Waimea's treasures, celebrate everything that hasn't changed at the park in nearly three decades.

Strolling through the grounds alone is worth the price of admission. Six thousand species bloom year-round in 36 gardens organized by plant families, geographical locations or themes. One spectacular collection near the ancient-living site spotlights plants used by the early Hawaiians for food, instruments, clothing, buildings and medicine. Another garden flaunts more than 100 varieties of hibiscus, including the yellow hibiscus, Hawaii's state flower.




Waimea Falls Park

Address: 59-864 Kamehameha Hwy., Haleiwa

Hours: 10 a.m. to 5:30 p.m. daily

General admission: $24 per person, $12 for children ages 4 to 12. Kamaaina rates are $12 and $6, respectively. There's a two-for-one special on admission through April 30. A Waimea Falls Park Annual Pass costs $15 when you buy an admission ticket.

Activities: Mountain biking and kayaking may be booked without park admission. Biking tours are priced between $20 and $35 per person, and kayaking adventures range from $20 and $69 per person. The "Top of the Falls" experience is $20 per person. There are age, height and weight requirements for activities, and reservations are recommended.

"Moon Walks" take place 8 to 10 p.m. monthly on the Friday that falls closest to the full moon (the next one is Jan. 25). The cost is $3 per person, $5 per couple and $7 per family with proceeds benefiting the Waimea Arboretum Foundation, a nonprofit organization that works with Waimea Falls Park to propagate rare and endangered tropical and subtropical plants.

Call: 638-8511

Web site: www.go-atlantis.com




Thriving in other sections of this Eden are magnificent examples of ginger, heliconia and erythrina. Paths are fringed with thick groves of breadfruit, coffee, banana, ti, kukui, jackfruit and lychee. In addition, more than 30 species of wild, migratory and domestic birds roam about freely, including the nene (Hawaiian goose, Hawaii's state bird), aukuu (black-crowned night heron), koloa (Hawaiian duck) and alae ula (Hawaiian gallinule or mudhen).

Life in old Hawaii is recalled via performances of hula kahiko, demonstrations of lau hala weaving, and participation in games such as oo ihe (spear throwing) and ulu maika (lawn bowling).

You're also welcome to swim in the natural pool at the base of the park's namesake 45-foot-high Waimea Falls.

Five times daily, daring acrobatic divers leap from perches as high as 60 feet above the pool. One of their most breathtaking feats is done in tandem: Two youths dive from a cliff, somersault through the air and hit the water in perfect synchronization.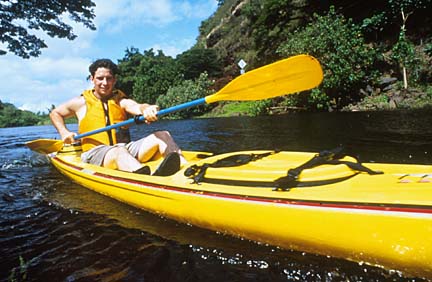 ATLANTIS ADVENTURES
River kayaking is offered year-round, and ocean kayaking is available during the summer.
---
On the new "Top of the Falls" tour, you'll hike along a wooded trail to an area above Waimea Falls that's not open to the general public. Wearing a vest hooked onto a safety line, you'll be allowed to lean out over the cliffs to get a breathtaking diver's-eye view of the falls.

River kayaking also can be enjoyed at Waimea Falls Park throughout the year, and ocean kayaking is available during the summer. Or explore the verdant ridges, gardens and forests on a mountain bike. Meanwhile, kids will have a grand time playing in a giant treehouse, jungle maze and man-made cave.

"Although 'adventure' has been taken out of the park's name, it has in no way been taken out of the park," says General Manager Ray Greene. "The trend in travel is participation and interaction. People want experiences that go beyond observation. They want up-close and personal excitement and exhilaration. Waimea has unlimited potential to exceed guests' expectations."

---

Purchase by city could help park

Progress at Waimea Falls Park has been hindered in recent years by financial woes, a situation that could improve if the city and county of Honolulu is successful in its recently announced bid to purchase the park.

Mayor Jeremy Harris notes that "Waimea Falls Park represents an important historical, cultural and environmental asset that needs to be protected and preserved, and the city intends to do that. We have $5.1 million budgeted for acquisition, and our commitment is to move ahead and acquire the park sometime this year."

General Manager Ray Greene said staff at Waimea is optimistic.

"Most botanical, historical and cultural parks are owned by municipalities or state governments," he said.

"Taking Waimea from private to public ownership assures continued public access to the park."

---

Cheryl Chee Tsutsumi is a Honolulu-based free-lance writer.
E-mail to City Desk
---
---
© 2001 Honolulu Star-Bulletin
http://archives.starbulletin.com