CLICK TO SUPPORT OUR SPONSORS

---

---
Wednesday, January 9, 2002



[ UH VOLLEYBALL ]
---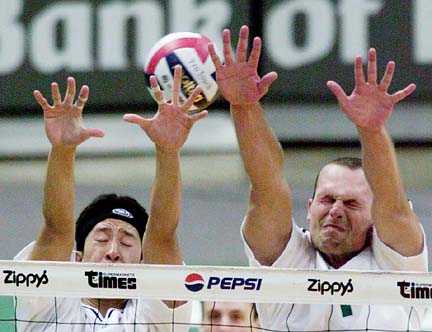 GEORGE F. LEE / GLEE@STARBULLETIN.COM
Hawaii's Kimo Tuyay and Dejan Miladinovic tried to stop a Loyola-Chicago player last night. The Warriors fell in four games.
---
Warriors drop
opener at home


Loyola-Chicago hands UH its
first season-opening loss since 1990

---

By Grace Wen
gwen@starbulletin.com

If first impressions count the most, the Hawaii volleyball team is hoping last night's performance won't leave a lasting mark.

Before 3,456 (4,715 tickets issued) at the Stan Sheriff Center, Loyola-Chicago defeated Hawaii 30-28, 30-27, 25-30, 30-26.

It is first time the Warriors have lost a home opener during coach Mike Wilton's tenure.

The Ramblers proved they weren't a "cupcake" team as Wilton predicted they wouldn't be.

"They were good," Wilton said. "In the first two games, they played very well and maybe they had the rub of the green a little bit. A lot of things went their way.

"We were incapable of following our game plan at all. I thought we started playing better volleyball in Games 3 and 4 but little things hurt us."

And so did Loyola-Chicago's big hitters early in the match.

"Vili" the Warrior wasn't the only one to make his presence felt in the arena. Rambler middle blocker Dan Haas and outside hitter Brad Stoub pounded away at a Warrior block that was mostly absent in the first two games.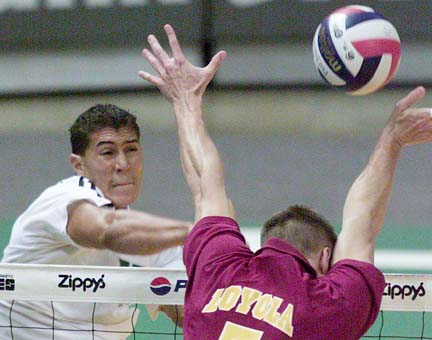 GEORGE F. LEE / GLEE@STARBULLETIN.COM
Hawaii's Tony Ching hit one past Loyola-Chicago's Brad Stoub. It was the first opening loss for the Warriors in over 10 years.
---
Hawaii seemed overmatched at the net with the 6-foot-8 Haas, 6-4 Stoub and 6-9 middle blocker Shawn Schroeder putting away almost every set that came their way.

Stoub led the Ramblers with 26 kills while Haas chipped in 15. Schroeder and Justin Schnor both added 13 kills as the Ramblers outhit the Warriors .324 to .276.

The one bright spot for Hawaii was its depth, which was virtually nonexistent last year. It proved critical as the Warriors avoided the sweep with help from the bench.

Trailing 18-13 in Game 2, Wilton inserted Daniel Rasay, Delano Thomas and Jose Delgado into the lineup. The three freshmen instantly gave the Warriors a lift. Rasay immediately connected with Costas Theocharidis for two kills as Hawaii closed the gap at 22-17. The Warriors fought off four game points before a kill by Haas ended the game.

With Thomas serving in Game 3, Hawaii jumped out to a 7-0 lead. The Warriors took control of the game on two kills and a block by Thomas at 23-17.

Theocharidis and Dejan Miladinovic were the only hitters to be effective. Theocharidis hammered a match-high 29 kills while Miladinovic had 11 kills and no errors.

"Two years ago, we came here and we were very nervous about playing here and they killed us," Ramblers coach Gordon Mayforth said. "Tonight we were very excited. We thought we had a chance to play with the best team in the country."

They'll have a second opportunity today. Hawaii plays Loyola-Chicago in the rematch at 7 p.m.

---



E-mail to Sports Editor
---
---
© 2002 Honolulu Star-Bulletin
http://archives.starbulletin.com