CLICK TO SUPPORT OUR SPONSORS

---

---
Wednesday, January 9, 2002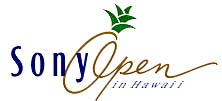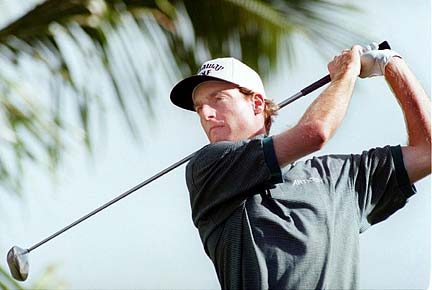 ASSOCIATED PRESS
Jim Furyk: His victory at the Mercedes Championships last year was one of six on the PGA Tour for the 31-year-old from Ponte Vedra Beach, Fla. He also won the 1996 Hawaiian Open.
---
Field gears for
tomorrow's start


144-man field includes
several golfers with local ties

Power surge
Kids take on stars
Tee times, key holes, facts

---

By Paul Arnett
parnett@starbulletin.com

The first full-field event of the 2002 PGA Tour season begins tomorrow morning at the Waialae Country Club with Sergio Garcia, David Toms and Davis Love III commanding top billing at the $4 million Sony Open.

Defending champion Brad Faxon will raise an eyebrow or two if he can match last year's performance when he raced away with his only tour win in 2001. The Rhode Island resident landed in the top 10 of the Mercedes Championships' field last week by shooting consecutive 69s over the weekend to finish a shot ahead of Tiger Woods.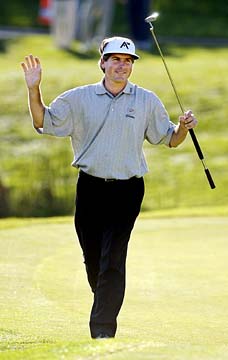 ASSOCIATED PRESS

Fred Couples: Has 14 career PGA wins under his belt, including the Memorial (1998), Players Championship (1996) and Masters (1992).
---
Faxon is playing well enough to contend again. So are Garcia and Toms, who won last year's PGA Championship and two other tour events. Only Woods with five had more victories than the Louisiana native.

Toms finished a half-roll shy on the 18th of winning the Mercedes in regulation. But where his 12-foot birdie putt came up short, Garcia's similar stroke was steady and true on the first hole of sudden-death. It found the hole and resulted in a playoff win worthy of a new Mercedes and a $720,000 top prize.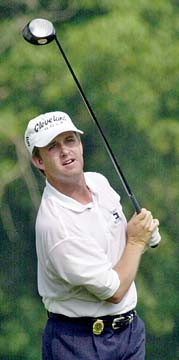 ASSOCIATED PRESS
David Toms: His win in the 2001 PGA Championship and a runner-up finish in this year's Mercedes Championships make him a threat.
---
The 144-man field, which includes several golfers with local ties, is competing for the same healthy paycheck. Sony officials are expected to announce on Sunday a new four-year deal with the PGA Tour that will keep Hawaii at the forefront of professional golf in January. Last week, an agreement was reached in principal among all parties to keep the Mercedes at Kapalua for four more years.

"It's great publicity for the state of Hawaii," said NBC golf analyst Mark Rolfing, who played a big part in the original deal in 1999 when the Mercedes moved from California to Maui and the Sony Corporation took over the sponsorship from United and the old Hawaiian Open. "You've got all these great names right here in these two beautiful settings."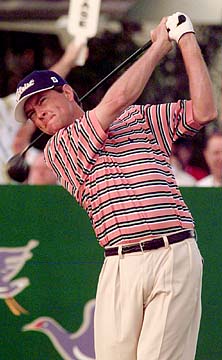 ASSOCIATED PRESS
Davis Love III: Included in his 14 career PGA wins are, among others, the PGA Championship and the Players Championship.
---
Most of the field is playing competitively for the first time, including Tom Lehman, Fred Couples, Jeff Maggert and Scott Simpson. From here, the tour goes to Phoenix and then Palm Springs for the Bob Hope Classic.

"It's going to be fun playing here for the first time," Garcia said. "I've heard good things about the course. It was my first time over there last week, too. So we'll see what happens."

Garcia earned his third career PGA Tour win on Maui and fifth overall this past year. Toms has been equally hot, which could set up another showdown.

"I haven't played there in years," Toms said of his trip to Waialae. "But my wife wanted to stay an extra week, so I decided to see if I could win some money. I'm looking forward to it. I've heard they've made some nice changes."

---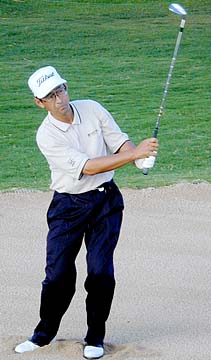 STAR-BULLETIN / 2000
Hawaii's David Ishii tees off at 1:15 p.m.
---
Tomorrow's tee times

Morning and afternoon, off the first and 10th tees (players with Hawaii ties in bold):

first Hole

7:20 a.m.: Scott Simpson, Brian Watts, Matt Kuchar
7:29 a.m.: Brad Elder, Mike Sposa, Phil Tataurangi
7:38 a.m.: Jerry Kelly, Michael Allen, Pat Bates
7:47 a.m.: Joel Edwards, Jim Carter, Steve Elkington
7:56 a.m.: David Tome, Jesper Parnevik, Jeff Maggert
8:05 a.m.: Joe Durant, Garrett Willis, Michael Clark III
8:14 a.m.: Scott Hoch, Steve Stricker, Mark O'Meara
8:23 a.m.: Chris Perry, Lee Porter, Paul Gow
8:32 a.m.: Rod Pampling, Brett Wetterich, Thomas Hines
8:41 a.m.: Heath Slocum, Jonathan Byrd, Jason Hill
8:50 a.m.: Brad Lardon, Pat Perez, Ken Tanigawa
8:59 a.m.: Gary Nicklaus, Stephen Gangluff, Dean Wilson
11:45 a.m.: Richard Zokol, Chris Riley, K.J. Choi
11:54 a.m.: Bob May, Jerry Smith, Kaname Yokoo
12:03 p.m.: Stuart Appleby, David Peoples, Robin Freeman
12:12 p.m.: Chris DiMarco, Brad Faxon, Fred Couples
12:21 p.m.: Sergio Garcia, Robert Allenby, Corey Pavin
12:30 p.m.: John Cook, Dudley Hart, Tom Lehman
12:39 p.m.: Olin Browne, Scott Dunlap, Shaun Micheel
12:48 p.m.: David Frost, Dicky Pride, Jay Haas
12:57 p.m.: Paul Claxton, Ben Crane, Matt Peterson
1:06 p.m.: Luke Donald, Brenden Pappas, Kevin Hayashi
1:15 p.m.: Deane Pappas, Jess Daley, Keiichiro Fukabori
1:24 p.m.: John Rollins, Eduardo Herrera, Jonathan Ota (A)

10th hole

7:20 a.m.: Mike Hulbert, Brian Gay, John Riegger
7:29 a.m.: Len Mattiace, Esteban Toledo, Greg Chalmers
7:38 a.m.: Tim Herron, J.J. Henry, Michael Muehr
7:47 a.m.: David Gossett, Billy Andrade, Tom Scherrer
7:56 a.m.: Jeff Sluman, Jim Furyk, John Huston
8:05 a.m.: Frank Lickliter II, Loren Roberts, Carlos Franco
8:14 a.m.: Rich Beem, Andrew Magee, Charles Howell III
8:23 a.m.: Chris Smith, Jay Williamson, Briny Baird
8:32 a.m.: Danny Ellis, Tim Petrovic, Hiroyuki Fujita
8:41 a.m.: Ian Leggatt, Bo Van Pelt, John Senden
8:50 a.m.: Bob Heintz, Brian Bateman, Katsumasa Miyamoto
8:59 a.m.: Steve Allan, Hidemichi Tanaka, Michael Long
11:45 a.m.: Pete Jordan, David Sutherland, Edward Pryatt
11:54 a.m.: Tommy Armour III, Greg Kraft, David Berganio, Jr.
12:03 p.m.: Russ Cochran, Jay Don Blake, Per-Ulrik Johansson
12:12 p.m.: Cameron Beckman, Kenny Perry, Fred Funk
12:21 p.m.: Shigeki Maruyama, Duffy Waldorf, Rory Sabbatini
12:30 p.m.: Robert Damron, Davis Love III, Steve Jones
12:39 p.m.: Brent Geiberger, Blaine McCallister, Geoff Ogilvy
12:48 p.m.: Brian Henninger, Stephen Ames, Bob Burns
12:57 p.m.: Peter Lonard, Boo Weekley, Tomohiro Kondo
1:06 p.m.: David Morland IV, Kent Jones, Keoke Cotner
1:15 p.m.: David Ishii, Chad Campbell, Jeff Gove
1:24 p.m.: Brent Schwarzrock, Kenneth Staton, Shinichi Yokota

---




The Key Holes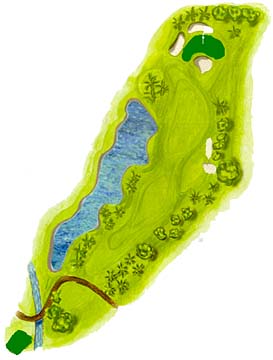 No. 2
'O'ole'a "Unyielding"
Par-4, 426 yards
A new tee area built 60 yards back and across the stream will bring the lake on the left more into play. Two fairway bunkers on the right calls for an accurate drive. A kid-ney-shaped green awaits those who hit it down the middle.
---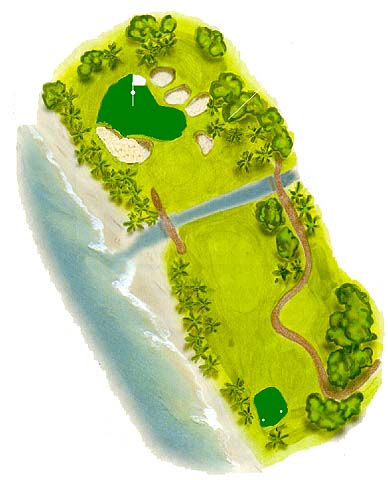 No. 17
'Alae "Mud Hen"
Par-3, 189 yards
This innocent-looking par-3 can create havoc. A long or middle iron is required off the tee. The green is big but is well protected by four hidden bunkers on the right and a large one on the left.
---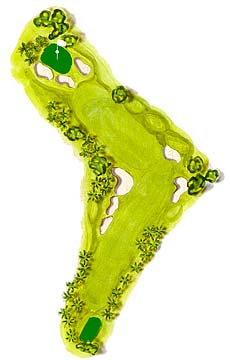 No. 18
Kilou Loa "A Long Hook"
Par-5, 551 yards

This dog-leg left finishing hole can be reached in two. A new bunker was built in the dog-leg; find the middle of the fairway off the tee and the second shot is straight downwind to a very slick green.
---

---




Past Champions

| | | | |
| --- | --- | --- | --- |
| Year | PLAYER | SCORE | EARNINGS |
| 2001 | Brad Faxon | 260 | $720,000 |
| 2000 | Paul Azinger | 261 | $522,000 |
| 1999 | Jeff Sluman | 271 | $468,000 |

---




Sony Open in Hawaii

Brad Faxon will defend his title at the Sony Open tomorrow after

finishing ninth in the Mercedes Championships at Kapalua last week

Who: The PGA Tour's first full-fledged field of 144.
When: Tomorrow through Sunday.
Where: Waialae Country Club, 7,060 yards, par-70.
Time: 7 a.m., tomorrow and Friday; 7:30 a.m., Saturday; 8:30 a.m., Sunday.
Prize money: $4 million, Winner's share: $720,000
Defending champion: Brad Faxon
Tickets: $10, today, tomorrow and Friday, $15 Saturday and Sunday; $50 season pass. Available at all TicketPlus locations, First Hawaiian Banks on Oahu, Pleasant Hawaiian Holidays activity desks throughout Waikiki, participating Sony dealers and on-line at www.sonyinhawaii.com.
TV: ESPN, 2-4 p.m., tomorrow and Friday; 3-5:30 p.m., Saturday; 3-5 p.m., Sunday.

---




Viewing the tournament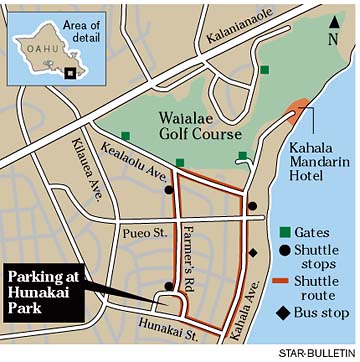 Parking: Free at Hunakai Park and surrounding streets.

Shuttle bus service: Will be provided complimentary from Hunakai Park (between Kahala and Kilauea avenues) to Waialae Country Club, with stops near the golf course main gate. The shuttle will be in operation from 6 a.m. until play is completed, through Sunday's final round.

City bus: Regular city bus services will be available through Sunday on routes 8, 19, 20, 47 and 58 departing Ala Moana Shopping Center to Waikiki. Get off at the corner of Kapahulu and Kalakaua and transfer to route 14 (Maunalani Heights) to the corner of Kahala Avenue and Pueo Street. Special city buses marked "Special Golf Tournament" will be available Saturday and Sunday only, departing every 35 minutes between 7 a.m. and 8:45 a. m. from Kalia Road/Hilton Hawaiian Village, through Waikiki to Kahala Avenue and Pueo Street. Return service will depart from the same stop (Kahala Avenue/Pueo Street) every 45 minutes to Waikiki, starting at 2:45 p.m., until 5 p.m.

Did you know? The beach area adjacent to the 8th hole at the Waialae Country Club was used to film a scene from the movie, "From Here to Eternity."
E-mail to Sports Editor
---
---
© 2002 Honolulu Star-Bulletin
http://archives.starbulletin.com