CLICK TO SUPPORT OUR SPONSORS

---

---
Wednesday, January 9, 2002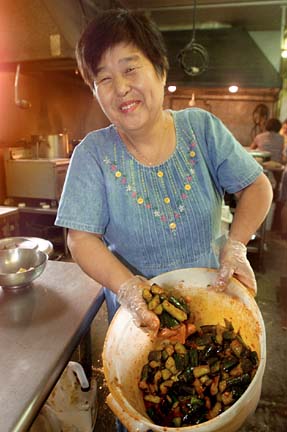 DENNIS ODA / DODA@STAR-BULLETIN.COM
"I'm allergic to taking pictures," Yong Suk Potts tells the photographer. But she's not allergic to hot chilies, luckily. She has her hands full mixing up a batch of chili-spiked Cucumber Kim Chee.
---



... as well as kim chee, kalbi, chop chae
and all the Korean favorites, at
Wahiawa's Dong Yang Inn

---

By Betty Shimabukuro
bshimabukuro@starbulletin.com

It is 2:30 in the afternoon at Dong Yang Inn. Late for lunch, early for dinner, but the kitchen is cramped with activity.

Nine women in flowered aprons move deliberately from task to task -- frying, tossing, chopping, mixing, washing, prepping. It's time to get ready for the next rush. And it's time to make the kim chee.

Around them are stacked the raw materials that will fill their afternoon. Giant colanders piled with whole heads of cabbage, soon to be chopped, salted and tossed with chilies. Gallon bins of bean sprouts, trays of boiled potatoes and bowls of cooked macaroni, ready to become salads and side dishes. Containers of thinly sliced beef, dusted in flour, on their way to the frying pans that yield the restaurant's specialty, meat juhn.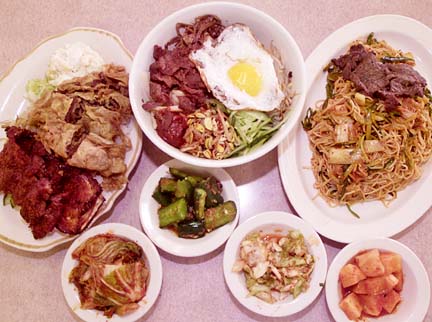 DENNIS ODA / DODA@STAR-BULLETIN.COM
Dishes of kim chee complement Dong Yang Inn's large plates of, from left, kalbi (Korean ribs) with meat juhn (breaded, sliced beef), bibimbap (vegetables, meat and egg over rice) and bibim kooksoo (mixed vegetables and beef over noodles).
---
For 26 years of busy afternoons, Dong Yang Inn has kept Wahiawa supplied with kalbi, kim chee, mandoo and a particularly tender-on-the-inside, crispy-on-the-outside meat juhn.

"We are Wahiawa people," says owner Yong Suk Potts. "I don't go no place. I stay right here."

She does make side trips, though, such as the one Saturday that will take her to the edge of Waikiki, where she'll be a central participant in the Korean Festival in Kapiolani Park. Potts and her crew will serve up the Korean noodle dish chop chae, as well as her juhn.

Fifteen years ago, Potts took an extended side trip, opening a second restaurant in Nanakuli. "But that's too far." She sold it after five years.




Korean Festival

Featuring: Traditional foods, music, dance, product tent, crafts, childrens activities
When: 10 a.m. to 9 p.m. Saturday
Place: Kapiolani Park bandstand
Highlights: Parade and openings ceremony, 12:30 p.m.; cooking show with chef OnJin Kim, 2 p.m.




Otherwise, this is a story that begins and thrives in Wahiawa.

Potts, from Chon Ju City in Korea, moved to Hawaii in 1970 with her American husband, Wahiawa boy Henry Potts Jr. She worked in a restaurant, had a baby, brought her sisters here.

Then in 1975, she reluctantly bought an existing Korean restaurant.

"I didn't like open restaurant. I know restaurant is a hard job." Potts' English is a bit choppy, but she speaks with an economy of words that cuts directly to the point.

Going into the food business was her family's idea, she says. "My sisters push me to make restaurant work."

So they opened, on Oct. 23, 1975, a date she can rattle off without thinking. It was Potts, her husband and two sisters. The work day began at 6 a.m. and ended at midnight, and business was slow.

With that same economy of phrase, she sums it up: "Sales only little bit; working is plenty."

But after just three months, Dong Yang Inn caught on with the local community and a customer loyalty took root that has lasted decades.

Potts had two more babies while running Dong Yang. Her mother-in-law cared for them, "so I can concentrate." She also brought the rest of family from Korea -- her parents, two brothers and three sisters, total.

Potts now has 17 employees, but the restaurant remains a family concern. "That's how we survive." Her three sisters and a sister-in-law all work there, as well as eldest son, Henry III. All three boys have put in time there, Potts says.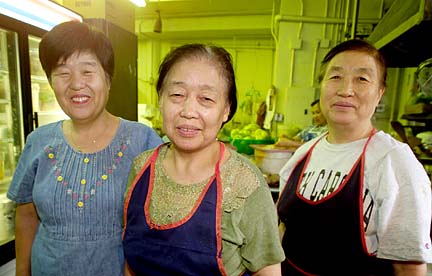 DENNIS ODA / DODA@STAR-BULLETIN.COM
Yong Suk Potts, left, still works with sisters Ky Rye Ko, center, and Yong Re Kim at their Korean restaurant.
---
It is this work ethic, as much as the traditional food, that the Korean Festival celebrates this weekend. It is a warm-up event for the 2003 celebration of the centennial of Korean immigration to the United States, commemorating a January day in 1903 when 86 immigrants arrived in Honolulu.

Organizers say it is the first time a Korean cultural event has been planned on this scale, and their aim is to focus the attention of both local residents and visitors to the community's contributions. Along with music, dance and tae kwon do demonstrations, made-in-Korea products from Palama Supermarket and the novelty company Morning Glory will be sold. Chef OnJin Kim of OnJin's cafe will host a cooking demonstration.

As for Potts, she doesn't work quite as long hours nowadays, but she has no plans to retire. She may have been pushed into this line of work, she says, but it was a good path to take. In the end, only one thing counts: "My customers happy, I happy."

---

Potts prefers not to divulge the recipe for her restaurant's mega-popular meat juhn. It would be too difficult to break down to home quantities, she says, and probably involves too much labor, anyway.

She uses rib eye steak, with all the fat and muscle removed by hand, which is the secret to its tenderness, and that's all she'll say about that.

But Potts did offer this recipe for kim chee, which she sells in little tubs for taking home. The secret, again, is to get your hands in there and get all the flavors mixed in. Beware the chili peppers, though -- use gloves.

Potts learned to cook from her mother and still prepares many dishes her mother's way. "She cooks and makes kim chee and I have to help her," she recalls of her childhood. "That's how we learn. Our food is all old-style."

Cucumber Kim Chee

4 pounds Japanese cucumber
2 tablespoons salt
1 teaspoon fish sauce
1 teaspoon juice from salted baby shrimp (see note)
1 teaspoon minced garlic
1/2 teaspoon minced ginger
2 tablespoons sugar
1 tablespoon chili pepper powder or ground fresh chili pepper

Quarter cucumber lengthwise and cut into 1-1/2 inch lengths. Mix with salt and let sit 30 minutes. Rinse and drain.

Combine with remaining ingredients, mixing by hand (use plastic gloves). May be served immediately.

Note: Salted baby shrimp is sold in bottles at Korean markets such as Palama Supermarket. To extract juice, squeeze a handful of shrimp.

Approximate nutrient analysis per 1/2 cup serving: 20 calories, no fat or cholesterol, at least 775 mg sodium, 4 g carbohydrate, 1 g protein.*





Click for online
calendars and events.
E-mail to Features Editor
---
---
© 2002 Honolulu Star-Bulletin
http://archives.starbulletin.com