CLICK TO SUPPORT OUR SPONSORS

---

---
Sunday, January 6, 2002
[ SUNDAY TRAVEL ]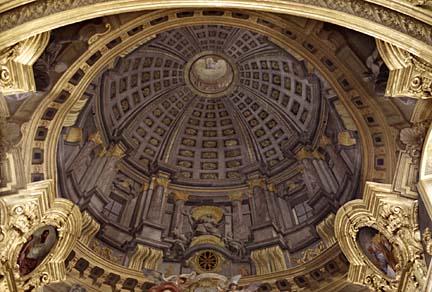 DENNIS CALLAN / SPECIAL TO STAR-BULLETIN
The Jesuit church has an extremely elaborate interior painted in the Italian Counter-Reformation style by Andrea Pozzo.
---
3 Days in Vienna

---

By Dennis Callan
Special to the Star-Bulletin

Vienna is a historic yet modern city -- a living museum of monuments and memories connected to a long, rich history, but also a sophisticated place with glamorous shops and cutting-edge design. It is a romantic place alive with the music of Mozart, Haydn, Strauss and Beethoven, enriched by the legacy of the immensely wealthy Hapsburg dynasty that created some of the world's finest palaces, opera houses, museums, parks, fountains, public architecture and grand promenades. The Hapsburgs ruled over much of the Western world during several centuries from their huge palace, which today is one of Vienna's main visitor attractions with its many museums and several concert halls.

In this three-day series, we present the major tourist sights that you should not miss, then point you to the back alleys and minor attractions where you can discover the heart and soul of the city.

The vast ensemble of visitor attractions in Vienna is quite compact, covering about one square mile, so you can easily see it in three well-planned days while indulging in personal pursuits the rest of your stay. This city is a fantasy in stone built in a mix of styles including Gothic, Renaissance, 19th-century Imperial, Art Nouveau and Postmodern, blending influences from Italy, Germany and France into a harmonic mélange.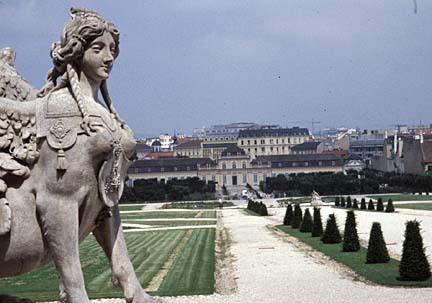 DENNIS CALLAN / SPECIAL TO STAR-BULLETIN
The Upper Belvedere is one of the grand palaces of Vienna. It was built in 1722 as the summer home of Prince Eugene of Savoy. The gardens provide a beautiful view over the city.
---
The layout of Vienna is very organized and easy to navigate, with the central part of town surrounded by the Ringstrasse, or Ring Road, following the same route as the medieval city walls that once surrounded and protected the city. The walls played two important roles for many centuries during the Middle Ages: keeping enemies away and containing the town in a small area. Most of the neighborhoods within this central area still have an ancient feeling to them.

By the mid-19th century, the walls were no longer needed for defense, so they were pulled down to make room for expansion. The grand boulevard that took their place forms a semicircle about a mile across, containing a large central pedestrian zone filled with wonderful old buildings and monuments. Behind the historic facades are up-to-date shopping and dining pleasures, with art and culture all around you.

Music will accompany your visit, especially in the many performance halls where there are concerts nearly every night. The town glides along in three-quarter time. Johann Strauss the Younger composed "The Blue Danube" (or formally, "On the Beautiful Blue Danube"), which has become the signature tune of Vienna. Just look for costumed young people on the main malls who look like they just stepped out of an old movie, with little posters in their hands and tickets for sale, or check with your hotel concierge. A favorite venue for the waltz is the Kursalon in the City Park, which often has afternoon tea dances and evening performances. Vienna is also alive with street music, from rock to Mozart, jazz to Peruvian, soul to bluegrass.

Day 1

Hopefully, you are staying at a convenient hotel in the center of town (see our suggestions) and will be able to have a nice breakfast, then walk to the center of town at Stephansplatz to begin your adventure. There is a metro stop here, so if you are coming by subway, it is easy to find. Several pedestrian streets meet at this focal point, flanked by the cathedral, many shops and the stark postmodern Haas House, containing a small shopping mall and a too-trendy restaurant that offers a fine view over the heart of town.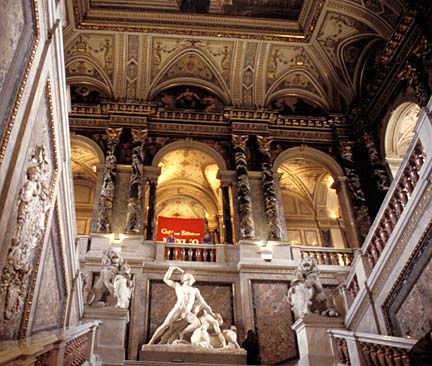 DENNIS CALLAN / SPECIAL TO STAR-BULLETIN
Day 1: Walk the main pedestrian mall of the city along the Kartnerstrasse, take a tram ride around the Ring Road, and spend the afternoon immersed in splendid art at the Kunsthistorisches Museum, above.
---
>> Stephansdom: St. Stephen's Cathedral, the symbol of Vienna, was built early in the 12th century. After a great fire destroyed most of the original structure, reconstruction began in the mid-13th century, and the church continued to evolve during the next four centuries as different styles gained favor, culminating in the elaborate Baroque altar finished in 1640. Unlike many purely Gothic churches, the interior is quite bright, with light shining through large, clear windows revealing the many artistic treasures within. For one of the best views of town, stairs will bring you to a viewing platform halfway up the 449-foot south tower, or you can take an elevator about 200 feet up the north tower for a panoramic look across town and a chance to admire the cathedral's multicolored, zigzag pattern of roof tiles.

>> Kartnerstrasse: This is the major pedestrian shopping mall in town. Heading toward the Opera House on the Ring Road, you will find many shops in the midprice range and outdoor cafes stretching the entire length. Detour one block to Neuer Markt to visit the Kapuzinerkirche if you must see the final resting place of the Hapsburgs, with 138 members including 12 emperors and their families -- minus their hearts, which are held elsewhere.

One of the decent eateries here is Rosenberger Markt. This large and inexpensive self-service basement buffet is open 11 a.m. to 11 p.m. You will be tempted to come back several times, but save some dining experiences for more authentic taverns and gourmet restaurants. Consider returning to Kartnerstrasse after 5 p.m. when the street musicians show up.

From Kartnerstrasse, turn right on Philarmonikerstrasse, the street just behind the Opera House, to reach the famous Hotel Sacher -- a five-star deluxe property in the center of town. For most visitors the most appealing part of the hotel is the Café Sacher, where you can get Original Sachertorte, a chocolate cake served with a big dab of whipped cream. They also have apple strudel and other pastry treats, but most come for the chocolate cake and to enjoy the opulent lobby and public facilities.

When Kartnerstrasse meets the Ring Road, you will have arrived at the State Opera House, one of the world's top five opera venues. A grand building constructed in 1861-69, it is the only opera house to present a different performance every night, except in July and August. Tickets can be very expensive and hard to get, but you can usually obtain standing-room space for just a few dollars right before a performance. Check with the box office to see about a ticket while in town, or call ahead (51 444/29592418).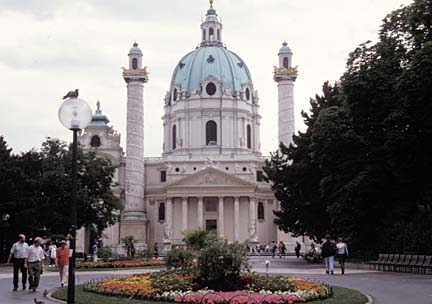 DENNIS CALLAN / SPECIAL TO STAR-BULLETIN
Karlskirche. Designed in 1716 by the great architect Fisher von Erlach, it is a unique combination of four Roman buildings: Trajan's Column, St. Agnese, the Pantheon and St. Peter's.
---
>> Karlsplatz: There is a convenient shopping gallery beneath the Ringstrasse at this intersection, offering fast food, tourist information, sundries and an express route underground for two blocks directly to Karlsplatz, where you can gaze upon one of the town's most wonderful creations, Karlskirche. The Naschmarkt, the town's largest outdoor market, is a few blocks behind Karlskirche, with 150 stalls displaying gourmet items.

Another important building across from Karlsplatz is the famous concert hall, Musikverein -- reputedly with the finest acoustics in this sophisticated musical town -- so this would be an excellent choice for a night out, especially to attend one of the regular Mozart concerts with performers in historic costumes. A block away on the other side of the square, you can see the golden dome of the "Jugendstil" Secession Building in the unique Viennese "youth style," which appeared in 1898 as a statement of artistic rebellion by a group of Art Nouveau modernists including Gustav Klimt, who has a huge mural inside.

Karlsplatz is the main focal point of Vienna's transit system, where many subway and surface lines come together. The two old metro stations originally built by famed architect Otto Wagner have recently been converted into stylish tea salons. This would be an excellent place to take a break or catch a train, but your next stops are just a few blocks away on the Ring, so keep on walking. At this point you are close to the Hotel Imperial, at 16 Kartner Ring, the grandest of Vienna's top hotels, so if you are a fan of elegant lobbies, or dare to pay the price at the Imperial Café, step inside for a breather.

Walking west now for six blocks along the Ring, you are heading for an artistic apotheosis, but first cross the big street to have a look at the golden statue of Mozart in the Burggarten, a pleasant park in the Hofburg's back yard. Mozart spent his last 10 years in Vienna, producing most of his famous works while moving almost every year.

>> Picture gallery: Cross back over the Ring to the Kunsthistorisches Museum for the afternoon's main event. This grand museum has one of the world's finest art collections, particularly in paintings of the Old Masters. Upon entering, you are immediately knocked out by the elaborate lobby and staircase leading to the main galleries.

You will see important works by Caravaggio, Rembrandt, Mantegna, the largest Velasquez collection outside of Spain, Vermeer's greatest masterpiece, "The Allegory of Painting," Van Eyck, Titian, Raphael, Giorgione, El Greco, Durer, Cranach, Rubens, Bernini, Cellini, Bellini, 12 Bruegels (a high point) and much more.

This amazing collection was built up over a 500-year period, especially during the 17th century, when the Hapsburg dynasty had many important connections throughout Europe. It was a private collection until 1781, when it was opened to the public for the first time, making this the oldest art museum in the world. Art connoisseur Thomas Hoving, former director of New York's Metropolitan Museum, has called this "the world's best collection of Western paintings."

The building is just 100 years old, but the complex design seems more ancient, with paintings hung as they were in the original collections. Feel free to spend a large chunk of your three days here, preferably divided over two half-day visits. After too many hours in a row, no one can properly appreciate an overdose of so much beauty.

>> Ring Road: Vienna has an excellent public transportation system, with an extensive network of subway, surface trams and buses. All you really need to get around this compact town is comfortable shoes, but this is a fine time to hop on the tram, which zips along the road's entire length, with great views. You'll pass the State Opera House, Parliament, City Hall, Hofburg, two main museums and the University. The price for one ticket is 19 shillings ($1.50), including free transfers and round trips during a one-hour period.

By now you should be ready to wind down with a nice dinner, perhaps followed by a concert, then bed.

Day 2

>> Schonbrunn: Similar to Versailles, which was an inspiration for royal homes all over Europe, Schonbrunn -- the Hapsburgs' glorious residence -- is a must for any visit to Vienna. You could get there as part of the typical city tour, which takes you inside with a guide ($25 for the half-day tour with Vienna Sightseeing Tours, 43 1 712 46830), or you can go on your own by metro, line U4. The three-hour bus tour would also show you the Ring Road, the Danube, the Prater Amusement Park, and stop at the Belvedere Palace, so this is a worthwhile excursion.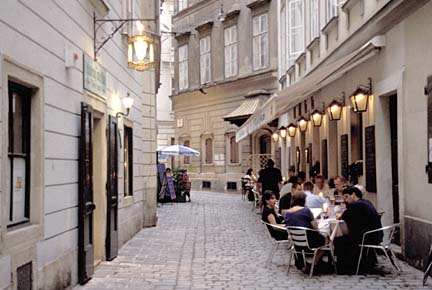 DENNIS CALLAN / SPECIAL TO STAR-BULLETIN
Day 2: Visit Schonbrunn Palace in the morning as part of a city tour on a bus with a local guide, who will walk you through the palace and describe Vienna's history. In the afternoon explore the little alleys behind the cathedral, continue to the Graben and Kohlmarkt shopping promenades, then wander through more little alleys, such as the one above, and squares around Am Hof and the Freyung.
---
The centerpiece of Schonbrunn is the Grand Gallery, like Versailles' Hall of Mirrors. The palace has 1,500 rooms, most of which are closed now, but the public tour does visit several dozen rooms containing original furnishings, which is enough to give you a feeling for life as it was. The gardens are particularly impressive.

Emperor Joseph II was the first European monarch to give freedom to the farmers, loosen up on religious constraints and proclaim that everyone is equal. The Pope and other leaders objected to this attitude, so Joseph gave in but maintained that people would finally be equal at death. He declared that everyone must be buried in the same style, like a pauper. For two years during his reign, everyone, including the nobility, was buried in this simple style.

Following Joseph's egalitarian burial system, Mozart was interred in an unmarked grave, and ever since we've had a false impression that the world's greatest composer was a pauper and forgotten at the time of his death. However, this was not the way the Viennese wanted to say goodbye to him, so the real observance for Mozart was two days before burial, with 5,000 people assembled at a church to listen to the grand premiere of his Requiem in a major ceremony. When Mozart died he had so much money that his wife, Costanza, needed 10 years to spend it all.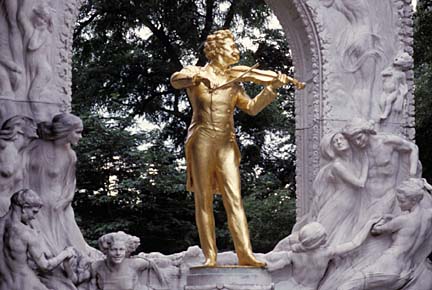 DENNIS CALLAN / SPECIAL TO STAR-BULLETIN
Johann Strauss, composer of "On the Blue Danube," is celebrated in the statue in the City Park.
---
If you are on the bus tour, it will continue to the Upper Belvedere Palace, one of Vienna's showplaces, with a beautiful setting in formal gardens that offer a sweeping view downhill to the Lower Belvedere and the town beyond. Originally, the Upper Belvedere was built as a residence for Prince Eugene of Savoy, who is a great hero of the Austrians because under his leadership the Turks were defeated in 1687, saving Europe from an Ottoman invasion.

There is a small art museum in the Upper Belvedere with Vienna's collection of Impressionists, including Renoir, Monet, Manet, Pissaro, Degas and Van Gogh, along with a large number of Austrian works of the 19th and 20th century -- especially noteworthy for the dozen masterpieces by Gustav Klimt, all set in an impressive Baroque palace. Even if you skip the museum, visit the gardens and lobby with its huge Atlas statues holding up the ceiling.

>> Old Town Center: The character of this special cluster of lanes and alleys behind the cathedral is saturated with the past, giving you more of a feeling for Old Vienna than any other part of town. It is easy to overlook this simple district, but you would miss out on a great deal of charm.

Wander through the zone on your own, but start with this suggestion: Facing the cathedral, walk left two blocks to Lugeck, a small square with a statue of Gutenberg in the middle. When you notice something like that popular gelato cafe on the corner, you should check it out. You will find this neighborhood is permeated with quiet charm, cobbled lanes, colorful buildings, taverns, ivy-covered walls, statues and the most wonderful tiny pedestrian passages that go through buildings to the next block. Use your radar to find the little courtyards and alleys.

Some things you want to look for here are:

>> The Jesuit Church, with its Baroque interior filled with optical tricks from the Counter-Reformation by the Italian master Andrea Pozzo.

>> Figlmuller, a traditional wine tavern famous for Wiener schnitzel.

>> Many notable homes and palaces, including Figarohaus (Mozart) and Prince Eugene's Winter Palace.

>> Three little alleys around the Franciscan Church -- Ballgasse, Blumenstock and Weihburgasse -- have pleasant sidewalk restaurants.

>> Graben to the Freyung: Emerge from this quaint, peaceful village atmosphere, and walk back into the large elegant pedestrian zone that extends through the middle of town along the Graben, lined with glamorous shops, restaurants and cafes, and framed by elaborate building facades. The Graben looks like a street that was converted into a pedestrian mall, but it is actually a long, narrow town square that was the site of a fortified moat in Roman times. In the middle is an impressive monument to the survivors of the plague, which killed 100,000 Viennese in 1679.

Conclude your explorations with more walking on the Kohlmarkt, Naglergasse and the Freyung, another complex of pedestrian lanes and little public squares. Kohlmarkt connects the Graben with the Hofburg. Here you will find the pastry shop, Demels, sadly overrun with tourists but still a cake-filled shrine that demands a visit. At least have a look.

Return to Naglergasse, a charming two-block pedestrian lane that curves from the Graben to Freyung, with more fine shops and three restaurants to consider: Meinl am Graben, Stadtbeisl and, on a side alley, Esterhazykeller (see our listings). The lane ends at the largest central square, Am Hof, surrounded by more palaces and churches. If you like such squares, keep walking toward the Judenplatz and the Hoher Markt, but this is a five-block detour, so return quickly to the Freyung to visit the fancy shopping mall in the Palais Ferstel, culminating in the Café Central coffeehouse at the far end.

If you have any strength left tonight, go out to a Heurige in the suburbs where they serve fresh white wine in outdoor taverns, often accompanied by live music. You can take your pick from a number of wine villages, but the most popular is the Grinzing. You can get there either on your own by tram 38, or in a package evening tour your hotel can arrange.

Day 3

>> Hofburg: The old Imperial Palace of the Hapsburgs has grown over the last 600 years into the largest structure in town, with nearly 2,500 rooms spread out over 18 buildings, containing 16 different museums. Originally a fortress that grew into a self-contained town, it would take a week to see it all. Walk around the exterior through its many courtyards and passages to get a feeling for the grandeur of the dynasty that created it. In Den Burg is the largest courtyard, Schweizerhof is the oldest, and Josefplatz the grandest. There is a delightful late-Gothic Hofburgkapelle to appreciate, especially if you should be so lucky to catch the Boys Choir here in one of their Sunday morning concerts.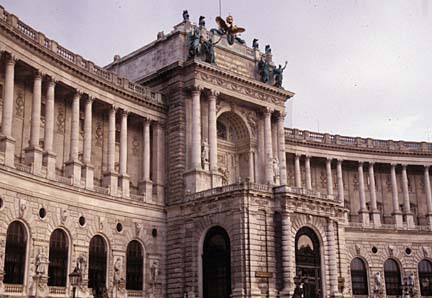 DENNIS CALLAN / SPECIAL TO STAR-BULLETIN Day 3: In the morning, explore some of the museums in and near the Hofburg Palace, above, followed by a walk along the locals' favorite shopping street, Mariahilfer Strasse. There may be some free time on this final afternoon to discover something new, like the Prater amusement park.
---
Ironically, the curved facade of Neueberg is the newest and most dramatic part of the building, constructed at the end of the 19th century and completed about 1913 in the last gasp of the Hapsburgs -- but it was never used due to the coming of World War I and subsequent abdication of the royal family. It is built in a mix of styles, with some Italian Renaissance forms and influences from Paris, and contains two museums, the Ephesos, with ancient Greek and Roman statues, and the Volkerkunde ethnographic museum, with a strong Aztec collection and Polynesian artifacts gathered by Capt. James Cook, including some Hawaiian treasures.

>> Museum Quarter and Mariahilfer Strasse: The former Imperial Stables one block from the Hofburg have been converted into a massive new contemporary art complex, the largest of its kind in Central Europe.

The Museum of Modern Art is celebrating the opening of its brand-new premises in the MuseumsQuartier Wien with a cross-section of Austrian and international art on five floors. Its debut exhibition exclusively features items from its own collection, including 400 masterpieces of classical modernism by Pablo Picasso, René Magritte, Joan Miró, Wassily Kandinsky and Paul Klee, as well as works by prominent post-1945 artists including Andy Warhol, Roy Lichtenstein and Georg Baselitz. The Austrians represented include Oskar Kokoschka, Arnulf Rainer, Hermann Nitsch, Valie Export, Franz West and Heimo Zobernig.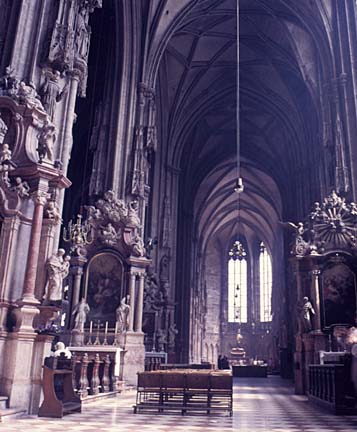 DENNIS CALLAN / SPECIAL TO STAR-BULLETIN
Stephensdom cathedral stands where the two main pedestrian malls, the Graben and the Kartnerstrasse, join. Built in gothic style between 1230 and 1433, with baroque touches added in the 17th century, this grand building symbolizes Vienna.
---
Also part of this innovative Museums Quarter development are four more new museums: the Leopold Museum, with important Austrian artists such as Klimt; ZOOM Kindermuseum, the nation's only children's museum, with a multimedia lab, hands-on attractions and an adventure playground; Architekturzentrum Wien, a contemporary museum of architecture; and Tanzquartier Wien, a space for contemporary dance and performance, also offering workshops and study center. All are open from 10 a.m. to 6 p.m. Fridays to Wednesdays, and 10 a.m. to 9 p.m. Thursdays.

Work your way through this complex, and come out the back side to a historic neighborhood called Spittelberg, renowned for the careful preservation of its 18th-century Baroque and Biedermeier buildings. There are four little car-free cobbled lanes with art galleries, craft shops, cafes and gentrified homes in what has been rediscovered as one of the trendiest parts of town.

From here it is only a stone's throw over to the busy mile-long commercial street of Mariahilfer Strasse, Vienna's most popular shopping district for local residents.

This is where we shall leave you, strolling along through retail heaven -- but if you would rather skip the shopping, there are plenty of other things that could keep you busy in Vienna, for this grand capital has so much to offer.

Crafting your own Viennese adventure

The Tourist Information office offers hints about what to see and do in Vienna. Located at 38 Kärntnerstrasse (call 01/513-8892) in the heart of the inner city, directly behind the Opera House, it's open daily from 9 a.m. to 7 p.m. It stocks free copies of a tourist magazine, Wien Monatsprogramm, that lists what's going on in concert halls, theaters and opera houses.

Also worthwhile is "Vienna A to Z," a general, pocket-size guide with descriptions and locations for a slew of attractions. This booklet is also free, but don't rely on its map.

For information on Vienna and Austria, including day trips from the city, visit the Austrian National Tourist Office (01/58866) at Margaretenstrasse 1, A-1040. The region surrounding the city (Lower Austria, or Niederösterreich) contains dozens of attractions worth a visit. For a run down on the Wachau (Danube Valley) and the Wienerwald (Vienna Woods), you might want to contact Niederösterreich Information, Walfischgasse 6, A-1010 Vienna (01/5333-11428). Its office is about two blocks south of the State Opera House, near the Karlsplatz.

Here are a few restaurant and hotel suggestions. Phone numbers are listed for restaurants that suggest reservations; prefix with 011-43-1 if calling from the United States:

Restaurants and cafes

>> Rosenberger Markt: 2 Meysedergasse. Basement buffet 11 a.m. to 11 p.m.
>> Demel: 14 Kohlmarkt. This well-known and pricey pastry shop has a beautiful interior and artistic display of cakes.
>> Café Sacher: 4 Philharmonikerstrasse. Home of the famous Sachertorte.
>> Café Central: 14 Herrengasse (in Palais Ferstel). A former important intellectual hangout.
>> Wrenkh: 10 Bauernmarkt. One of the few vegetarian restaurants; 533-1526.
>> Figlmuller: 5 Wollzeile. Wine tavern with the thinnest, largest Wiener Schnitzel in town; 512-6177.
>> Zum Scherer: 7 Judenplatz. Traditional wood-paneled Austrian "beisel."
>> Meinl am Graben: 1010 Naglergasse. A two-story food emporium, like Fauchon.
>> Stadtbeisl: 21 Naglergasse. Traditional vaulted, paneled rooms; hearty Austrian food; 533-3507.
>> Esterhazykeller: 1 Haarhofgasse. Sit in a traditional cellar room, or sit out in the leafy square; 533-3482.

Fine dining

Price estimates are per person with wine.
>> Korso, in the Hotel Bristol: 2 Mahlerstrasse. Modern Viennese haute cuisine, $70; 515-16546.
>> Steirerck: 2 Rasumofskygasse. Reputedly the best in town, $100; 713-3168.
>> Schnattl: 40 Langegasse. A favorite of Vienna's foodies, very fashionable with an outdoor courtyard, $60; 43-1-405-3400.

Hotels

>> Central booking office: 43-1-24-555; fax 43-1-24-555-666
>> Hotel Wandl *** 9 Petersplatz $170; 534-550; fax 534-5577 (our favorite)
>> Hotel Am Stephansplatz **** 9 Stephansplatz $170; 534-050; fax 534-05711
>> Hotel Opernring *** 11 Opernring $190; 587-5518; fax 587-551829
>> Hotel Astoria **** 32 Kartnerstrasse $188; phone 515-770; fax 515-7782

Deluxe hotels

>> Hotel Sacher ***** 4 Philharmonikerstrasse $390; phone 51456; fax 514-57810
>> Hotel Imperial ***** 16 Kartnerring $400; phone 501100; fax 501-10410
>> Hotel Bristol ***** 1 Kartnerring $470; 515-160; fax 515-16550

Web sites

www.austria-tourism.at
www.info.wien.at
www.magwien.gv.at
www.virtualvienna.net

---

Dennis Callan is the president of the Hawaii Geographic Society and often leads tours through Europe with Hawaii travelers. He produces the "World Traveler" television series, shown at 7 p.m. Tuesdays, repeating 9 a.m. Wednesdays on 'Olelo channel 52, where you can view the companion episode to this article. "Three Days in ..." appears the first Sunday of the month.
E-mail to City Desk
---
---
© 2001 Honolulu Star-Bulletin
http://archives.starbulletin.com