CLICK TO SUPPORT OUR SPONSORS

---

---
Sunday, December 30, 2001




2001 YEAR IN REVIEW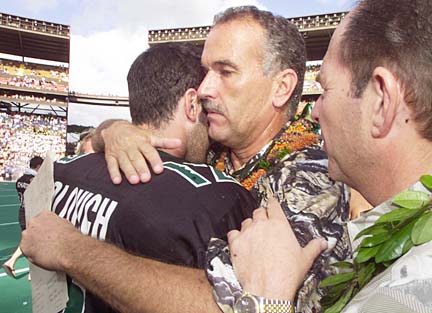 STAR-BULLETIN / 2001
Hawaii football coach June Jones hugged quarterback Nick Rolovich after the Warriors' big win over Brigham Young capped a glorious 9-3 season. Rolovich led UH back from a 1-2 start.
---
Life and death
won out over wins
and losses in '01


The past year left a lasting mark
on the local sports world

---

By Paul Arnett
parnett@starbulletin.com

There are some years that go by unnoticed. Others that leave you longing for something more. And then there's 2001, a 365-day span filled with near-death experiences and life-altering moments that left the local landscape forever changed.

Cal Lee upped and retired. June Jones' license almost expired. And Mike Trapasso was finally hired. In between these major shifts in the island sports world, Kahuku captured its second consecutive state title in football, Riley Wallace led the Rainbows to the NCAA promised land and some guy named Rolo revived a football team that knows all about life's highs and lows.

Of course, there were other local triumphs and eventualities that brought the island chain to the edge of its seat. There was 11-year-old Michelle Wie smacking golf balls with the big boys during the waning months of summer.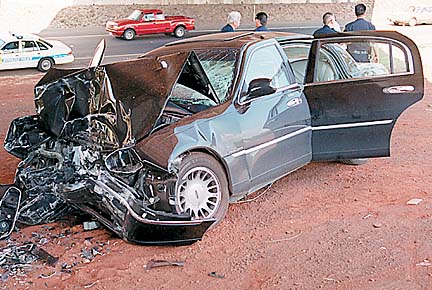 STAR-BULLETIN / 2001
Jones nearly died in a car crash.
---
There was Lily Kahumoku deciding to sit this one out in women's volleyball.

And what about Damien's decision not to play St. Louis in football that brought about a restructuring in the ILH that might lead to classification in all of high school sports somewhere down the road?

True, there are other Kodak moments. The development of Kim Willoughby into one of the best Rainbow Wahine athletes can't be ignored. The divorce of the Christmas Day doubleheader and the marriage of the Hula and Pro bowls are also worthy of mention.

But none is bigger than Jones' crash on H-1 on Feb. 22 that left folks holding their breath as he fought back from the brink of death. While he lay in a hospital bed recovering from a wreck that reached all levels of his life, Jones' football team made a solemn promise to get better.

It took Nick Rolovich to revive a dead career of his own by stepping in for the injured Tim Chang and leading the Warriors on one of the more whimsical runs in UH history. As Jones grew stronger, so did UH's resolve to make something out of nothing.

The 2000 season's 3-9 campaign hung around like an unwanted ghost. Only a heroic win at Southern Methodist chased these evil spirits away as Hawaii managed a six-game swing that could result in a national ranking by the end of the week.

What made it sweeter still was a 72-45 thrashing of then-No. 9 Brigham Young on a Saturday morning no one's likely to forget. Rolovich earned a spot in the Hula Bowl and prolonged his collegiate career by one more game.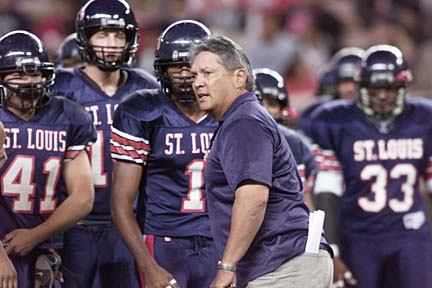 STAR-BULLETIN / 2001
St. Louis coach Cal Lee stepped down after several years of dominating Hawaii high school football.
---
Together, he and Jones made the UH program viable again. A contract extension for Jones is expected to be signed and sealed soon with a promise from maverick UH president Evan Dobelle that there will be a whole lot of shaking going on in the years to come.

Will that include Lee? His retirement at St. Louis School leaves the speculation door wide open at UH. Jones is not one to talk about the hypothetical, but it seems unlikely that Lee will be sidelined for long.

His retirement party was crashed by the Red Raiders, who proved a power shift toward the North Shore has been made in high school football. No longer does the road to the state championship go through St. Louis. You have to come up Kamehameha Highway if you want to put the trophy in your case next season.

Trapasso is hoping to add some hardware of his own to the dusty shelves of what was once a proud program. A steady erosion through the 1990s left Les Murakami's legacy somewhat tattered and torn.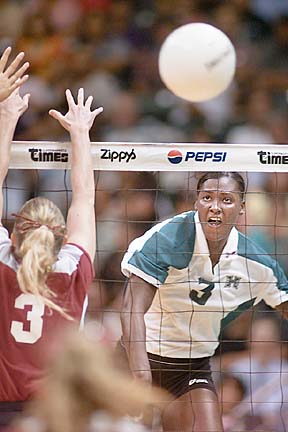 DENNIS ODA / DODA@STARBULLETIN.COM
Wahine volleyball player Kim Willoughby stepped up after the decision by Lily Kahumoku to sit out a season.
---
But his long struggle back from a life-threatening stroke far outweighs any decline at the stadium he built. Trapasso inherits a tradition that can be made whole again in time. Meanwhile, the fathers of UH made a wise decision in naming the stadium after Coach Les. His dream was always to go back to the College World Series. Perhaps he can live that moment through Trapasso, who has the pedigree to put the Rainbows in the postseason parade.

Wallace managed to do it with a collection of players flung far and wide. Using a little sports psychology along the way, the Hawaii basketball team advanced to the NCAA Tournament by winning the WAC version during the madness of March.

After knocking off once nationally ranked Fresno State last Thursday night, it's not hard to imagine Hawaii making a return engagement to greatness. The same can be said of Wie, Kahumoku and Willoughby. These women are poised for greatness and will likely be part of more magical moments in 2002.

Can it top the odyssey of 2001? We'll have to wait another 365 days to see.
E-mail to Sports Editor
---
---
© 2001 Honolulu Star-Bulletin
http://archives.starbulletin.com