CLICK TO SUPPORT OUR SPONSORS

---

---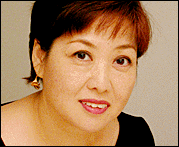 Local Color



Sunday, December 30, 2001
BY SUZANNE TSWEI
---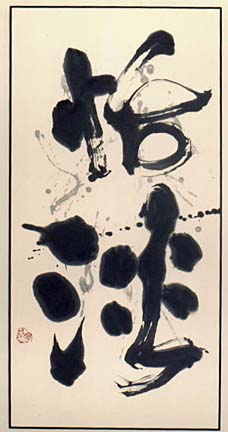 CRAIG T. KOJIMA / CKOJIMA@STARBULLETIN.COM
The characters in "Tentan," above, read "desire" ("ten") and "less" ("tan"), implying a peaceful, fulfilled life.
---
Calligraphy as a calling

At year's end, artist Suiyo finds her
brushwork in high demand

The artist officially called Suiyo and otherwise known as Miho (no last name, please) in her personal life is very private about her practice of the centuries-old art of Japanese calligraphy.

Suiyo doesn't care about having her art on public display. The motivation for her art is simple: She does it because it pleases her.

"I just like it. I don't know why. I like the feeling of the touch of the brush strokes, I like making the ink, I like the paper -- beautiful paper," Suiyo says, leaning over a treasure trove of hand-made petite water jars, intricately carved seals and ink stones collected for her art making.

"I don't do for art shows; I don't care about being seen," she says, although she has had a couple of exhibits since moving from Kobe to Honolulu seven years ago.

Suiyo has felt that way about calligraphy since she was 5 years old, which was when she first asked for lessons while growing up in Japan. The adults were amazed by her determination.

"I couldn't read the words, but I wanted to learn how to write. I couldn't read, but I could copy," she says.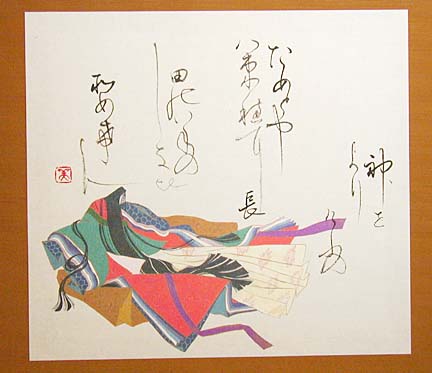 CRAIG T. KOJIMA / CKOJIMA@STARBULLETIN.COM
Suiyo copied an old Japanese poem on printed paper for this untitled work. The romantic poem was written in the voice of a woman reminiscing about her lover. Below, Suiyo's calligraphy brushes.
---
Keeping her art to herself may not be possible this time of year when calligraphy becomes the ultimate gift for ushering in the new year.

In the Japanese tradition, calligraphy is an exalted art form practiced by the learned. It can be combined with painting but often stands on its own merits. Calligraphy in a myriad of traditional and individual styles is often given as gifts on auspicious occasions such as birthdays, weddings and the start of a new year.

Suiyo prefers contemporary, abstract forms of calligraphy -- when the words, reduced to blotches and streaks of ink strokes, are completely indiscernible. But she was trained in the traditional styles and is perfectly willing to write readable characters on request.

Suiyo also can be unconventional in mixing her ink. The traditional way calls for water as the artist grinds the ink stick on the ink stone. Suiyo has tried rain water, tea and milk in place of plain water. (Milk is a bad idea in Hawaii. The protein in the milk attracts cockroaches and bugs that'll nibble the paper.)

The ink takes on different tones depending on the liquid medium as well as weather conditions. The humidity in the air can add slightly reddish or bluish tones to the black ink.

Her fans, mostly other transplanted Japanese, seek her out this time of year to write auspicious characters as gifts. Although calligraphy is also popular in the islands among the local Japanese, few are aware of the artist who's content in being her only audience.

Typically the new year's gift is presented to family members on the first day of the year, Suiyo says. Calligraphy is given to friends and business associates on the second day. The multiple days of gift giving is the result of Japanese social rituals. The first day is marked by family gatherings while the second is reserved for non-family relationships.

The gift can be a single word or a poetic combination of auspicious words encouraging a positive beginning.
"You write lucky and happy sayings. New year is the time many people wishing for good luck, so it's a time to give calligraphy for good luck," Suiyo says.

One appropriate saying is a combination of four words: "ju," meaning lucky life; "zan" meaning mountain; "fuku," meaning happy life; "kai" meaning ocean. The Chinese characters add up to a bold wish for a happy, prosperous year.

The Japanese tradition also calls for individuals to write their own calligraphy to mark a fresh start. Suiyo does that for herself on Jan. 2, a day designated for new year's calligraphic rituals.

The new year calligraphy isn't practiced for art's sake, Suiyo says, but to complement "everyday life." Having a lucky saying on the wall is good for the mind when things get tough during the year.

Suiyo, who conducts business under the name of Shodo Art Studio, is not listed in the telephone directory. Call her at 551-7302 for calligraphy or lessons. Her calligraphy, a 27-inch-by-53-inch framed piece with four characters, costs about $1,000. She also gives private lessons, but only to adults serious about learning.





---




---

Suzanne Tswei's art column runs Sundays in Today.
You can write her at the Star-Bulletin,
500 Ala Moana, Suite 7-210, Honolulu, HI, 96813
or email stswei@starbulletin.com
E-mail to Features Editor
---
---
© 2001 Honolulu Star-Bulletin
http://archives.starbulletin.com