CLICK TO SUPPORT OUR SPONSORS

---

---
Sunday, December 30, 2001


[ STUFFS ]
---
RESTAURANT REPORT


Hilo hosts food festival

The first food festival of the year takes place in Hilo Jan. 20 -- Taste of Hilo IV -- featuring Big Island chefs and their restaurants.

Presenting cooking demonstrations using Big Island produce will be Daniel Thiebaut of Daniel Thiebaut Restaurant, Colin Nakagawa of Seaside Restaurant and Ryan Vargas, formerly of the Mauna Lani Bay Hotel and Bungalows.

Along with these chefs, a host of restaurants will offer their specialties: the Hilo Hawaiian hotel, Big Island Bistro, Hilo Yacht Club, Orchid Village Restaurant, Café Pesto, Honu's Nest, Tsunami's Grill and Tempura, Cronies, Island Infusion, Island Natural, Dotty's, Fiasco's, Kuhio Grille, Hawaii Naniloa and Nori's Saimin.

The benefit for the Hawaii Community College Culinary Arts Program takes place 1 to 3 p.m. at the Hilo Hongwanji. Tickets are $35, available at the Japanese Chamber of Commerce and the Hawaii Community College Provost Office. Call 808-934-0177.

Winemaker feasts on tap

Sam Choy's Diamond Head launches its series of winemaker dinners for 2002 on Jan. 8, featuring Steve Felton, winemaker for EOS Winery of Paso Robles, Calif.

The EOS wines will accompany a four-course menu featuring Pan Seared Dayboat Scallops with Beluga Caviar, Tomato Dusted Island Moi Fillet with Spicy Abalone Sauce, Juniper Scented Seared Squash and dessert. The 1999 Sauvignon Blanc, 2000 Chardonnay, 1999 Zinfandel, 1998 Petite Syrah and 1999 Tears of Dew Moscato will be poured.

Cost is $55. Call 732-8645.

---

ISLE PAGES

National releases in paperback, compiled by the New York Times: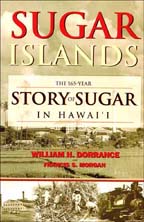 "Sugar Islands," by William H. Dorrance and Francis S. Morgan

(Mutual Publishing, $18.95)

The late Bill Dorrance had a no-nonsense, workmanlike approach to history - likely due to his background as a pilot and scientist - and that's reflected in this detail-rich compendium. Dorrance's view was that sugar shaped Hawaii more than Hawaii affected sugar, creating a paternal model for industry here that was closely affected by boom-or-bust international cycles, and little ripples abroad often swamped the islands. Co-author Morgan began researching the work as the last owner of Hamakua Sugar Co. Liberally illustrated, it has enough data to satisfy the sugar-history completist.

"Na Mele Hula, Volume 2, Hawaiian Hula Rituals and Chants," by Nona Beamer (University of Hawaii Press, $24.95)

This appears to actually be a textbook for Brigham Young students and, as such, isn't too fancy when it comes to presentation. Students of Hawaii culture will find a gold mine as noted scholar Beamer presents and dissects 36 well-known chants. The material is augmented by an attached cassette of the chants themselves, performed by Beamer and family.






Click for online
calendars and events.





---





Send WatDat? questions, stories
or any other story ideas or comments to:
Features, Honolulu Star-Bulletin, P.O. Box 3080,
Honolulu, HI 96802 or send a fax to 523-8509
or E-mail to features@starbulletin.com.
Please include your phone number.
E-mail to Features Editor
---
---
© 2001 Honolulu Star-Bulletin
http://archives.starbulletin.com