CLICK TO SUPPORT OUR SPONSORS

---

---
Monday, December 24, 2001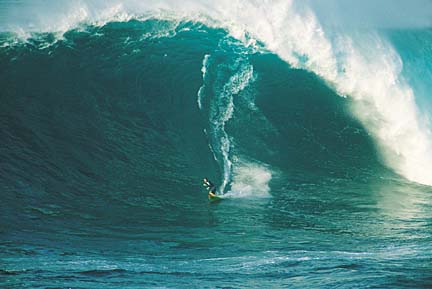 OCEAN PROMOTION
Brazilian Eraldo Gueiros surfed huge waves at Jaws last year on Maui, where the opening sequence of the latest 007 film will be filmed.
---
Maui waves get
top billing in
new 007 flick


A local camera crew and surfers
will film the first scene for
the James Bond movie

---

By Tim Ryan
tryan@starbulletin.com

In the 20th James Bond film, Maui will get a starring role in the opening sequence in January.

A local camera crew and several surfers will be setting up shop at Jaws, Maui's ferocious big-wave surf spot off the island's northeast coast, for shooting the opening sequence of the as-yet-untitled MGM movie.

The secret project reportedly will feature five noted tow-in surfers. Jaws regular Laird Hamilton, who lives in Los Angeles, currently is in negotiations.

The Jaws opening is related to the film's story line.

A six-member camera crew headed by noted Hawaii water photographer Don King, who is "director of photography, surf unit," and surf videographer Sonny Miller, have been hired to film the giant waves using jet skis and speed boats.

The crew is scheduled to film surfing sequences for three days between Jan. 2 and 7, with the five-day window planned to ensure favorable wave conditions and footage, sources said.

King, Miller and several other camera crew members currently are working on the film "Surf Girls," being shot on Oahu. That production takes a holiday break through early January, allowing the water photogs a chance to shoot the Bond sequence. Glen Beadles of Maui is coordinating the Maui water work.

The latest installment of the longest-running and most successful franchise in cinema history will be produced by Michael G. Wilson and Barbara Broccoli and will be released in November.

Pierce Brosnan will make his fourth appearance as James Bond; the film will be directed by New Zealander Lee Tamahori, who directed "Once Were Warriors, "Along Came a Spider" and "The Edge." Halle Berry is in negotiations to co-star as a villainess. Dame Judi Dench and John Cleese will reprise their roles as M and Q, respectively.

Rick Yune, who starred in the blockbuster feature "The Fast and the Furious" and "Snow Falling on Cedars," will star as the lead male villain.

Although the script is being kept under wraps, Yune reportedly will portray a North Korean general named Zao, who is being tracked by Bond. Yune will don facial prosthetics for the part as his character comes across the mutating device and begins to undergo facial transformation. But the experiment goes awry, leaving him half-changed.

First-unit production begins next month at Pinewood Studios, England.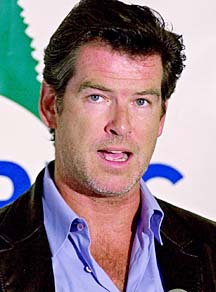 ASSOCIATED PRESS
Pierce Brosnan, recently named the "Sexiest Man Alive" by People magazine, will play the dashing agent 007 once again.
---
007 credits sequence dates back to 'Dr. No' film

The practice of incorporating opening credits as part of a film's story line began in 1962 with the first James Bond film, "Dr. No."

Credits designer Maurice Binder reportedly had only 15 minutes to come up with the famous gun-barrel sequence that has opened every Bond film since then. Composer John Barry had only two hours to write the famous James Bond theme song.

An attractive woman at the gaming table talks to an unseen gentleman:

"I admire your luck, Mr. ..."

The camera then reveals Sean Connery, who deadpans: "Bond. James Bond."

And the gun-barrel sequence kicks in.

Now 007's first appearance is part of movie folklore.

Since that time, opening credits have become as much music video as plot foreshadowing.

One of the most memorable sequences was in "Goldfinger," with the theme sung by Shirley Bassey while women in various stages of undress are shown silhouetted in various shades of gold.

"All the Time in the World," by Louis Armstrong, also skirts the Bond films' no-nudity policy by having nude women dance during the opening credits, but appearing only in silhouette.

The opening in "Diamonds Are Forever," also sung by Bassey, features shots of twirling, glistening diamonds and a few dancers.

"You Only Live Twice," sung by Nancy Sinatra, has its most surprising moment during the opening credits.

"Goldeneye," by Tina Turner for the film of the same name, is stunning with a surreal pop fantasy of Soviet realist statues and Janus-headed babes. Who could not love the sight of women writhing atop Lenin's bronze head as hammer-and-sickle sculptures drop through the air and shatter on impact?

Bond films also are noted for their theme songs, which have included "Live and Let Die" by Paul McCartney and Wings; "Nobody Does it Better" by Carly Simon, from the "The Spy Who Loved Me"; and "For Your Eyes Only" by Sheena Easton, from the movie of the same name.





Click for online
calendars and events.
E-mail to Features Editor
---
---
© 2001 Honolulu Star-Bulletin
http://archives.starbulletin.com