CLICK TO SUPPORT OUR SPONSORS

---

---
Friday, December 21, 2001




[ DIVISION II SPORTS ]
Singing a humble Ballard

The Chaminade junior forward puts
up big numbers without talking a big game

---

By Brandon Lee
blee@starbulletin.com

Talk "softly," but carry a big-time game.

This is the approach that Chaminade basketball player Leon Ballard always tries to maintain, and so far this early season, he has done it successfully as a newcomer to the Silverswords.

Entering last night's game at Northern Colorado, the 6-foot-5 junior forward, who transferred from San Joaquin Delta (Calif.) College after last season, had led Chaminade to a 4-3 record with team-best averages of 17.4 points and 6.9 rebounds a game.

The 20-year-old from Sacramento helped the Silverswords to four straight wins after losses in their first three games.

Yet, as torrid a start as Ballard has had on the court, he is a genuinely humble person off of it.

"I knew coming in I was going to play hard," said Ballard, who is with Chaminade on a three-game road trip that concludes tonight at Colorado Christian.

"I wasn't expecting anything else (of myself) other than to play hard," he added. "(But) I got a long way to go and so does the team."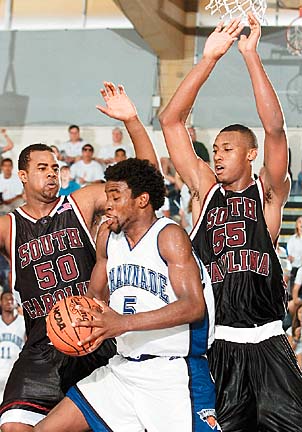 ASSOCIATED PRESS
Leon Ballard scored 20 points against Division I South Carolina on Nov. 19 in the Maui Invitational.
---
After guiding the Silverswords to their first winning campaign in the last 14 in his first season at the helm last year, coach Aaron Griess was one person counting on Ballard coming in and producing right away -- even if Ballard wasn't necessarily expecting it of himself.

Griess wanted to build off last year's momentum, but needed someone to offset the loss of his top two scorers -- one of whom was also the team's leading rebounder. He saw that potential in last season's Most Valuable Player of the Bay Valley Conference, and Ballard has not disappointed him in shouldering the majority of the load so far.

Consistently good, Ballard has led or tied for the lead in scoring for the Silverswords in all but one of their first seven games and posted team-highs in rebounds in four of them. He has scored in double-figures in all seven contests, including the first three against Division I competition when Chaminade hosted the Maui Invitational.

Ballard can shoot from the outside (6 of 18 from 3-point range) as well as the post, and he can distribute the ball (11 assists). Still, Griess also believes that Ballard has much room for improvement.

"We expected a lot out of Leon coming in and we're pleased," Griess said. "But he can be a lot better than he is right now.

"And he's a humble person and I think he knows that. He's everything we expected, but he probably expects himself to be much better."

One particular area of improvement Griess would like to see is in Ballard's glasswork. Though Ballard leads the team in rebounding, Chaminade's skipper believes his star could easily average 10 boards a game if he continues to work at it.

Ballard agreed: "I need to grab as many rebounds as I can. Rebounding is important to me and to the team."

Ballard said he will continue to work hard to raise all aspects of his game, further motivated by his contentment in Hawaii and the chance for a fresh start. Never having been to the islands before joining the Silverswords, he was eager to come to a place where the "people are real nice" and to join a young coach with a program that had just begun to turn the corner.

His continued development is one of the keys for Chaminade building last year's progression into a trend. The Silverswords have two nonconference games remaining next weekend before beginning their Pacific West Conference schedule against Montana State-Billings on Jan. 4.

Ballard believes that Chaminade wearing a conference crown when that schedule finishes at the end of the following month is not unrealistic.

"I like everyone on this team," Ballard said. "This is a good group of guys and I think if we play hard, we can play with anybody. We just got to take a game at a time and we'll see what happens."

---



E-mail to Sports Editor
---
---
© 2001 Honolulu Star-Bulletin
http://archives.starbulletin.com