CLICK TO SUPPORT OUR SPONSORS

---

---
Sunday, December 16, 2001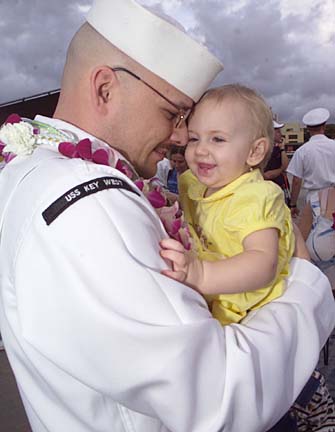 DENNIS ODA / DODA@STARBULLETIN.COM
Chris Shultz, above, gave his happy 11-month-old daughter, Kaylee, a hug after he was greeted by his wife, Bobbie, and son, Tristan, 4, when he returned on the USS Key West nuclear submarine in Pearl Harbor yesterday after a five-month deployment in support of "Enduring Freedom."
---
Key West gets a
warm welcome
at Pearl Harbor


The submarine comes home
to family and friends after
firing missiles at Afghanistan

---

By Diana Leone
dleone@starbulletin.com

The USS Key West came home to Hawaii with its mission accomplished: two months of launching Tomahawk cruise missiles at Afghanistan as part of Operation Enduring Freedom.

How many missiles were launched and what their specific targets were can't be told, Captain Charles K. Merkel Jr. said yesterday after disembarking from his submarine's five-month deployment.

But the broom displayed high on the submarine's sail as it pulled into Pier S at Pearl Harbor just before 5 p.m. told the story.

"It means we did our job well -- it was a clean sweep," Merkel said, his neck covered with lei, as joyful friends and family greeted the crewmembers around him. "Everyone stood up and did their job just like they were trained to do."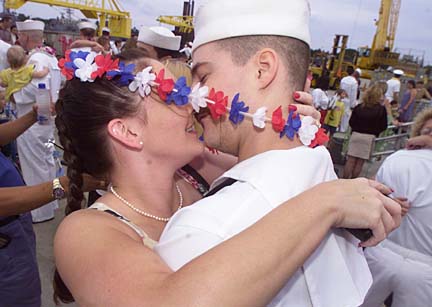 DENNIS ODA / DODA@STARBULLETIN.COM
A loose lei didn't inhibit any kissing between Chrystal and Michael Newbern after he walked down the Key West's gangplank.
---
The nuclear submarine left Honolulu in late July for routine exercises in the North Arabian Sea with the Carl Vinson battle group, Merkel said. But when the Sept. 11 terrorist attacks happened, its mission changed.

Merkel said the mood was somber when submariners heard the news of the hijacked airplanes in New York, Pennsylvania and the Pentagon.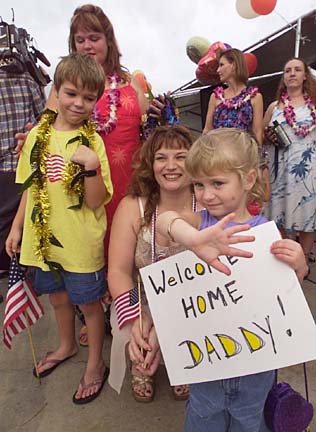 DENNIS ODA / DODA@STARBULLETIN.COM
Adriana Hedden, 4, held a sign for her dad. Her mom, Delta Hedden, was eager for dad, Elton Hedden, to return on the USS Key West nuclear submarine in Pearl Harbor yesterday.
---
The USS Key West was "probably the first ship to respond" and when ordered to fire its missiles, he said, "we knew we were striking back at someone who had attacked our nation."

For Merkel and most of his 140-man crew, this was their first combat experience. Four aboard were from New York, but eventually learned that their families there weren't harmed by the attacks.

"Everyone knew what we had to do," Merkel said. "That's why we have a Navy."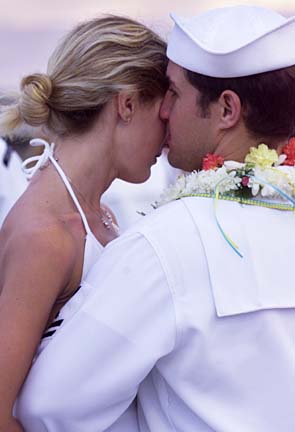 DENNIS ODA / DODA@STARBULLETIN.COM
Bill and Dana Shreve shared a tender moment after his return on the USS Key West yesterday in Pearl Harbor.
---
Many wives of submariners had feared their husbands' time at sea might be extended by the war on terrorism, keeping them away past Christmas. But they returned to port only a few days behind schedule.

Before the gangplank was extended for the men to leave the sub, Twyla Generally said she didn't know if her husband, Devon, 25, had been in combat or not.

"They might have been, but I had no knowledge of it," Generally said as she waited anxiously with her children, 7-year-old Alexis, 5-year-old Amber, and 19-month-old Devon Jr. She said the whole family would probably go out for dinner, "because I haven't been out in five months."

Bobbie Shultz, 25, was among a group of wives that had practiced five weeks to perform hula for the crew as the 360-foot-long sub pulled in, with a giant red, white and blue lei draped on its sail.

"After Sept. 11, I was very afraid, excited, nervous," Bobbie Shultz said. And Tristan, 4, "didn't really understand why Daddy was gone so long."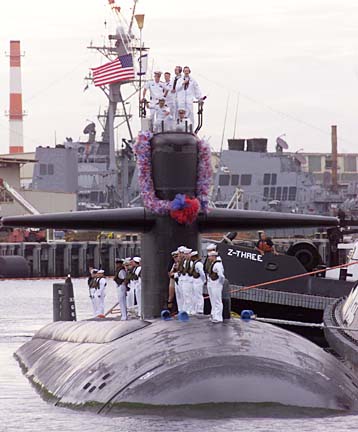 DENNIS ODA / DODA@STARBULLETIN.COM
The USS Key West nuclear submarine, above, came home to welcoming families and friends at Pearl Harbor yesterday.
---
Tristan was overjoyed when Christopher Shultz, 28, came off the gangplank. But 11-month-old Kaylee was enchanted to meet her dad again. They looked into each other's eyes, forehead to forehead as Shultz held his daughter. And she reached out again and again to touch his mustache and pull on his lip.

Christopher Shultz, with nine years in the Navy, summed up the tour of duty in one word: "Rough."

"I'd say we knew what we had to do," he added.

While many submariners happily greeted family and friends on the pier, 20-year-old Gianni Santisi of Las Vegas was waiting for some of his fellow bachelor crewmates to go out on the town.

Was it good to be back?

"Most definitely."
E-mail to City Desk
---
---
© 2001 Honolulu Star-Bulletin
http://archives.starbulletin.com