CLICK TO SUPPORT OUR SPONSORS

---

---
Sunday, December 16, 2001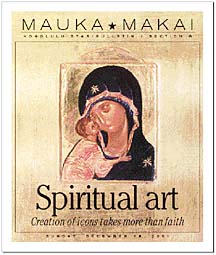 ---




[ MAUKA-MAKAI ]

---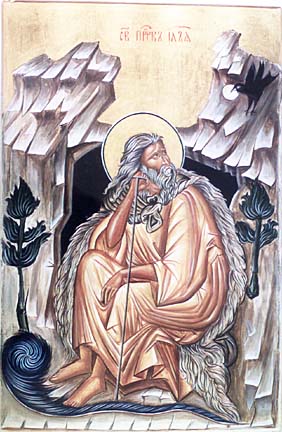 DENNIS ODA / DODA@STARBULLETIN.COM
Brigitte Baert's icon, or writing, of the prophet Elias is created with mineral pigment and a medium of egg yolk and white wine.
---
Sacred imagery as art


Brigitte Baert demonstrates the
dying discipline of iconography

---

By Suzanne Tswei
stswei@starbulletin.com

If a church is God between four walls, as an American proverb says, then an icon is God you can hold in your hands to worship within the comfort of your own four walls.

Creating paintings of Christian deities on wood tablets and other materials is the artists' contribution to the Christian faith, but as the churches evolve to suit modern demands, the centuries-old tradition has become a dying art.

And if you've seen French artist Brigitte Baert at work, you'd understand why the art form is limited to the most dedicated and serious artists. Baert, a recognized master in Europe, is in Honolulu to conduct two icon workshops at the Academy Art Center at Linekona.
Creating icons -- one should never say "painting," Baert said, "writing" is the correct term because icon is the word of God written in an image -- is demanding, exacting and time consuming. Preparing the wood tablets for writing takes at least a week.

Baert, who uses wood from the linden tree, first has the wood cut to size and prepared by a cabinet maker. Then she layers on a sheet of linen with rabbit glue and white paint. She applies 14 layers of the glue and paint in between sanding, allowing 12 hours for each layer to dry. The last sanding -- by hand, no machines -- requires two days in order to achieve a surface as smooth and glossy as marble.
Then the writing begins, which is equally exhausting. The images must be historically correct -- angels and saints have claims to certain colors and dress, for example. Usually the images are copied from works by old masters. But "you don't copy like a slave," Baert said. When you've gained enough knowledge and skills, there is room for interpretations and creativity within limits.
DENNIS ODA / DODA@STARBULLETIN.COM
The French artist uses mineral pigments to create writings, which she stores in blood vials, above. Gold leafing is also applied to writings, because gold is the color of eternity. But colors are not used arbitrarily. Angels and saints have claim to certain colors.
---
"But you have to meditate. That's always first," Baert said about her procedures in writing an icon. The images must come from within the artists, something soulful and spiritual.

"You have to do what you are feeling. You should never forget (writing an icon) is (an act of making) the visible from the invisible," Baert said. Artists who are interested purely in manufacturing images for sale are missing the point about icons. They are religious objects that symbolize faith and must be regarded as sacred.
After she draws the images, Baert painstakingly layers on thin layers of washes with small brushes to build up to a rich tapestry of colors. The colors are mixed from mineral powders and applied with a medium of egg yolk and white wine.

The medium can be made from egg yolk and vinegar also, but the vinegar gives it a bad smell after a few days. Baert used a very expensive bottle of French wine for her Honolulu students because it was the bottle handy. Inexpensive wine works equally as well.
The gold leafing, which gives icons the distinctive old-world look, is the result of careful mixing and application of gold powder and the medium. (Gold is the color of eternity.) An icon, depending on the size and complexity of images, can take weeks or a year to complete, Baert said.

An icon should be a feast for the eye, Baert said. Artists, whose inspiration must come from the heart and theology, should remember the art they are creating also is about beauty.

Baert, who showed artistic talent as a child, was a world traveler and free-lance journalist for architectural and design magazines before she took up the art of icon. She was always interested in spiritual matters and losing "someone very dear" to her made her receptive to iconography, she said.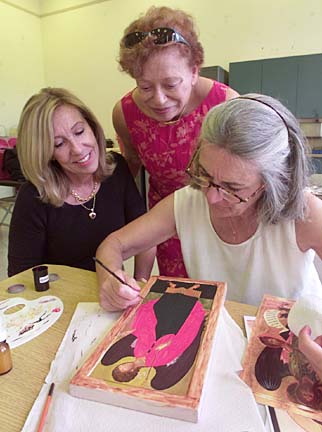 DENNIS ODA / DODA@STARBULLETIN.COM
Simone Cahill-Berlin, left, and Nelly Baers watch teacher Brigitte Baert's technique for adding detail to an icon.
---
Baert studied for five years with Father Igor Sendler, an uncontested master of Russian iconography, at the Center of Russian Studies in Paris. Her works are sought after by private collectors and adorn chapels throughout Europe. Baert also paints frescos and non-religious paintings.

Baert has traveled to Argentina and throughout France to teach icon writing. Her two workshops in Honolulu filled up through word of mouth, and the art center is planning for more workshops in the spring.

The seven-day workshop costs $350 a person, and each student will complete an icon during the course. The cost includes supplies. Call the art center, 532-8741 for more information.





Click for online
calendars and events.
E-mail to Features Editor
---
---
© 2001 Honolulu Star-Bulletin
http://archives.starbulletin.com