CLICK TO SUPPORT OUR SPONSORS

---

---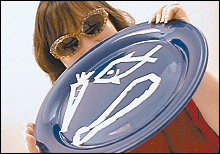 The Weekly Eater
BY NADINE KAM
Sunday, December 16, 2001
---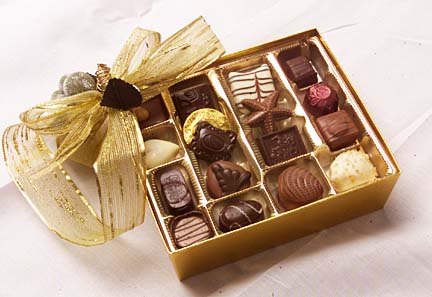 FL MORRIS / FMORRIS@STARBULLETIN.COM
Fortunately, some companies have taken the peril out of the chocolate selection experience. Godiva boxes, above, come with a map.
---
Sweet, difficult choices dwell
in each box of chocolate

No doubt several boxes of chocolates will cross your threshold this season, and upon opening one, confronted by all shapes, colors and sizes of chocolates, you will be faced with a classic dilemma: Pick one.

Concentrated in the next few minutes is the sum of your thoughts, character and insecurities. Each piece holds the promise of nirvana or indescribable suffering, and while we make educated gambles based on the shape, colors and sizes of chocolates that have come before, well, you never know whether that harmless looking milk chocolate square holds fudgy delight or a mystery ooze.

It's no wonder people approach this task with excitement and trepidation, spending up to five minutes to make the crucial decision. It's helpful to have a map, as one friend said before approaching a one-pound Classic Gold Ballotin of Godivas: "Of course I need a map. I'm not going to waste calories on something that has coconut in it."

This is no small worry, as a mere two pieces will contain close to 200 calories and a quarter of your day's fat allowance.

Plus, no one wants to trip over a land mine of raspberry buttercream or marshmallow -- unless, of course, you like that sort of thing -- and because of this we are thankful that in any given population individuals will have different preferences. If this were not the case, after three days you'd be staring at a pitiful box of unloved orphans. So it happens that one minute I'm poring over Godiva's Praliné Cascade, its unappetizing whiteness dotted with orange sugar crystals, and wondering who in the world would sample such a thing. The next minute it's gone, the person next to me transported to his private heaven.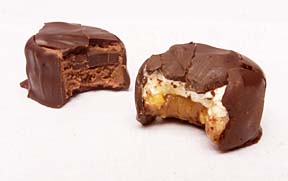 FL MORRIS / FMORRIS@STARBULLETIN.COM
Two pieces of See's chocolate can look identical on the outside, but bite into them and it's a different story.
---
Chocolate manufacturers will try all sorts of tricks to differentiate one specimen from another, and while inside a box of Chukar Cherries, the fruit centers are quite sublime, I watched as the candies in our office dwindled, the remains including those coated in cherry blossom pink and blueberries coated in white chocolate. Pink is more closely identified with Pepto-Bismol and sour stomachs than anything savory, and anyone digging around in a box of chocolates knows that white chocolate (or carob for that matter) isn't chocolate at all!

These are the things to consider before giving a gift of chocolates.

Of all the companies out there, Godiva takes its duties most seriously, and the consumer pays the price. A one-pound box containing 34 pieces retails for $37. And there will be a few gluttons who will swallow them by the fistfuls without tasting a single one.

Godiva boxes come with a detailed map featuring pictures and ingredients. There's no need to guess that inside that milk chocolate rectangle decorated with zigzaggy dark chocolate squiggles dubbed "Nippon" is hazelnut praliné and crisped rice. Or that a tame-looking cube contains more hazelnut praliné, ground nougatine and shortbread biscuit topped with macadamia nut.

And the Web site www.godiva.com has life-size pictures of these chocolates, polished, smooth and awash with perfect lighting. Click on a photo, and you will find exactly which box contains the piece.
See's one-pound box of Famous Old Time Candies was a mere $13, and while one co-worker reached happily for an obvious chew with nougat and nuts, another gambled on one of the Trojan horses of chocolates with its unknown and dangerous content. "Ewwwww," she said, casting it away.

If you know the kind of chocolate the giftee prefers, you may want to stick with a more uniform package, such as a tin of 18 squares of Valhrona dark chocolate. You can eat four of these for 120 calories and only 13 percent of your daily fat allowance. At R. Field's, the Belgian Collection of Neuhaus chocolates are sold in 5.3-ounce boxes of a single type such as Chocolate Buttercream Truffles or Chocolate-Coated Orangettes.

We are also blessed to have our own Hawaiian Vintage Chocolate going into confections from chefs Alan Wong and Philippe Padovani.

Wong's chocolates are sold at the Pineapple Room at Macy's. A six-piece truffle assortment is $15, and may include flavors such as Ka'u Orange, Lemongrass or Waimanalo Mint, depending on the candymaker's whims. A quarter-pound box of assorted chocolates is $15, a half pound is $25, and a pound is $45.

Padovani's chocolates sell for $1.50 per piece at Strawberry Connection at the Dole Cannery. Choose from such flavors as Apple Banana, Ginger Ganache and Kiawe Honey.





See some past restaurant reviews in the


section online. Click the logo to go!





---

Nadine Kam's restaurant reviews run on Thursdays. Reviews are conducted anonymously and paid for by the Star-Bulletin. Star ratings are based on comparisons of similar restaurants:

| | |
| --- | --- |
| | excellent; |
| | very good, exceeds expectations; |
| | average; |
| | below average. |

To recommend a restaurant, write: The Weekly Eater, P.O. Box 3080, Honolulu, Hawaii 96802. Or send e-mail to nkam@starbulletin.com
E-mail to Features Editor
---
---
© 2001 Honolulu Star-Bulletin
http://archives.starbulletin.com