CLICK TO SUPPORT OUR SPONSORS

---

---
Friday, December 14, 2001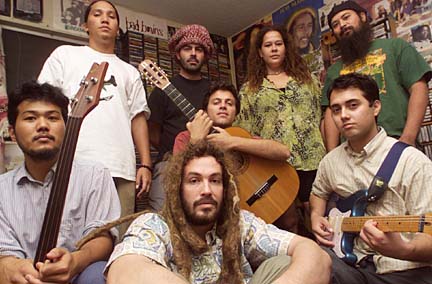 GEORGE F. LEE / GLEE@STARBULLETIN.COM
The reggae band Ooklah The Moc features: front, from left, bass player "Jah Gumby" (Ryan Murakami), drummer "Barrucus" John Davis, guitarist "Killer P"(Asher Phillipart), and back, from left, singer Kali Navales, trombonist Tony Bush, guitarist Nick Sayada, and singers Micky Huihui and "Ras Bird" (Jimbo LaPierre). Missing is trumpeter Gary Nakano.
---
Ooklah the Moc keeps reggae
roots real for fans

---

By Gary C.W. Chun
gchun@starbulletin.com

On any weeknight, every week for the past four years, an unassuming home on a Palolo Valley side street transforms into a rehearsal space filled with the sound of live reggae.

And we're not talking about working through another cover of an always-popular Bob Marley tune or making up some "island rhythm" song. The musicians that make up Ooklah the Moc have always kept it real. Roots dub reggae real.

The group started as a hard-core punk band. Guitarist Asher Phillipart, drummer John Davis and bassist Ryan Murakami began as an open-minded trio back in 1994. Their willingness to expand their musical horizons put them in good standing with singer Jimbo LaPierre, who shared Murakami's passion for hard-core reggae, and the four of them transformed and solidified themselves as a reggae band.

"It was more out of necessity that we did that," admits Phillipart, "because in order to get our first gig with Jimbo, we had to play reggae."

Thus was born Ooklah the Moc, a name lifted from the name of a character on the '80s cartoon show "Thundarr the Barbarian."




Ooklah the Moc

Opening for Go Jimmy Go's Five-Year Birthday Bash tomorrow night at Hawaiian Hut at the Ala Moana Hotel; also, Sunday at the Maze in the Waikiki Trade Center as part of Oakley's "Winter Surf Bash in Paradise" from 6 p.m., with the added attraction of $15,000 in merchandise giveaways

When: 10 p.m. tomorrow and Sunday
Admission: $8 tomorrow, 18 and over; $5 Sunday, 21 and over




Bearing such a goofy-sounding moniker, you'd think the band's music and stage presence would be equally entertaining. Well, they are, but in a serious and earnest manner out of a commitment to present Jamaica's music in a right and honorable way.

Ooklah the Moc is now nine members strong, with an additional guitarist in Nick Sayada (who also plays with Kamakazi Kong), Micky Huihui and Nick Navales helping to create a formidable front line of singers, and horn players Gary Nakano and Tony Bush, formerly of El Toupé, Dread Ashanti and Plush Nugget.

That's quite a change in lineup from the group that put out "Ites Massive" on its own Ghetto Circus record label back last January. But the new and improved Ooklah hopes to have its next album of originals out by mid-2002.

With Nakano missing in action, working that night in the art department of the film "Surfer Girl," the rest of the band has gathered in Murakami's reggae room. They are listening to the grooves they created about a month ago with recording studio engineer Wendell Ching. Even on these rough demo recordings, it's clear they did their homework well.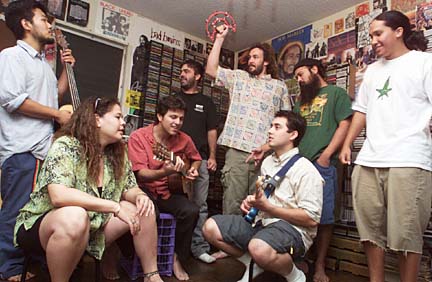 GEORGE F. LEE / GLEE@STAR-BULLETIN
Ooklah the Moc rehearses for its gigs at The Maze and as the opener for birthday band Go Jimmy Go at Hawaiian Hut.
---
"We're heavily influenced by dub," Murakami said, the expansive kind of reggae where the spaciousness of the rhythm is stretched out. "It's what's missing in a lot of reggae-influenced, cheese-ball kind of music that's usually made here."

While Murakami is the band's main songwriter, everyone else brings something to the table at their regular rehearsals. "Gary and I bring in a smidgen of horn parts," said Bush, "and Asher writes a whole lot of lyrics as well."

Ooklah has been a dependable staple on the local underground music scene, doing popular numbers like "Dance Ram," "Creator" (the band's first song in its first incarnation), "Fafa Island" and "Herbal Meditation" in clubs, in concert, for weddings and benefits like the recent Palolo Pride community gathering.

LaPierre, a good-natured, bearded fellow with a bit of the kolohe in him, said his music background dates to his days as a member of the Kamehameha Schools glee club, along with classmate Huihui. Although LaPierre said the band would love to do more neighbor island gigs, "one problem with us is that we're so big in number, it's hard for us to get hired for off-island jobs. We've played on Kauai and Maui, and the people on those islands really want to hear that true reggae sound because it's so hard to get."

"We really want to play on the Big Island," chimed in Phillipart. "So if anyone wants to get us a boat or a van, or offer up a place where we can sleep, get in touch with us!"

"For the younger crowd," said LaPierre, "their only exposure to the sound is through our CD. But we're happy to bring our vibes to wherever we go.

"While Ryan is the heart of the band," he added, "there's only one boss," his eyes turning and pointing heavenward, "and maybe Rocky Balboa," referring to the Murakami household dog curiously snuffling around our ankles. "This is really a diverse group, and it's nice that we can come together and do this music."





Click for online
calendars and events.
E-mail to Features Editor
---
---
© 2001 Honolulu Star-Bulletin
http://archives.starbulletin.com