CLICK TO SUPPORT OUR SPONSORS

---

---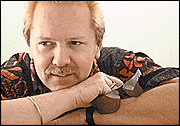 Island Mele



Friday, December 14, 2001
By John Berger
---
"Classic Hula From Darlene Ahuna"

Darlene Ahuna
Hula

Darlene Ahuna is not a high profile artist even after three Hoku Awards, but this elegant album reaffirms her place as one of Hawaii's foremost female vocalists. It's a perfect introduction to Ahuna and modern Hawaiian music.

Ahuna burnishes 13 classic songs to gem quality. Where some singers might "growl" for sexual effect, Ahuna soars gracefully. There's a sense of sweet tranquility here as well as hula rhythms.

The first song, "Kuahiwi Nani," was released as a CD-single a year ago in a successful move to win her a Hoku Award. This excellent fully-annotated album should make Ahuna a Hoku winner in 2002.

www.Hawaii-Calls.com

"New Faces ... New Music ..."

Various artists
MGC

Brother Noland is the foundation of this compilation album introducing four unknown acts. He wrote or co-wrote seven of the songs. The two he kept for himself, "Big Up One Reggae" and "Universal Flag," are among the most substantial in content and execution. Both connect connect directly to his "Big Ship" and "Native News" days in the 1980s.

Some of the next acts lack his finesse and perpetrate simplistic Jawaiian music of the basic imitation-Jamaican poser ilk. Another, singer/composer Warren "W." Albele, is already on the "island music" level.

Brown Eyes steps outside Jawaiian and shows pure girl-group promise with "Thinkin' About You Baby," a catchy pop-rock tune that merits radio play.

Call: (808) 671-1771

"A Touch of Gold"

A Touch of Gold
Golden Boy Music

This quintet is living the dream of many local singers in making the transition from karaoke to performing to live music and now recording. A capella vocals are their greatest strength but they do more than just sing popular oldies. Most of the remakes here have been reworked a bit to add fresh ideas to otherwise generic material.

There are originals here too. "A Song For Israel" honors IZ in smooth R&B style. "Local Hawaiian Girl" needs a stronger instrumental arrangement behind the voices but is another good idea.





---




John Berger, who has covered the local
entertainment scene since 1972, writes reviews of recordings
produced by Hawaii artists. See the Star-Bulletin's Today
section on Fridays for the latest reviews.
E-mail to Features Editor
---
---
© 2001 Honolulu Star-Bulletin
http://archives.starbulletin.com