CLICK TO SUPPORT OUR SPONSORS

---

---
Monday, December 10, 2001




[ MARATHON ]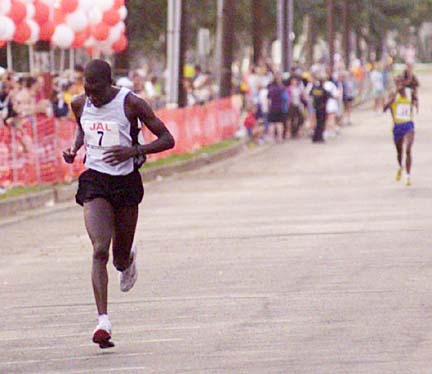 FL MORRIS / FMORRIS@STARBULLETIN.COM
Mbarak Hussein puts his head down as he sprints to a first-place finish in yesterday's Honolulu Marathon.
---
Hussein runs away
with Marathon title


The Kenyan takes the race for
the second time, while Morgunova is
the first woman to cross the finish line

---

By Jerry Campany
jcampany@starbulletin.com

Less than 24 hours after Mbarak Hussein cheered the Warrior football team to victory, Hawaii returned the favor by cheering him to a win in the Honolulu Marathon.

Hussein, a Kenyan who fell in love with American football on a previous trip to Aloha Stadium, rode the cheers of an elbow-to-elbow crowd yesterday to take his second Honolulu Marathon.

Hussein, 36, stayed with the pack through a humidity index of 76, a 73-degree temperature and 15-30 mph tradewinds to run the course in 2 hours, 15 minutes, 9 seconds. The win earned him $16,000 to spend over the holidays before he attempts the Boston Marathon in April.

His last win here was in 1998, when he beat Erick Kimayo in a photo finish.

No photo finish was needed this time, as Hussein stayed in a military-type formation with five other runners heading into a strong wind. The pack was whittled down to four -- Hussein, Jimmy Muindi, Moges Taye and Eliud Kering -- with three miles and a climb up Diamond Head remaining.

"I thought that's the toughest spot in the race," Hussein said. "I just wanted to push it and see how it would go."

It went well.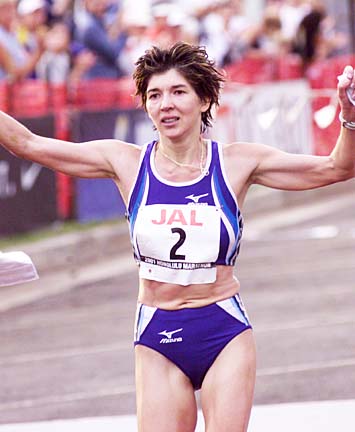 FL MORRIS / FMORRIS@STARBULLETIN.COM
Lyubov Morgunova topped the women's field, clocking in at two hours, 29 minutes and 54 seconds.
---
The foursome slowed at an aid station at the foot of the hill and only Hussein came out of it. He tackled the incline at the same pace he had run all morning and his competitors slowed. Hussein was unchallenged the rest of the way. Taye took second 20 seconds behind him while Muindi came in third.

Muindi had run the course seven times before, so he knew the rigors of the hill well, but he could not will his body over it as he had the previous two years.

"The hill was a little tough for me," Muindi said. "Last week I had a stomach problem and didn't train for four days. I wasn't 100 percent sure like I was last year. This year I was a little bit scared."

Lyubov Morgunova easily defended her women's title, running a 2:29:54 to cap a top three sweep by the Russians. Morgunova broke the course record last year but won't be back to break the 2:30 mark for the third straight year. She plans on taking a year off to start a family, but says she will return to Honolulu the following winter.

Despite winning for her second year in a row, Morgunova walked away disappointed. She had never worked so hard for an event specifically to finish 2:27 or lower.

"Of course, she is happy to win the race," her agent and interpreter, Constantine Selenivich said. "But she is disappointed that she didn't meet her goal. She has never worked so hard."

Morgunova was never challenged, allowing her Russian sisters to run with her for five kilometers before leaving them -- and the rest of the women's field -- behind.

The one person she left who is growing accustomed to the site, is Svetlana Zakharova, who finished second for the fourth year in a row and sixth time in her career. Russian Elena Paramonova, Italy's Franca Fiacconi and Japan's Mari Jackson rounded out the top five.

Zakharova doesn't plan on being a bridesmaid forever.

"I'm going to come back until I win this race again, no matter how many times it takes," Zahharova said through her interpreter.

Krige Schabort won his fourth straight wheelchair championship with a time of 1:37.29 while Chantel Petitclerc of Canada was the first woman to finish.

Cheryl Smith and Jonathan Lyau were the top finishers locally, Lyau in his 22nd Honolulu Marathon and Smith in her first official one.
Smith ran a 2:46, the same time she had last year under the borrowed number of a male friend of hers on the UH swim team. She actually ran faster yesterday, but had to take two minutes out for a bathroom break she tried to make up the second half of the race.

"I lost my pack and became really discouraged," Smith said. "My legs were dead with 10 miles to go, but another pack of guys came along for me to run with. I'm happy."

So the cult of marathon running has gained another convert, as Smith says she enjoys the relaxed competition so much that she can't see herself not doing another in the future.

"I have been bit (by the marathon bug) a little bit," Smith said.

But Smith, a senior runner for the University of Hawaii, will have a ways to go to make her new hobby as extreme as Lyau.

Lyau, 37, has been running in the Honolulu Marathon every year since his sophomore season in high school, finishing as the top local runner in each of the past nine. He won this one easily despite holding back a little bit to save something for April's Boston Marathon.

But he said that his accomplishment is no different than that of any other finisher, just that experience happened to carry him through the course faster.

"A marathon is tough for everybody who runs," Lyau said. "I will be just as sore and it takes just as much toll on my body as it does on somebody who finishes in four hours."
E-mail to Sports Editor
---
---
© 2001 Honolulu Star-Bulletin
http://archives.starbulletin.com