CLICK TO SUPPORT OUR SPONSORS

---

---
Friday, December 7, 2001




[ WAHINE VOLLEYBALL ]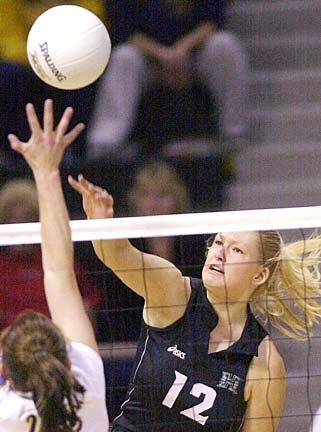 ASSOCIATED PRESS
Maja Gustin and the Wahine ended their season in the round of 16 in the NCAA tournament, losing to UCLA in four games.
---
Wahine heading home


The volleyball team's season ends
with a 4-game loss to UCLA

---

By Grace Wen
gwen@starbulletin.com

LONG BEACH, Calif. >> On a crisp Southern California night, the Hawaii volleyball team felt enough of a chill to send it clamoring back to the warmth of Honolulu sooner than the Wahine had hoped.

Cinderella missed the Elite Eight and was sent home early from the ball as Hawaii's improbable NCAA run came to an end yesterday. Eighth-seeded UCLA defeated ninth-seeded UH 30-25, 30-28, 22-30, 30-22 before a semi-partisan crowd of 3,092 at the Pyramid at Long Beach State.

"I've got mixed feelings," Hawaii coach Dave Shoji said. "I'm disappointed in the loss, but I can't be disappointed in my team. They've had a tremendous year and they're just a great group of athletes all around. I feel real proud of how we've improved and had a chance to win tonight."

In a season of low expectations, the Wahine managed to surprise and silence the doubters but fell short of their 14th regional final.

Hawaii had hoped to extend its stay at least until today but didn't have much rhythm early in the match. It looked like the Wahine hadn't improved much from the first meeting as the Bruins mounted early leads of 9-5 and 18-13 in Game 1.

"I didn't feel like anything was missing tonight," said a red-eyed and red-nosed Margaret Vakasausau. " We had good effort and the team stayed positive the whole time. UCLA brought their game tonight and we weren't able to convert.

"It took us awhile to get warmed up. Obviously, if anyone saw Game 1. We were in every single game, the scores were close and sometimes they'd get runs on us we couldn't stop. They had five points one time when (Ashley) Bowles was serving. That might have caused a little bit of a stir in us, but I'm not ashamed. I'm going to wear my jersey home."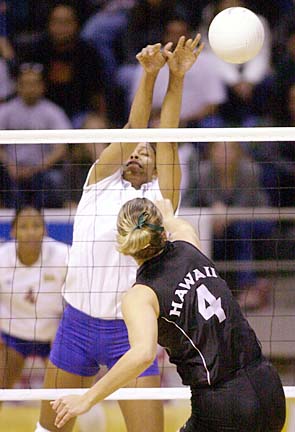 ASSOCIATED PRESS
UCLA's Cira Wright goes up for a block against Hawaii's Jennifer Carey in the fourth round of the NCAA Division I women's volleyball tournament.
---
Tough serving led to strong blocking as the Bruins stuffed the Wahine at the net. Angela Eckmier (sister of UH's Melody Eckmier) led UCLA with seven blocks and hit .455 with 10 kills and no errors.

Neither team hit particularly well, though UCLA was more balanced with four players in double digits.

Kristee Porter, recently reinstated by the NCAA, led the Bruins with 16 kills. Porter also had a hand in stuffing Willoughby.

"They did a great job blocking," said a teary-eyed Willoughby. "They sent Kristee my way a couple of times, which was a huge block in front of me. Sometimes I didn't make the right decisions, so at that point in time, I deserved to get blocked because it was stupid mistakes."

But Willoughby was nearly flawless in Game 3. She had 10 of Hawaii's 14 kills as the Wahine opened a 15-9 lead. The Bruins caught the Wahine at 18, but Tanja Nikolic came off the bench to give Hawaii a timely kill for a sideout. It was the senior's last career kill. From there, Hawaii cruised, with Maja Gustin serving six of the final seven points.

The Wahine started well in Game 4, taking a 10-6 lead but got into passing trouble with UCLA setter Erika Selsor serving. Hawaii couldn't muster any offense and hit negative as it was served off the court.

"We had a good start in Game 4 and I thought that might be the turning point," Shoji said. "Ultimately we got in trouble in one rotation again and we had to set the ball high. Then they made a big run. That was disappointing that we couldn't do a better job passing and run more offense."

Willoughby wasn't able to spark the offense again, as she added seven kills in Game 4 to finish with 35 kills, but she also had six more errors. Hawaii set her 88 times, four times as many swings as middle blockers Nohea Tano and Lauren Duggins had combined.

Willoughby finished with 850 kills for the season and is fourth in the NCAA record book for kills in a single season. Her average of 7.20 kills per game is an NCAA record. She is just one of four players to have more than seven kills a game in a season.

"She's had a great year," UCLA coach Andy Banachowski said. "There's no question in my mind, I'm not on the committee, she's an All-American, certainly. She's a tremendous athlete. She came through many times for them in the clutch tonight. She developed a lot of consistency and confidence throughout the year and had a great year."

The entire team improved as the Wahine finish the season at 29-5. That wasn't lost on UCLA.

"They improved drastically as a team," UCLA outside hitter Kristee Porter said. "A lot more chemistry than we saw at the beginning of the season. And you see players doing really well in the positions that they were assigned. They're playing their role and doing a great job at it. Defensively, they stepped it up a lot."

---



E-mail to Sports Editor
---
---
© 2001 Honolulu Star-Bulletin
http://archives.starbulletin.com