CLICK TO SUPPORT OUR SPONSORS

---

---
Monday, December 3, 2001
[Hawaii's Schools]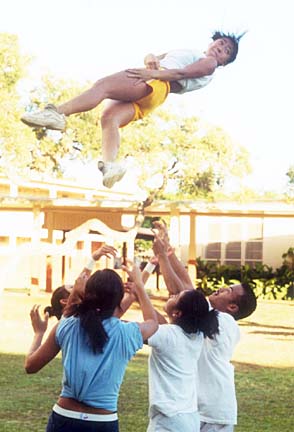 VANESSA YASUI / THE BULLDOG
Sophomore Cheri Ann Honda takes off with the help of, from left, junior Angela Kim, sophomore Rachel Sonoda, senior Bobby Khamvongsa and senior Iwalani Yamauchi.
---
Cheerleading


Cheerleading finally earns status
as a 'real' OIA sport

---

By Vanessa Yasui
Bulldog

Cheerleaders are often misconstrued as being pretty little dolls who never lift a finger, are too good for everybody else and are even a bit ditzy.

But take a look at any competitive squad in the country, and you'll see this is far from the truth.

Cheerleaders have to endure long hours of practice and be able to perform spectacular stunts, yet many people still do not consider cheerleading a real sport. This leaves many cheerleaders feeling underappreciated.

The 13 varsity and 10 JV Kaimuki High School members take cheerleading seriously. Over the past three years, they have won first place in their division in the State Spirit Competition.

Earlier this year, cheerleading was finally recognized as an OIA sport. At the first-ever OIA Cheerleading Competition, the Kaimuki squad managed to place first in the OIA East Competition and second in the OIA State Competition.

It also has won top honors in local as well as national competitions.

The wins have not come easily. Unlike other sports, cheerleading demands year-round training.

"They hardly ever get a break," said JV coach Debbie Nakatsuka.

Even their summer and winter vacations are consumed by practice.

"It's not all about popularity and looks," said varsity coach Brandy Rhinelander. "Once on the squad, bruises and dirt on the face are a normal part of the day."

"It looked so easy on TV," said freshman Nycole Dias.

Squad members agree cheerleading is more difficult than it looks.

"Some people think it's just jumping around and cheering, but it's actually harder than most sports," said varsity co-captain Iwalani Yamauchi.

Many try out, not knowing what to expect.

"I didn't realize it would be so hard when I first started and that it would involve so many feats like tumbling and stunting," said varsity co-captain Angela Kim.

However, the grueling practices pay off, they said.

"It takes you to a new level, and you are able to do things you never thought you could," said freshman Chanel Taylor.

For others like junior Bobby Khamvongsa, "Cheerleading is worth it because it is fun to perform and win in competitions."

In the long run, the cheerleaders may benefit from their efforts. Former cheerleaders have received college scholarships. Rae-Ann Ogino and Ludia Park now cheer for the UH-Manoa squad. Another past KHS cheerleader, Christine Nguyen, received a scholarship to HPU because of cheerleading.

The road to success is often unpleasant. The JV squad experienced turmoil before the team was finally set.

"They're young, and most don't know what dedication is and quit because it is too hard," said Nakatsuka.

"It's fun, but you have to work hard and practice every day," said JV captain Tabetha Alvarez.

Freshman teammate Joyce Dominguez agreed: "It's a good way to start off freshman year because it keeps you out of trouble."

Cheerleading takes a chunk out of their day, but squad members are still students and, after all, teenagers, so together they go on outings and sleepovers.

And because they must maintain at least a 2.0 GPA to cheer, they all keep up with their studies.

"On the average, the squad is able to keep their GPAs above 3.0," said Rhinelander. "They spend a lot of time studying and practicing, which makes them good student athletes.

"Our goal for the year is for the squad to continue to work together as a team, and together do the best that they can do," said Rhinelander. "If that means winning the state championships, then right on."

---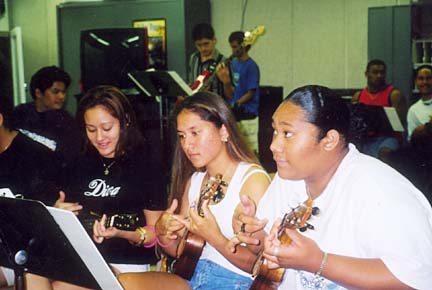 LIANE UEHARA / BULLDOG
Thirty students sing and play ukuleles, guitars, electric bass and drums in the class called Ohana O Mele at Kaimuki High. From left are Tianna Barrett, Sherrelle Freitas and Ana Veaila.
---
Music class plans
a Christmas CD


Ohana O Mele also plays at the
Legislature and at care homes

---

By Liane Uehara
Bulldog

The gentle resonance of ukuleles fills the afternoon air. Voices singing in Hawaiian join the music.

Ordinary day at the beach? Think again. This is Darryl Loo's sixth-period Polynesian music class, also known as Ohana O Mele.

Here in the islands, many local artists feature the sounds of the ukulele.

However, no other high school class can boast a CD.

"Ekahi," Ohana O Mele's first CD, which was released April 27, is a compilation of favorite local and other popular songs with a twist: the simple sounds of the ukulele.

A rendition of the local song "Fire" can be found along with "My Girl" and "Lean on Me." The 11 were songs that Ohana O Mele performed in concerts, which audiences enjoyed. The 80 CDs sold were available for $10, but only on campus.

Why "Ekahi"?

"It means No. 1 in Hawaiian," said Loo with a smile.

Former teacher William Kaneda started Ohana O Mele in 1977. Notable musicians who were a part of this group include Kapena, Ernie Cruz Jr. of the Ka'au Crater Boys and John Feary.

In 1986, when Kaneda retired, Ohana O Mele remained inactive until 1996, when Loo revived the group.

Loo feels the need to pass on his love for music to his students. "I believe that the appreciation of music is something that no one can take away from (the) students. The reason I do Ohana O Mele is to showcase the many talents of Kaimuki High School students."

Since then, Ohana O Mele has been invited twice to perform at the opening of the state Legislature. The group also performed at conventions for the National School Board and the Academy of Arts and has visited at least one home for seniors each year.

The 30 students sing and play ukuleles, guitar, electric bass and drums.

Songs range from traditional Hawaiian ("Ka Uluwehi O Ke Kai") to contemporary Hawaiian ("Leilani") to Broadway ("Phantom of the Opera") to classical ("Ave Maria") to Top 40 hits ("Kiss Me").

Add to this hula dancers, and you've got a full-blown presentation of the Hawaiian traditions and aloha spirit.

As part of the Ho'okipa Aloha Council's efforts to make Honolulu Airport friendlier, the students extend Hawaiian entertainment and hospitality by welcoming visitors every second Saturday of each month.

On Friday, Ohana O Mele will tour several elementary schools, and on Dec. 14 will perform at Kahala Mall.

In time for the holidays, Ohana O Mele will release a Christmas CD in early December.

"All I Want for Christmas Is You," "Give Love on Christmas Day" and "Silent Night" are among the songs the CD offers. Sophomore Ken Tatafu will be featured in "Because It's Christmas."

Like "Ekahi," the CD will be available for $10 on campus only.

"Ohana O Mele is a good experience. We learn different cultures such as Tongan, Samoan, Tahitian and Hawaiian," said senior Lehua Moefu.

Loo feels that it is his job to help students prepare for their future.

"The experience they get is as close to being a professional without being one," said Loo. "I want students who do go on to be professional musicians to have a good background."

Sophomore Brandon Tapati would like to pursue music after high school. His family has a background in music, and being in Ohana O Mele has nurtured his love for it.

"(Ohana O Mele) inspires me to take my music to new heights as well as improve what I learned. We always learn something in this class," said Tapati.

Ohana O Mele is a class where students get to embrace their passion for music.

"To me it's not a class, it's time to relax and enjoy music," said Tapati.

---

ABOUT THIS PAGE

Each week, Hawaii's teenage reporters and photographers will tell us about their high school. This week's school is Kaimuki High.

Newspaper: The Bulldog
Editor-in-chief:Sherylynne Gibo
Faculty adviser: Barry Masuo
Next week: Castle High
Kaimuki High
Address: 2705 Kaimuki Ave., Honolulu, HI 96816
Phone: 733-4900
Principal: Gary Oyama
Mascot: Bulldog
Colors: Kelly green and light gold
History: Opened in 1943
>> Olympic-size pool built in 1961
>> Gymnasium opened in 1964
>> Auditorium seating 600 opened in 1983

BY THE NUMBERS

1,446: Students -- 765 boys, 681 girls
108: Teachers and counselors -- 61 women and 47 men
470: Freshmen
377: Sophomores
336: Juniors
263: Seniors
14: Different ethnic backgrounds
3: Number of 104-minute classes each day
18: Clubs
84: Classrooms
20: Buildings
55: Palm trees around campus
148: Parking stalls
595: Athletes -- 350 males and 245 females
19: Sports for males and females
49: Junior and senior varsity teams

---

YOU ASKED

Who do you turn to when you're in trouble?

Kawika Regidor
Senior
"I turn to my dog because a dog is a man's best friend! A dog will never tell you off when it's sick of hearing all your problems." Andee Ariola
Senior
"I turn to my best friend because I've known her since second grade, and I live right next to her." Miko Grier
Junior
"When I have a problem, I seem to take them all to God. When I pray and ask Him for help, it always seems to get better." Nicholas Takahashi
Senior
"When nothing seems to be going my way, I turn to myself. I feel the one person who knows me the best is me." Scott Fuke
Senior
"When the world is on my case, I turn to my dad. He's always been there for me, and he knows what to do." Richard Babauta
Sophomore
"The only people you can truly rely on when you need help are your parents. They were there for me when I needed it the most, and I could count on them."



Click for online
calendars and events.
E-mail to Features Editor
---
---
© 2001 Honolulu Star-Bulletin
http://archives.starbulletin.com