CLICK TO SUPPORT OUR SPONSORS

---

---
Sunday, December 2, 2001
[ SUNDAY TRAVEL ]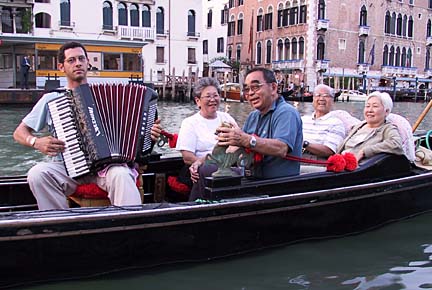 DENNIS CALLAN / SPECIAL TO THE STAR-BULLETIN
A gondola ride can be romantic, particularly if you're serenaded, as Sansei chef D.K. Kodama's parents Sandy and Tamo Kodama, center, and other Hawaii residents found on a trip to Venice.
---
Canal Days


Venice is a dream come true, a
dream with leisurely strolls
and world-class cuisine

---

By Dennis Callan
Special to the Star-Bulletin

There is one city in the world that is different from all others -- a city of canals with an endless labyrinth of narrow alleys without roads, cars, buses or trucks. Situated on a hundred little islands in the middle of a lagoon in the Adriatic Sea, connected by 400 bridges, Venice is a dream come true. It is the most completely preserved town and largest pedestrian zone in the world!

As travel writer Jan Morris says, Venice has "changed less in the last three centuries than any other city in Europe. You can probably have a better holiday in Venice than anywhere else on earth."

Morris' "World of Venice" is one of hundreds of interesting books you can read about this amazing place, but most tourists who visit Venice are there for just a few hours as part of a grand European tour, or at most a few days and a quick overview is all they need to get the most out of every hour in this jewel of a city. Don't worry about getting lost -- you will get lost and that is half the fun. You can't stray too far because this is a small town at only 1 mile wide. Here's what you'll see:

Day One: Arrival; walk with a local guide; Piazza San Marco, Mercerie and Rialto.
Day Two: Full day walking and shopping through town, with a museum visit or two.
Day Three: Morning in Venice, boat ride to Burano, or tour the Veneto or Dolomites.
Navigation tips: When you are walking in these twisting narrow alleys, there are several ways you can figure out which way to go.

>> Look for yellow signs with arrows pointing towards one of the four significant destinations: San Marco, the Rialto, Accademia and the train station.

>> When in doubt, follow the crowd.

>> Get a good map with all the alleys labeled, although these can be hard to follow.

>> Ask directions. Just excuse yourself with "Mi scusi" and ask "Where?" ("Dove," pronounced "dough-vay").

DAY ONE

Your introduction to Venice will probably be on the vaporetto boat ride ($3) down the Grand Canal, bringing you into the town center. From the train station or parking garage, take Line 1, which travels the full length of the S-shape Grand Canal in a picturesque 40-minute boat ride that passes hundreds of palaces, churches and ancient buildings. You could also take Line 2, a more direct route to Piazza San Marco, but not as scenic. The vaporetto has many indoor seats, but for the best view you want to be outdoors in the front area, either standing at the railing or sitting in one of a dozen seats at the bow.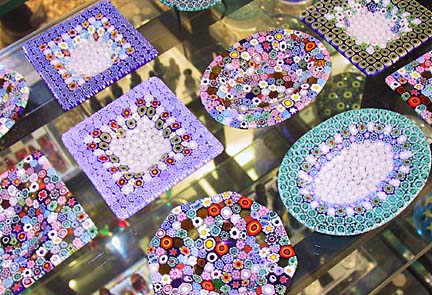 DENNIS CALLAN / SPECIAL TO THE STAR-BULLETIN
Above are examples of millefleurs, a design of a "thousand flowers" cast in glass, that can be found, along with fine examples of blown glass, in shops throughout the city.
---
We suggest you stay at a hotel in the middle of Venice for easy access to all parts of town, day and night. There are many small charming places to pick from (see our listings), but you must have reservations because this town is always booked. As you check in, ask the desk clerk for suggestions on activities, nearby restaurants, tours and attractions, and request a copy of Ospite di Venezia ("Guest in Venice"), a free magazine with listings of concerts, events, opening hours, maps and happenings in town.

Take a walking tour with a local guide to learn some basic history and get your bearings. The twisting alleys can challenge your sense of direction because you cannot look up and see mountains, a particular skyscraper or the main road. So get started with a local guide before setting off for your own exploration.

Piazza San Marco

The most important place in town is the Piazza San Marco, the city's largest public plaza, with the ancient Basilica, Bell Tower, Doge's Palace and other historic buildings around the square. The piazza is always filled with people feeding the pigeons, admiring the architecture, snapping photos and perhaps sitting at one of the outdoor cafes soaking in the scene. Notice the long, graceful arcade around the square, filled with shops and galleries.

The Basilica di San Marco is the greatest single landmark here, consecrated in the year 1094, making it one of the oldest functioning buildings in Europe. This church is Europe's most authentic surviving example of the Byzantine style, with five domes hovering over a Greek cross floor plan and an interior with the world's largest collection of mosaics, covering 43,000 square feet. The basilica's design is based on the plan of a sixth-century church in Constantinople built by Emperor Justinian, who was also responsible for the Hagia Sophia, the definitive Byzantine building.

The basilica is a pastiche of many precious parts brought from elsewhere, forming a cohesive artistic masterpiece. Its shimmering golden interior is best seen when the lights are turned on, from 11:30 a.m. to noon daily, and during Sunday morning services. You might want to see the small museum in the mezzanine, which has the original bronze horses stolen from Constantinople and gives you a nice overview down into the church (admission $1.50).

Next door is the Doge's Palace, former home of the Venetian empire's mighty ruler. This is one of the grand buildings of Europe, with elaborate murals on the walls and ceilings surrounded by huge wooden frames covered with gold -- an awesome display of art and architecture. The vast assembly room is 180 by 80 feet, loaded with more ceiling murals and the world's largest oil canvas, "Paradise" by Tintoretto, at 75 feet wide. Your admission also includes a visit to the ancient prison, but you have to look carefully for the little doorway that leads you there across the famous Bridge of Sighs. In the courtyard notice the 15th-century Giant's Staircase, with large statues of Mars and Neptune sculpted by Sansovino, who also designed the famous Library across from the palace.

Ride the elevator up 315 feet to the top of the Campanile, or Bell Tower of San Marco, for a breathtaking view of the town. If you don't want to get blasted by the boom of loud bells, avoid the hour and half-hour time slots.

The best photo op in Venice is here along the waterfront looking out across the lagoon toward the island church of San Giorgio Maggiore. Frame your shot so you have a row of gondolas tied up in the foreground, with the Palladian church rising majestically like a mirage from the sea.

Looking just to the right, you will notice another island, the Giudecca, which you could visit to see the Cipriani, the most luxurious hotel in Venice. You may not be able to afford the $600 it takes to spend the night there, but you can enjoy walking in their luxurious gardens and perhaps have a memorable meal on the premises. When the weather is fair, they serve an outdoor lunch buffet that will exceed your dreams. A free shuttle boat leaves frequently from the front of the piazza to the Cipriani.

Return to Piazza San Marco at night to experience the cafes with their live orchestras. Nothing could be better than sitting at an outdoor table sipping a drink, listening to the light classical or pop sounds of the small orchestra, looking at the floodlit façade of the Basilica, soaking up the scene. Florian on one side and Quadri on the other have been entertaining their guests for 300 years, so they must be doing something right. Don't worry about the high prices; in this setting it's worth the cost. If you are on a tight budget, just stand beyond the tables or sit on the steps and listen.

Mercerie and Rialto

Finishing with the piazza for now, explore the busiest shopping neighborhood and end up at the Rialto Bridge. Walk north through the arch underneath the Clock Tower into the Mercerie, a series of several parallel and cross streets that are always packed with shopping tourists. Tomorrow we will show you other neighborhoods with better shopping deals -- but a visit to the Mercerie is mandatory. For centuries this has been the commercial center of town, and it's especially good to visit in midafternoon when more remote parts of town are shut down for siesta. Yes, we are in Italy, so most stores close from noon to 4 p.m., but amazingly, the siesta custom is beginning to disappear.

The shops of Venice offer a wide variety of goods -- they're famous for lace, fashion, shoes, handmade paper, masks and fine arts in addition to the usual T-shirts, postcards and souvenirs -- but the main thing to buy in Venice is glass. You can visit a glass factory to see a demonstration of glass-blowing and find out how the artisans make the vases, pitchers and wine glasses you see everywhere. Murano is an island filled with blast furnaces, but you don't have to go that far unless you are a glass enthusiast, because there are several demonstration factories behind the left side of the basilica. Here, the glass master will put on a show of blowing life into a piece of molten glass, twirling it in the furnace and giving it form. Afterward, you can browse the endless showrooms. The merchants will ship everything home for you, so don't worry about packing, carrying and breaking these precious items. Beads and glass jewelry are also available throughout town.

Wander as you shop through the rest of the Mercerie heading north to the Rialto, or just follow signs to Rialto. Walk up on the Rialto Bridge for stunning views of the Grand Canal, but save the market area on other side of the bridge for tomorrow morning. By now it is getting late, and you are ready to stop walking and have dinner.

The foods of Venice! One could write a book about this topic and never completely cover it, so all we can do is make a few suggestions. Next to the Rialto Bridge, the small square of Campo San Bartolomeo, with the smiling statue of playwright Goldoni in the center, has a wonderful, inexpensive, cafeteria-style restaurant called the Rosticceria, open all day, where you point at tempting dishes behind the counter and eat for under $10. For a top gourmet restaurant, walk out the left corner of the square behind the statue, and continue past one bridge to Fiaschetteria Toscana, a favorite! Ask for Roberto, a waiter who will explain everything on the menu and decant your wine with a flourish. Or, cross over the Rialto and go left one block to Alla Madonna, a large, bustling place filled with locals and tourists, noted for fresh fish. For a simpler meal there are numerous snack bars all over town that sell inexpensive sandwiches, or try one of the "Bacari" wine bars that serve tasty cichetti (appetizers).

If you have an early dinner, you will have time to hear some classical music, for there is a chamber orchestra concert nearly every night. Listening to Vivaldi or Mozart in the divine surroundings of the old churches or concert halls is a sublime experience that should not be missed. At the Rialto is one of the main venues, the Chiesa San Bartolomeo, with performances by Interpreti Veneziani (phone 041-277-0561), which also appears at other churches on different nights. Another excellent choice is Orchestra di Venezia (041-522-8125), performing with costumed musician and dancers at Scuola Grande di S. Giovanni Evangelista near the Frari. For details check with your hotel desk, or look for the costumed hawkers selling tickets on the streets.

DAY TWO

Rialto Market

After breakfast, find your way back to where you left off yesterday at the Rialto, and cross the bridge to the market side, in the district of San Polo. This is where Venice was first founded, and still has some of the oldest buildings in town.

"What news on the Rialto?" wrote Shakespeare in the Merchant of Venice, for it has always been the center of action and gossip. The Rialto is one of the liveliest neighborhoods in the morning because it is the main outdoor fruit and vegetable market, always packed with locals picking up that day's fresh produce.

The sounds of Venice are another one of the compelling charms of this unique town. Americans are conditioned to tuning out offensive noises, but here your ears are treated to the serene sounds of water lapping against the gondolas, melodious chatter in the marketplace, bells of the 200 campaniles, music drifting over the canals, or pigeons fluttering in the Piazza -- all worth tuning in. You can also find moments of pure silence.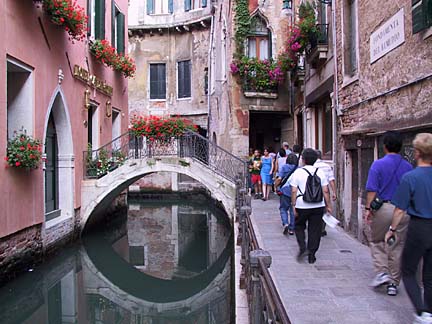 DENNIS CALLAN / SPECIAL TO THE STAR-BULLETIN
Above, Venice is full of sidewalks, called fondamenta, that run alongside the canals, reflecting the buildings and gondolas as they pass by.
---
The Rialto market is a major symphony starring the operatic vendors whose musical cries lure you to their tempting carts piled high with colorful foods. It's also a great place to take pictures.

Walk from the Rialto along a local shopping street, Ruga Vecchia San Giovanni, in the direction of Campo San Polo. You can spot this busy lane from the market, for it has a number of sidewalk stands selling T-shirts, aprons, lace, bags and various other souvenirs for less than charged in the main shops by San Marco. Now you are getting away from the touristy areas and walking into a stream of locals heading for work.

You might notice some barbicans overhead, where old buildings have been extended out over the sidewalk to create more living space inside. Venice has many similar features, like alleys that tunnel through buildings, for it has a very dense population.

Soon you arrive at Campo San Polo, a refreshing contrast to the narrow alleys since it is the largest square in town after San Marco. Da Fiore, one of the town's best restaurants, is just behind this campo, but lunch will cost you $65 per person plus wine, so continue heading toward Campo San Toma along Salizzada San Polo. The route gets a little tricky now, but just take a left and a right, and you will arrive at a friendly little snack bar called Ciari, with inexpensive sandwiches and clean restrooms.

Frari

This is a good time to get spiritual and visit the Church of the Frari, just around the corner past Campo San Toma. You cannot miss Santa Maria Gloriosa dei Frari, a huge gothic structure with the city's second-tallest bell tower (229 feet) and many art masterpieces well worth the $3 admission. Especially notable are paintings by Titian and Giovanni Bellini and the large burial monuments, but the star attraction is the architecture, with a soaring ceiling of pointed arches tied together by elaborate wooden beams and tiles in the typical red-and-white chromatic pattern covering the expansive floor.

Continue through a little tunnel outside the back of the Frari, heading toward the Accademia. It is a pleasant stroll along several canals and campi, quite far from the tourist center. You are looking for Campo Santa Margherita, a large, fascinating square always busy with local folks shopping or just sitting around under the shade trees passing time. It is one of the delights of Venice to pause here for a while and soak up the atmosphere, and take a peek into the tiny supermarket to appreciate how compact things are in Venice.

Just past Campo San Barnaba, heading south, you will come across a picturesque floating vegetable market on a boat tied up along the sidewalk -- another good photo op. Follow the crowd or signs pointing towards Accademia, just a few blocks ahead.

Accademia

Venice's most important museum, the Gallerie dell'Accademia, gathers some of the most renowned masterpieces in the history of Italian art, including "The Tempest" by Giorgione, "The Presentation of the Virgin" by Titian, "The Legend of Saint Orsola" by Carpaccio and more work by Giovanni Bellini, Tiepolo, Piero della Francesca, Lorenzo Lotto and Canaletto. The paintings range from the 14th century to the end of the 18th century.

Modern-art fans may want to take an extended walk straight along through Dorsoduro to the Peggy Guggenheim Museum and enjoy a bonus of visiting the wonderful Church of Santa Maria della Salute, built in the Baroque style in the early 17th century to celebrate the end of a plague.

San Marco

Cross over the large wooden Accademia Bridge, pausing at the top for a sweeping view down the Grand Canal. Now you are back in the center of Venice at the far western end of the San Marco district in Campo Francesco Morosini. Before plunging through, there are a couple of detours to consider: Art lovers should head a few blocks to the left to Palazzo Grassi, which always has a worthwhile temporary exhibition. If you would like a refreshing drink, turn right after the bridge and go to the Gritti Palace Hotel for the world's finest bellini -- a blend of fresh peach juice and sparkling white wine, or just plain peach juice if you prefer -- served outdoors on a terrace with a sweeping view of the Church of S.M. Salute and the busy Grand Canal.

Wrap up the day with an easy walk back to the Rialto -- or to your hotel, if you are smart enough to be staying in San Marco. You could reach the Rialto in 15 minutes, but take your time and enjoy the sights, such as the charming Snail Staircase, Scala Contarini del Bovolo, just off Campo Manin, and look for nearby Campo San Luca, where seven little alleys converge, bringing a constant stream of locals through this pleasant meeting spot. One block east, Calle dei Fabbri is a lively shopping street with many places to eat.

Tonight would be the perfect time for a gondola ride. As touristy or tacky as it sounds, you must do this when you are in Venice. Late in the day is the best time, an hour before sunset when the light is most magical and you can still see clearly. Midday is a decent time and would give you a rest from walking. There is a gondola station at Giglio right next to the Gritti Palace, but you will see gondoliers all over town looking for customers. These guys are special people -- part of an ancient tradition, so treat them nicely and you will have a splendid ride. Prices are fixed at about $80 per gondola for a 45-minute ride, so don't bother to bargain. Request to be in the little canals as much as possible, then leave the route up to the expert. It's the perfect way to set the mood for a nice dinner.

DAY THREE

There are wonderful, vast areas of Venice yet to be discovered, so today can be devoted to those conquests and perhaps a boat ride out to Burano Island to see the lace-makers. Or, for something completely different, if you feel you have seen enough canals, take a day trip out of town to see the Palladian mansions of the Veneto, or visit the Dolomite Mountains. A variety of trips can be arranged through your hotel or tour agencies with offices in Venice, such as American Express.

If you are game for more walking, explore the neighborhoods behind Piazza San Marco and the Cannaregio district in the morning, then ride out to Burano after lunch. Walk around the right side of the Doge's Palace to the Bridge of Sighs, seen from the first bridge on the Riva degli Schiavoni, the grand promenade along the lagoon waterfront. Named after the sighs of prisoners brought across it from their trial in the palace to their punishment in the prison, you may have been inside this bridge during your palace tour. The most romantic way to see the bridge is from a gondola, kissing your partner as you glide beneath in a promise of eternal love.

Continue along the Riva degli Schiavoni to the Hotel Danieli for a look at their superb lobby, preserved with the original gothic architecture of a Doge who lived here when it was his private palace. Since the mid-19th century, it has been one of the top hotels in town, with opulent furnishings and a lobby bar you could return to in the evening.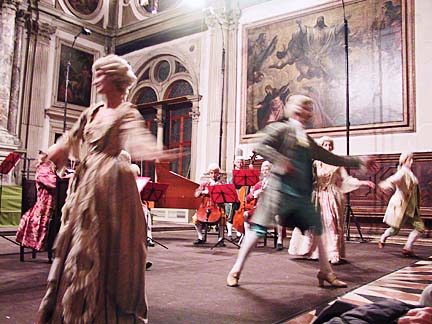 DENNIS CALLAN / SPECIAL TO THE STAR-BULLETIN
The Orchestra di Venezia performs with costumed musicians and dancers at Scuola Grande di S. Giovanni Evangelista near the Church of the Frari.
---
Garden lovers could continue walking along the waterfront, or catch a vaporetto, to the Public Gardens and return via the Arsenale, where Venetians built a warship every day in their peak of power. However, if this 2-mile detour is too much, skip it.

Two little blocks beyond the Hotel Danieli, walk inland through a pedestrian tunnel to Venice's first Renaissance-style church, San Zaccaria, and go inside to admire my favorite painting in town, Bellini's "Sacred Conversation," on the left wall. The interior of this magnificent church, which was finished in 1481, is overflowing with paintings and elaborate architecture, so there is much to see.

Here comes some more tricky navigating: Exit the church and take a right heading north to Campo Santa Maria Formosa, just five minutes away through several little alleys. There are usually more local residents hanging out in this square than any other place in town, so it is delightful to spend a little time here. You could use the "Dove?" icebreaker and ask someone directions to the Church of San Giovanni and Paolo, or just keep walking north another five minutes through the alleys, which you have mastered by now.

The Church of San Giovanni and Paolo is nearly identical to the Frari, so you don't need to spend much time here, but it is definitely worth seeing because of the many gothic tombs covered with statues and a chapel with majestic ceilings painted by Veronese. The campo in front of the church has a majestic bronze equestrian statue of Colleoni by Verrochio, and the adjacent Scuola Grande di San Marco features a trompe l'oeil marble façade giving the curious impression of depth on a flat surface.

Walk west a couple of minutes, away from the front of the big church, crossing two canals until you find your way to the Miracoli church, a barrel-vaulted little marble gem recently restored back to its original 1489 appearance. Continue to Campo dei SS. Apostoli, which will bring you into the widest street in town, Strada Nova, a canal that was filled in during the 19th century. Now you can easily get your bearings on what amounts to a superhighway for pedestrians.

Get lost

If you do have any more time and desire for exploring, this would be a great time to go get completely lost. Put away your map and books, and just follow your instincts, turning this way or that depending on how interesting the choices look at each moment.

The worst that can happen is you will run into a few dead ends at canals, or, you might wind up on the opposite side of town!

No problem -- this town is small, and you will be quickly back in the center. Just follow the crowd and look for the yellow signs pointing the way.

You are now an accomplished Venetian explorer, having survived a disorienting maze of canals and alleyways.

Construction of Venice

How was this city ever constructed in the water, sand and mud? Special techniques evolved using a combination of pile-driving and stone foundations, which have survived these many centuries. Trees were brought from the mainland and driven into the soft mud until they reached a harder clay layer, forming a foundation of piles. It took about a million trees to create the foundation for the Basilica, so you can imagine that Venice now stands on an underwater forest, taken from the distant Alps and Balkans. Rather than rot, these trees have petrified and become stone. On top of the wooden piles, the Venetians created another layer of foundation using bricks, wood beams and large stones brought in from Dalmatia, then erected their buildings on top.

Venice on the Web

Sightseeing information:

>> www.invenicetoday.com, or e-mail them at guide@invenicetoday.com. $50 per hour for a private tour.
>> www.writing.org/venice.htm
>> www.venicescapes.org
>> www.venice-day-tours.com

Hotel information:

Restaurants:

>> www.osterie.com
>> www.veniceworld.com

History of Venice

To better understand the sights of Venice, it helps to know some of its fascinating history. Before the first settlers arrived in the fifth century, this was a series of low muddy islands in the lagoon, about three miles offshore. With northern barbarian tribes frequently invading Italy, mainlanders took refuge on the mud flats and were protected by the shallow channels that invaders could not navigate. Venice's early economy was based on fishing and collecting salt but soon developed into a trading society importing goods from Asia and selling them throughout Europe.

By the ninth century the first Basilica was built, and Venice was on her way to becoming an important regional force. The peak of power was reached in the 13th century when Venice conquered Istanbul and many coastal areas throughout the Mediterranean while expanding trade with Asia thanks in part to the travels of Marco Polo. With continued growth during the 14th century, Venice kept building more palaces, shops and warehouses that form most of the precious historic city we see today.

Venice developed a powerful navy to defend its many colonies, but a decline of power began in the 15th century, due to the expanding strength of the Turks and the discovery of better trade routes to Asia by sailing around Africa. Venice continued as an important sovereign republic, despite increasing decadence and endless partying, until the 1797 conquest by Napoleon brought 1,000 years of independence to an end. Controlled by France, Austria and finally Italy during the 1800s, Venice became a popular visitor destination for aristocrats on their Grand Tour, and it has since become one of the world's great destinations.

Venice hotels

In these listings, phone numbers are listed first, followed by fax numbers. The best way to make a reservation is by phone and follow up with a fax, requesting a return fax to confirm. From the United States, all phone and fax numbers begin with 011-39-041.

>> Ala, San Marco 2494; 5208333, 5206390
>> Bauer Grunwald & Grand Hotel, San Marco 1459; 5207022, 5240841
>> Boston, S. Marco 848; 5287665, 5226628
>> Europa & Regina, S. Marco 2159; 5200477, 5231533
>> Flora, San Marco 2283/a; 520844, 5228217
>> Kette, San Marco 2053; 5222730, fax 5228964
>> La Fenice et des Artistes, San Marco, 1936; 5232333, 5203721
>> Monaco and Grand Canal, San Marco; 5200211, 5200501
>> Olympia, Santa Croce, 395/6; 5226141, 5220945
>> Rialto, S. Marco 5149; 5209166, 5238958
>> Savoia & Jolanda, Riva Degli Schiavoni 4187; 5206644, 5207494

Venice restaurants

>> Fiaschetteria Toscana, San Giovanni Crisostomo, Cannaregio; 528-5281
>> Ristorante Cipriani, Hotel Cipriani, Giudecca; 520-7744
>> Ristorante Da Fiore, San Polo; 721-308
>> al Theatro, San Marco 1916, campo San Fantin; 522-1052
>> Vino Vino, San Marco, Calle delle Veste; 523-7027
>> Antico Martini, Campo San Fantin, San Marco; 522-4121
>> Hostaria ai Coristi, Calle di Chiesa, San Marco; 522-6677
>> Da Ivo, Ramo dei Fuseri, San Marco; 528-5004
>> La Caravella, Calle XXII Marzo, San Marco; 520-8901
>> Alla Madonna, Calle della Madonna, San Polo; 522-3824
>> Terrazza Danieli, Hotel Danieli, Riva degli Schiavoni; 522-6480
>> Ciari Snack Bar, Campo San Toma; 528-5150

---

Dennis Callan is the president of the Hawaii Geographic Society and produces the "World Traveler" television series, shown at 7 p.m. Tuesdays, repeating 9 a.m. Wednesdays, on 'Olelo, channel 52. He leads frequent tours through Europe and writes the "Three Days" series appearing in the Star-Bulletin the first Sunday each month, explaining how to get the most out of three days in the world's great places. View the companion TV episode this week.
E-mail to City Desk
---
---
© 2001 Honolulu Star-Bulletin
http://archives.starbulletin.com