CLICK TO SUPPORT OUR SPONSORS

---

---
Sunday, December 2, 2001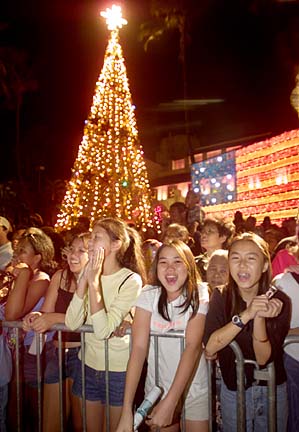 DENNIS ODA / DODA@STARBULLETIN.COM
Among the thousands of people having a grand time at last night's electric light parade downtown were, from left, Melissa Ho, Dorothy Kwok, Jennifer Young and Ning Feng. The girls were cheering on parade participants as they went past Honolulu Hale and the Christmas tree and flag display.
---
Annual city light
parade takes on
a patriotic flair


American flags and red,
white and blue floats join
bands playing holiday tunes

---

By Diana Leone
dleone@starbulletin.com

Near the end of the city's Electric Light Parade in downtown Honolulu last night the Carter family cleaned up on American flags.

Cousins Abcde, 7, of Waianae, and Deshia, 5, of Mililani reached out for mini-flags being handed out by emergency medical technicians who walked behind their red-white-and-blue-decorated vehicles.

That set Deshia's sisters, Diamond, 7, and Kiara, 2, clamoring for their own.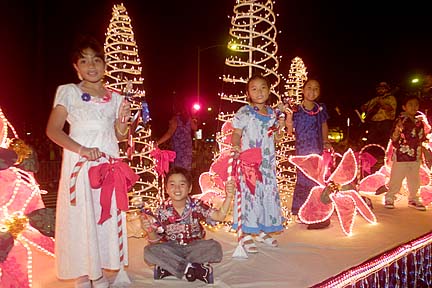 DENNIS ODA / DODA@STARBULLETIN.COM
Several children got a chance to ride on the Hawaiian Airlines float in the city's Electric Light Parade yesterday.
---
The whole crew happily waved flags at Santa, who was surrounded by red, white and blue stars on his float at the end of the hour-long procession.

The patriotic theme of this year's parade was evident in the color schemes chosen by many of the marching bands and lighted vehicles.

The whole side of a trash truck was covered with lights forming the American flag and the message "God Bless America."

Band members sported flags from some of their brass instruments.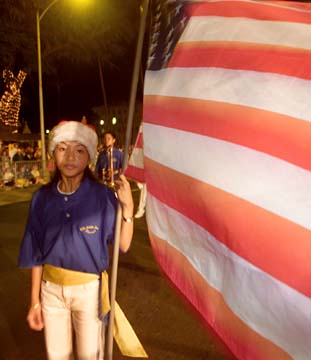 DENNIS ODA / DODA@STARBULLETIN.COM
American flags made prominent and frequent appearances in last night's parade, including this one being carried by Dole Middle School student Cristel May, 12.
---
But the music was decidedly Christmas.

"We Wish You a Merry Christmas" from Castle High School's band, with members sporting reindeer antlers. A calypso-beat "Angels We Have Heard On High" from Waipahu High band members in their Santa hats. "Jingle Bells" from Dole Middle School.

Up and down Beretania Street, where the parade began in front of the state Capitol, young children were wide-eyed in their strollers and from the safety of parents' arms as they gazed enraptured at the colored lights floating by. But even the junior high boys with their skateboards couldn't hide their enthusiasm for the sight of Christmas lights on the roll.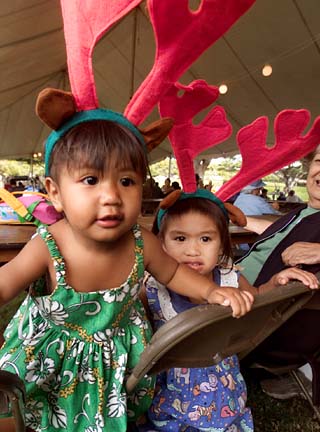 DENNIS ODA / DODA@STARBULLETIN.COM
One-year-old Danielle Taihook, left, and her sister Tyra, 3, wore reindeer antlers as they waited for the city's Christmas tree-lighting ceremony at Honolulu Hale yesterday.
---
"This is the first time as a family we have done this," said Barbara Gomes, there with husband, Bryan, and children.

"She's usually really shy," she said of 3-year-old Katie, "but tonight she's waving at everybody."

"Look at this boy right here, he has about five drums he has to carry on his belly," Gomes pointed out to her son, Thomas, 5.

Anthony Nguyen was dutifully videotaping his sister Suzanne's performance in Dole Middle School's band on Beretania Street, then was going to run down Richards Street to tape her again when she came back on the King Street leg of the parade.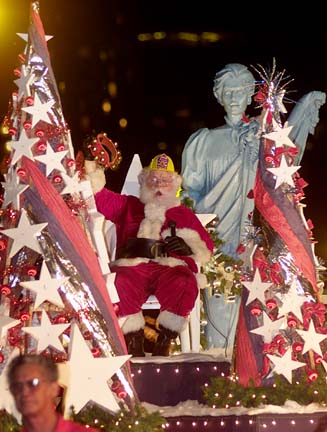 DENNIS ODA / DODA@STARBULLETIN.COM
Santa Claus, wearing a fireman's hat, waved to the crowd as he rode the City and County float at the city's Electric Light Parade last night.
---
Electric Light Parade, take 2

If you missed it yesterday, the Electric Light Parade will repeat today in Waikiki.

It will be preceded at 4 p.m. by the annual Toys for Tots Toy Run, in which 3,000 motorcycles and classic cars parade from the Hawaii Convention Center down Kalakaua Avenue. The Electric Light Parade will begin at 5:45 p.m. at Fort DeRussy, down Kalakaua to Kapiolani Park.

Kalakaua will be closed from 4 to 7 p.m., and access into Waikiki will be through Kalia Road, which will be set up to contra-flow.
E-mail to City Desk
---
---
© 2001 Honolulu Star-Bulletin
http://archives.starbulletin.com