CLICK TO SUPPORT OUR SPONSORS

---

---
Sunday, December 2, 2001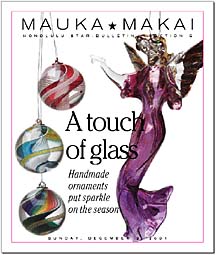 ---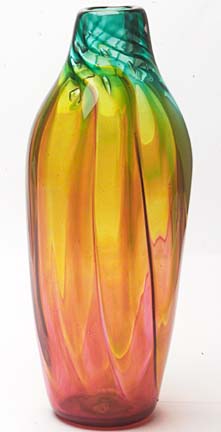 "Spectral Fire," hand-blown glass by Bud Spindt, are sold at The Gallery at Ward Centre.
---
Clearly an art


Glasswork is a challenging craft

---


By Suzanne Tswei
stswei@starbulletin.com

It was a trip to Disneyland with her children in 1983 that did Marian Fieldson in. She became fascinated with lampwork glass after seeing artists at the amusement park transform rods of glass into beautiful translucent ornaments.

A couple of years later, when her children were older and needed less attention, Fieldson spent $1,200 for what she hoped would be a lampwork-glass kit. When the mail order arrived, it turned out to be a repair kit for science laboratory glass equipment. To make matters worse, it came with absolutely no directions.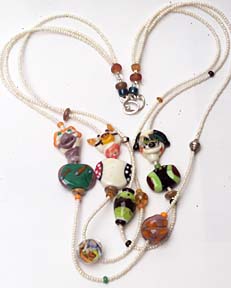 Lampwork beads, hand-blown glass by Bud Spindt, are sold at The Gallery at Ward Centre.
---
"I did it the hard way. I had no idea what I was getting into. When you see somebody do lampwork glass, and that person is good, he can make it look so easy," Fieldson said.

The craft is anything but easy. She muddled along on her own, making lopsided hummingbirds, until a kindly store owner suggested that she attend a school in Seattle to learn to do it right.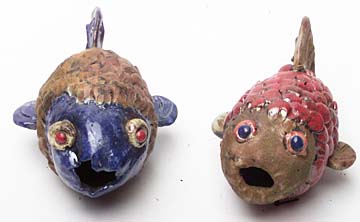 Hand-built raku fish by Steve Martin are available at The Gallery at Ward Centre.
---
The school was the famed Pilchuck School, begun by premier glass artist Dale Chihuly. It was a magnet for the country's most promising artists wishing to break new grounds with glass art. Fieldson joined them for a two-week intensive training program.

"I got to meet the man (Chihuly) himself. There was more glass, more ways of working with glass than I could ever imagine," said Fieldson, who described herself as a housewife looking for a trouble-free art project to earn extra income for the family.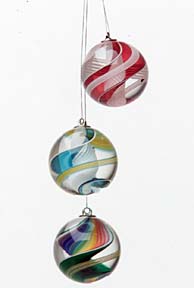 Glass marble ornaments at Nohea Gallery (shown slightly larger than actual size) add a classy touch to Christmas trees.
---
Her instructor, a young and intense woman focused on abstract art, declared on the first day of class that there was to be no making of cuddly bunnies, wishing wells or other foolish ornamental objects.

Fieldson made "twisty little globs" like the rest of the class. Not once did she dare venture toward anything resembling a hummingbird. To make a long story short, Fieldson finally picked up the right skills at the school, found a job in a glass factory making little glass dragons (only the body, not the head), moved to the Big Island with her family in 1989 and is happily making pretty ornaments under the business name of Flameworks Glass.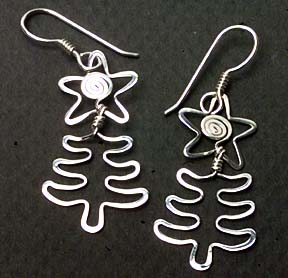 Fun and festive sterling silver wire earrings from The Gallery at Ward Centre.
---
Her art project has grown from a sideline to the sole family income, Fieldson said, and her line includes hibiscus, orchids, hula girls, mermaids and angels (pictured on the Mauka-Makai cover).

The angels, particularly popular during the holidays, are sold as fast as she can make them. On a good day she can produce 20, but that rarely happens. She averages 10 to 15 angels in a day.

"I figure this isn't bad for somebody who had no idea what she was getting into," said Fieldson, who no longer thinks of herself as a housewife, but as an artist.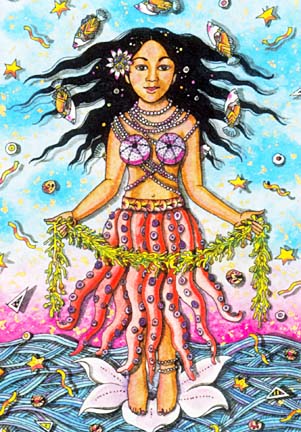 "Wana Madonna," a greeting card by Cora Yee.
---
Fieldson's creations are sold at Nohea Gallery for $38. Each angel, trimmed in 24K gold, is different as Fieldson aims for varying expressions through the hands and posture. (The angels are without facial features; otherwise, the translucency of the glass creates an eerie look.)

Christmas is a time for art sales, and Fieldson and many other artists take the opportunity to create smaller and affordable artworks that make good gifts. Here are a few suggestions for shopping for artistic gifts on Oahu: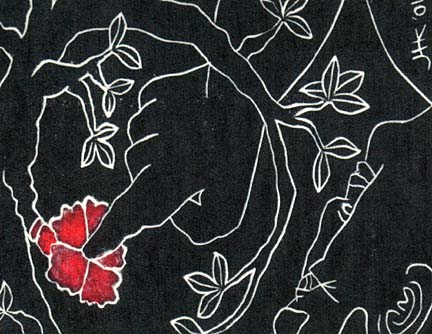 A print by George Koga from the Gallery at Coffeeline.
---
Nohea Gallery: Nohea actually has four galleries, with the flagship gallery at Ward Warehouse. The others are in the Sheraton Moana Surfrider, the Waikiki Reef Towers and the Kahala Mandarin hotels. The galleries feature everything from jewelry to paintings to koa rockers made by island artists. The hours vary; call the Ward store for more information, 596-0074.

We've Wigged Out Pre-Christmas Sale: Seven fun-loving woman artists have made it a tradition every year to sell their works directly to their fans. If you are not on their mailing list, here's the scoop. The sale is from 9 a.m. to 2 p.m. Saturday at 641 Paopua Loop, Kailua. The artists are Donna and Esther Shimazu, Vicky Chock, Jo Rowley, Cora Yee, Kay Mura and Bev Creamer. Look for funky jewelry, pottery, small paintings and prints, and some surprises. Call 261-8124 for more information if you must, but just show up early for the best selection.

m3 Mixed Media Miniature Show: This yearly exhibit at the Koa Gallery is where serious artists shop for gifts. There are always something unexpected; you never know who or what will be in the show. The art ranges from cutting edge to light-hearted. The show runs through next Sunday, but better hurry -- the most desirable and affordable pieces are the first to go. The gallery is on the campus of Kapiolani Community College, 4303 Diamond Head Rd. The hours are 10 a.m. to 4 p.m. Monday through Friday, 10 a.m. to 2 p.m. Saturday. Call 734-9375.

Bibelot Gallery: This little gallery above the post office in Kaimuki, 1130 Koko Head Ave., has the most eclectic collection of artists. Some are full-fledged artists with all the right credentials, while others discovered their talent as hobbyists late in life. Ceramics and jewelry are the most popular gift items. There are some nice paintings and drawings as well. The December hours are 10 a.m. to 4 p.m. weekdays, 10 a.m. to 6 p.m. weekends. Call 738-0368.

The Gallery at Coffeeline: This gallery is little more than a wall on the lanai at the Atherton YMCA, but it has been the site of many fine exhibits, and the current show is no exception. Artist John Koga has 10 linoleum prints on exhibit, documenting his preoccupation with the care of a giant desert rose plant. His prints are touching and funny, and mysteriously sexy, too. The matted prints are $45 each. The entire series is available in a miniature fold-out book for $35, but the artist only made 40 books. Hours are 7 a.m. to 3:45 p.m. weekdays, 8 a.m. to noon Saturday. Call 947-1615.

The Gallery at Ward Centre: Paintings, prints, ceramics, wood vessels are among the items for sale at this artists co-op at Ward Centre. The most popular gifts are the jewelry and other small artworks. The gallery also is a good place to meet the artists who take turn sitting the gallery and demonstrate their craft. Hours are 10 a.m. to 9 p.m. Monday through Saturday, 10 a.m. to 5 p.m. Sunday. Call 597-8034.

Tomorrow in Today: Twenty gifts for less than $20.





Click for online
calendars and events.
E-mail to Features Editor
---
---
© 2001 Honolulu Star-Bulletin
http://archives.starbulletin.com