CLICK TO SUPPORT OUR SPONSORS

---

---
Saturday, December 1, 2001



Letters with white powder sent
to police stations and governor

---

By Nelson Daranciang
ndaranciang@starbulletin.com

Two Honolulu Police Department district stations and a portion of the main station were shut down briefly yesterday after separate letters containing an unknown white powder were opened at all three locations.

All three letters were similar and could have been sent by the same person, said Jean Motoyama, HPD spokeswoman.

Just a day earlier, a letter addressed to Gov. Ben Cayetano containing a white powder was opened at the state Capitol.

Field tests by the Honolulu Fire Department's Hazardous Materials Unit on the three letters yesterday and the one addressed to the governor turned out negative for anthrax. A more comprehensive test done at the state Department of Health Laboratory confirmed yesterday that the powder from the letter addressed to the governor was not anthrax.

The Fire Department sent samples from yesterday's letters to the state laboratory to undergo the same test.

The letter sent to HPD's main station at 801 S. Beretania St. was addressed to a detective in the department's Criminal Investigation Division. The detective opened the letter at 11:42 a.m., immediately saw the white powder, closed the envelope, then called the Fire Department, said Motoyama.

Access to the station's second floor was restricted until about 1 p.m., when the test results turned out negative.

The envelope did contain a letter, but the detective did not get a chance to read it. It also had a local return address, Motoyama said.

A secretary opened the letter addressed to the Pearl City Station at 1100 Waimano Home Rd. about 12:15 p.m. The station was locked down until HFD's HazMat Unit cleared the scene about 3 p.m.

The letter sent to the Kalihi Station at 1865 Kamehameha IV Rd. was opened about 1 p.m. It was in a manila envelope with a Waikiki return address. The station was locked down until about 2:40 p.m.

The FBI said it is investigating the letters sent to police and the governor's office in cooperation with Honolulu police and the U.S. Postal Service Inspector's Office.

---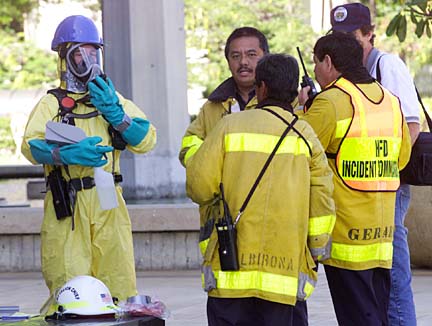 KEN SAKAMOTO / KSAKAMOTO@STARBULLETIN.COM
Responding to an anthrax scare Thursday at the Governor's Office, HazMat team members suited up and prepared to retrieve the suspicious letter that had white powder in it.
---
Gov wants less glare on
anthrax scares

---

By Richard Borreca
rborreca@starbulletin.com

After going through a full-scale anthrax scare, Gov. Ben Cayetano said he wishes state emergency response was simpler.

Cayetano's office received a threatening letter containing a white powder Thursday. While initial tests proved negative, the state Capitol was shut, the Lieutenant Governor's Office evacuated and all business stopped in the Governor's Office.

"What happens is, all the bells and whistles go off, and you guys come down here, and we can't be doing that all the time," Cayetano complained to reporters yesterday.

"It was obvious it was a phony. The more attention you give to these kinds of things, the more you will have copycats," he said.

"If we had our way, the Department of Health would have come in quietly, we would have sealed the office, taken the tests, and if the tests were positive, we would take steps accordingly. But we were told we were required to call 911. To me that is an unnecessary process," Cayetano said.

The governor said he worried that if there are constant anthrax scares, it will hurt tourism.

"Every time something like this happens, I get a call from Kyodo News agency asking me if there has been an anthrax attack," Cayetano said.

The FBI investigation of the threatening letter continued at the Capitol yesterday, with agents interviewing Sam Callejo, Cayetano's administrative assistant.

Callejo said Cayetano gets two or three threatening letters a month, but this is the first with a white substance included. Suspicious letters are saved, Callejo said, and he dons a mask and gloves and opens them himself once a week, in a closed room with the air conditioning off.

"I don't know, I guess it comes with the job description," Callejo said, when asked why he assumes responsibility to open suspicious mail.
E-mail to City Desk
---
---
© 2001 Honolulu Star-Bulletin
http://archives.starbulletin.com