CLICK TO SUPPORT OUR SPONSORS

---

---
Friday, November 30, 2001


[ STUFFS ]
---
[DA KINE]

EW&F add second show

Earth, Wind & Fire has added a second Honolulu show at the Blaisdell Arena next year because only a few hundred tickets remain for the Jan. 5 show.

The second show will be at 8 p.m. Jan. 6. Tickets for the second concert, at $45 and $55, go on sale at 9 a.m. tomorrow at the Blaisdell box office and Ticket Plus outlets. Tickets are $45 and $55.

Tickets can be charged at 526-4400 or go online at www.ticketplushawaii.com. Call 593-8333 for information.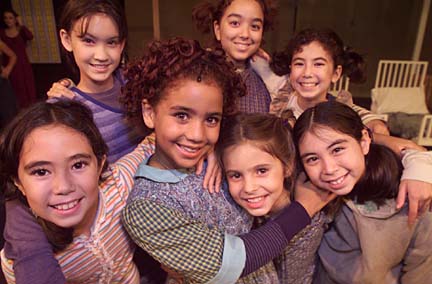 GEORGE F. LEE / GLEE@STARBULLETIN.COM
Annie, played by Paige Finch, second from left front, is surrounded
by her orphan pals, clockwise from top left, Kimberly Nip, Kristina
Sault, Ellen Minkin, Kimi Anderson, Katherine Clifton and Elsie Minkin.
---
DHT turns the kids loose with 'Annie'

The careers of child performers can be brief. A growth spurt, or any evidence of approaching puberty, can end a kid's career almost overnight.

Take the title role in "Annie." Few girls play Little Orphan Annie more than once and so each local revival introduces someone new in the role. Diamond Head Theatre is the latest local theater group to revive the perennially popular musical version of the old-time comic strip, and will be presenting two young performers as the ever-optimistic curly-topped pupil-less moppet during the three-week run.

The star of the DHT production, Paige Finch, is a newcomer who arrived here from Kansas in June. She's a 9-year-old 4th grader at Kanoelani Elementary School who has three years community theater experience in Kansas. "Annie" was the first show she did in Kansas, although she debuted there in a smaller role.

Kristina Thuy Sault will step into the role for the added 3 p.m. Sunday matinees on Dec. 8 and 15. She is also a veteran of a mainland staging of "Annie." She was seen as one of the Snow children in DHT's most recent revival of "Carousel" just over a year ago.

Sault is an 8th Grader at Sacred Hearts Academy who enjoys acting, karate, playing piano and violin, reading, and swimming. She's also a member of the Hawaii Youth Symphony and the Girl Scouts.

Sault and Finch have something else in common beside the role they're sharing. They are members of the Hawaii's military community; Finch's family is Army and Sault's is Navy.

Josh Harris, who gave a great performance as the menacing pimp in DHT's superb production of "Jekyll & Hyde" in September, co-stars as the wealthy and mysterious Daddy Warbucks.






Click for online
calendars and events.





---





Send WatDat? questions, stories
or any other story ideas or comments to:
Features, Honolulu Star-Bulletin, P.O. Box 3080,
Honolulu, HI 96802 or send a fax to 523-8509
or E-mail to features@starbulletin.com.
Please include your phone number.
E-mail to Features Editor
---
---
© 2001 Honolulu Star-Bulletin
http://archives.starbulletin.com