CLICK TO SUPPORT OUR SPONSORS

---

---
Friday, November 30, 2001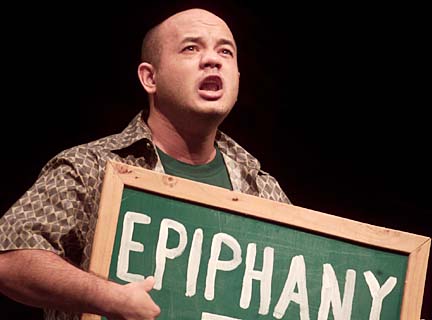 FL MORRIS / FMORRIS@STARBULLETIN.COM
Shen Sugai performs in the HTY production, "Christmas Talk Story"
at Tenney Theatre, Queen Emma Square.
---
Isle diversity shines in
HTY holiday plays

---

By John Berger
jberger@starbulletin.com

Celebrating Christmas can be difficult these days. Christmas celebrates the birth of Jesus Christ, but some people prefer to keep religion out of public displays in favor of Santa Claus and more commercial activities.

Honolulu Theatre for Youth has deftly sidestepped the conundrum of multi-culturalism in recent years, and provided a forum for local playwrights in the process, with annual productions consisting of short performance pieces about the Christmas experiences of Hawaii's kids.

"Christmas Talk Story 2001" continues that contemporary tradition in great form as HTY artistic director Mark Lutwak and three performers share a collection of 12 new seasonal stories. Most are about the importance kids place on receiving presents at Christmas, but several contain deeper themes as well. Pre-teens and their parents will find this perfect holiday entertainment.

Tanner Henderson, Nara Springer and Shen Sugai take turns as animated story-tellers/protagonists this year. Their stories are diverse, although many reflect our stagnant economy and the struggle of many Hawaii residents to make ends meet.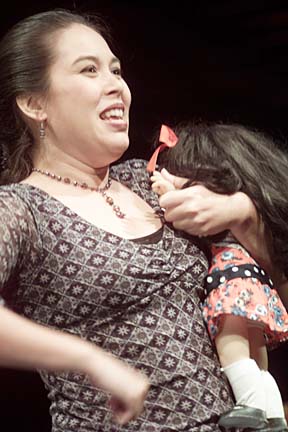 FL MORRIS / FMORRIS@STARBULLETIN.COM
Nara Springer takes the stage in "Christmas Talk Story"
at Tenney Theatre.
---
W.C.R. Pollitt's "Funny How Things Turn Out" is about a boy who collects cans to earn money for a bike in the Salvation Army store but decides to use his hard-earned money to buy his mother a Christmas gift instead. The youthful narrator of Frank Higgins' "Epsom Salts" buys a box of the stuff as a special gift for her mother who has to work long hours serving nasty customers at the former Liberty House.




'CHRISTMAS TALK STORY 2001'

Presented by Honolulu Theatre for Youth
When: 2:30, 4:30 and 7:30 p.m. Saturdays through Dec. 15
Where: Tenney Theatre, St. Andrew's Cathedral
Call: 839-9885
Also: See last year's "Christmas Talk Story" broadcast at 4 p.m. tomorrow and 8 p.m. Monday, Dec. 20 and 24 on Oceanic channel 52.




Susan St. John's piece, "Mama's Bad Luck," dispenses with the Christmas theme. Springer acts out the poignant story of a single parent who sells her sofa for $40 so she can buy lobsters for Grandma's New Year's Eve party but loses the money before she reaches the store.

Don't worry, parents. All these stories have happy endings. Some kids will also find in them the solace of kindred spirits and similar experiences. Others may gain insight into the lives of kids less blessed with material things.

Sean T.C. O'Malley's "Step Christmas" is a sparkling gem of a Christmas parable. Henderson stars as a boy who goes to church with his mother and stepfather and learns that Jesus also was a boy who had a stepdad on earth and whose "real dad" was in heaven.

Other stories are lighter and more fanciful. Tony Pisculli's "The Year We Ate Brains" combines comic mental pictures of unconventional Christmas fare -- brains, tripe, sea cucumbers -- with a nicely understated message about the importance of family.

Pisculli's story is a particularly good showcase for Sugai. The depth and breadth of Sugai's performance is reminiscent of BullDog's work in similar roles last year. Sugai was a big hit with kids last Saturday.

Gary Tachiyama's comic character sketch, "The New and Improved, Better and Ever and Ever Super Cedric," was another crowd-pleaser. Henderson stars as a rough-edged boy determined to give his mother an improved version of himself who knows "how for act and no get in trouble." Henderson's Cedric was a hit with the kids. Credit Chet Toni (set and lighting design) with creating the brightly colored box Cedric hides in while waiting for his mother to come home.

Music adds another dimension to the show and gives the audience a chance to participate. Springer becomes the foremost vocalist when the trio takes up Hawaiian musical instruments and presents "The Little Drummer Boy" in Hawaiian and English.

Synchronized teamwork added to the excitement when the trio used giant flashcard-style pictures in leading the kids through "The Twelve Days of Christmas (Hawaiian Style)" to close the show.





Click for online
calendars and events.
E-mail to Features Editor
---
---
© 2001 Honolulu Star-Bulletin
http://archives.starbulletin.com