CLICK TO SUPPORT OUR SPONSORS

---

---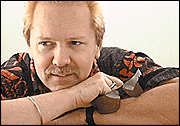 Island Mele



Friday, November 30, 2001
By John Berger
---
Fiji makes move into urban
pop with 'Transition'

"Transition"

Fiji
Ricochet

No local recording artist has done more to nudge the inbred Jawaiian and "island music" scene toward originality and innovation than Fiji. His fourth album is a giant step into other genres. He's always been careful not to get too far ahead of the local market, and he is still the master of local reggae-beat music, but "Transition" marks his move into polished mainstream urban pop. It also reaffirms his power and versatility. Brief sound bites reveal his thoughts on the songs and their cultural context.

Numerous guests add various flavors, but through it all Fiji displays his mastery of rap, urban pop ballads and acoustic rock. From the native Fijian chant that opens the album, through the English and Fijian originals that follow, "Transition" is one of the most significant local albums of 2001.

Email: tcbinc@get.net

"Master Blaster (Jammin')"

Darrell Labrado
Monkeypod

Darrell Labrado exceeds expectations as he and his production team rework Stevie Wonder's 1980 hit "Master Blaster" with insight and imagination on this CD-single. Labrado obviously wants to be a leader and innovator rather than a follower; the danceable and very commercial, pop-friendly sound he has here goes well beyond "island music" in concept. Each variation of the basic arrangement has solid pop appeal.

The cover art shows that Labrado has morphed from boy novelty to teen hunk status. Like the music, his new girl-bait look serves notice that he's on his way to a bigger presence in local music.

www.olindaroad.com

"Sweet Dreaming"

Greg & Junko MacDonald
MacDonald

Greg and Junko MacDonald are Hawaii's premier steel drum group. After three albums of predominately tropical music, they're applying the Caribbean instrument to an assortment of American pop songs and classical melodies by Bach, Schubert and Verdi. The steel drums' bright, bell-like sound creates a festive ambience and presents familiar tunes in fresh perspective.

The couple embellish their bright percussive arrangements with other instruments. Junko also plays keyboard harp and bass; Shawn Ishimoto, guitar and ukulele; and Pierre Grill, mandolin and keyboards.

Email: gmacd@aloha.net





---




John Berger, who has covered the local
entertainment scene since 1972, writes reviews of recordings
produced by Hawaii artists. See the Star-Bulletin's Today
section on Fridays for the latest reviews.
E-mail to Features Editor
---
---
© 2001 Honolulu Star-Bulletin
http://archives.starbulletin.com