CLICK TO SUPPORT OUR SPONSORS

---

---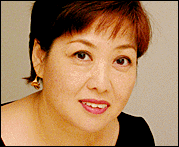 In The Garden



Friday, November 30, 2001
By Suzanne Tswei
---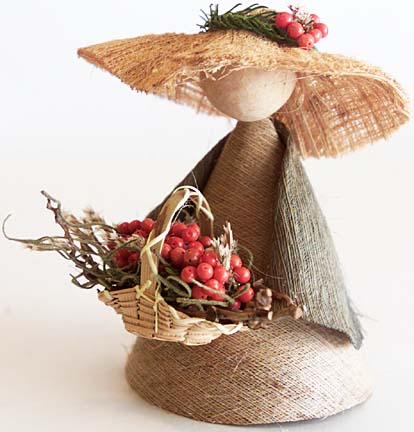 FLMORRIS / FMORRIS@ STAR-BULLETIN.COM
Tutu figure.
---
Backyard crafting

Lisa Miller's handiwork brings new life
to dead branches and other yard trimmings
as festive holiday ornaments

With two young children and one more due next month, Lisa Miller doesn't have any time for gardening. But if she did, she'd ask for a garden the size of a football field.

"I don't think I'll ever have a garden that big. I can dream, but I know it's not going to happen," says Miller, who wants a giant garden not for its living plants, but the dead branches and other yard trimmings that can be transformed into handcrafted holiday decorations.

"Can you imagine how many coconut trees I'll need to do what I do?" she says, zeroing on the prized brown coconut fiber, or niu, that is the foundation for her Hawaiian tutus and angels.

Miller has a small yard. She lives with her husband, who serves in the Army, and children at Schofield Barracks, and there simply isn't enough room to grow anything useful for her Christmas crafts. She has learned to depend on the kindness of strangers for her supplies.

"You'd be surprised how nice people can be. You go up to them and ask for stuff, and they give it to you. Mostly I think they are amazed somebody wants to collect their garbage," Miller says.

Some gardeners are so thoughtful that they save their yard trimmings for weeks, waiting for her to return to collect them, she said. Once in a while, Miller runs into tree trimmers who are also happy to share to lighten their load.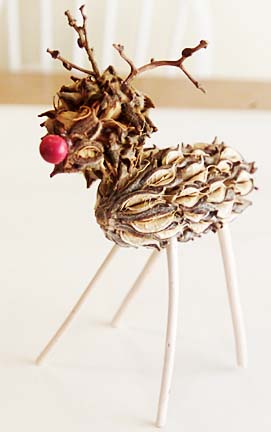 FLMORRIS / FMORRIS@ STAR-BULLETIN.COM
Seedpod reindeer
---
Miller began making Christmas ornaments out of dried tropical foliage, flowers and seed pods about three years ago. She worked out her own designs, which also include reindeer made from dried magnolia seed pods and pine cones.

Miller's ornaments (ranging from $7 to $12) are sold at Native Books & Beautiful Things and a few craft fairs. She will be selling at the Lanikai Community Center's craft fair from 9 a.m. to 3 p.m. tomorrow. The fair will be held at the center, corner of Aalapapa and Kaiolena streets. Call 263-6489 for more information.

Miller begins collecting craft materials in earnest in September, although she is on the lookout for garden finds all year round. She'll drive around town or walk in her parents' Kailua neighborhood looking for Christmas berries, niu and other materials. She uses some materials from her parents' yard, but the two coconut trees there barely meet her demand.

"Once you've collected the materials, then your job is halfway done. That's the hard part; it takes time to collect everything. After that you just need to keep it simple. What I do, anybody can do because it's so simple," Miller says.

While her designs are simple, the results are charming. And best of all, she's generous in sharing her craft. Here we include the pattern and directions for her Hawaiian tutu.

Miller has three versions of the Hawaiian tutu. The version carrying a basket of Christmas berries is the one featured here. But you can easily make the other two -- one with a basket of dried flowers, one wearing a shell lei -- by making minor changes. It's the same tutu pattern.

You can leave the tutu the natural brown color of the niu or dye the fiber with fabric dye. You can keep the colors muted or leave the dye on longer for more vibrant colors.

If niu is difficult to find, construction paper or stiffened fabric can be good substitutes.

---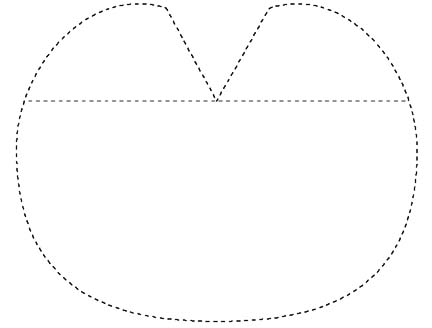 FLMORRIS / FMORRIS@ STAR-BULLETIN.COM
A pattern for the tutu's arms is shown at right, in actual size. Fold
the top down at the horizontal dotted line and bring the lines that
form the V-together. Secure with glue. When it is dry, secure the
short side with glue to the cone-shaped body.
---




TUTU FIGURE

Materials

>> Niu, or coconut fiber, washed and dried. It's also available at craft supply stores.
>> Fabric dye, optional
>> Bamboo skewers, cut into 2- to 3-inch pieces
>> Kamani nuts. Wood beads about the same size as the nut are good substitutes. Choose beads with small holes.
>> Dowel,
about 3/4-inch in diameter
>> Small basket
>> Dried Christmas berries, dried small flowers optional
>> Hot glue gun and hot glue sticks
>> Scissors
>> Sandpaper and small drill (not necessary if wood beads are used instead of kamani nuts)
>> Rubber band
>> Metal hook or string for hanging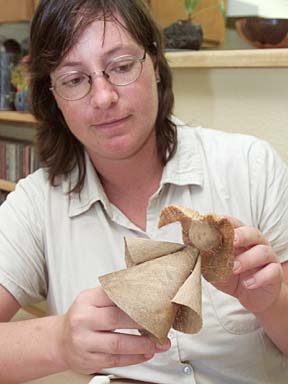 FLMORRIS / FMORRIS@ STAR-BULLETIN.COM
When it is dry, secure the short side with glue to the
cone-shaped body.
---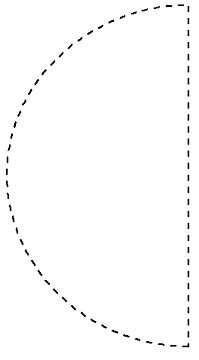 FLMORRIS / FMORRIS@ STAR-BULLETIN.COM
A mini version of the pattern is shown below, where
Lisa Miller shows the tutu without her accessories.
---
Tutu's body

>> Trace the arm pattern on page 7 onto the niu and cut out the piece. For the body, cut a half-circle, the straight side measuring 8-3/4 inches. (See half-circle diagram on page 7 for an idea of what it looks like.)

>> Optional, color with fabric dye if desired. Follow dye directions. Let niu dry.

>> Fold half-circle body piece into cone shape, glue to hold the shape. Leave a small opening at the small end of the cone for attaching the head later.

>> Fold the arms piece, glue down the folded edge. Attach it to the body by gluing the centers together.

>> Clean and sand kamani nut. Drill small hole into it. Skip this part if you are using a wood bead for the head.

>> Insert bamboo skewer into the hole, glue together so the head piece resembles a lollipop. Do the same if using a bead.

>> Attach the head piece to the body by inserting the bamboo skewer end into the body. Glue together.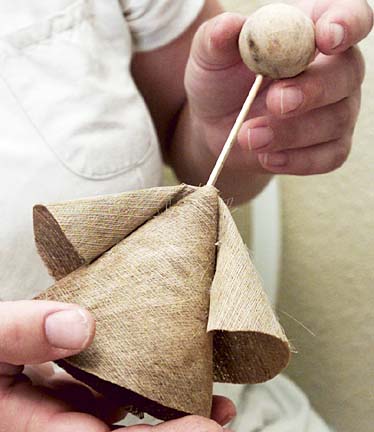 FLMORRIS / FMORRIS@ STAR-BULLETIN.COM
Attach a kamani nut or large wooden bead to the body by inserting
a bamboo skewer into the body. Glue together.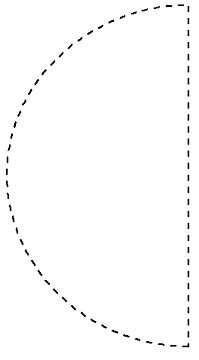 FLMORRIS / FMORRIS@ STAR-BULLETIN.COM
Enlarge this half-circle for tutu's body. The straight edge measure
8-3/4 inches to match the arms at top.
---
TO MAKE THE HAT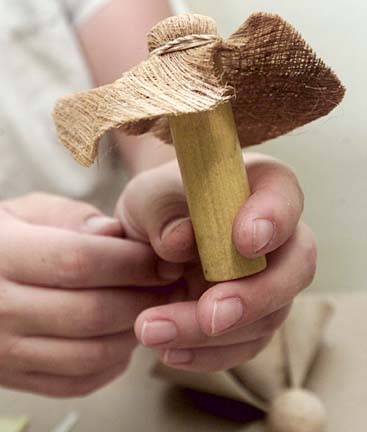 FLMORRIS / FMORRIS@ STAR-BULLETIN.COM
For the hat, place the center of a piece of niu onto the end of a dowel.
Push the niu down slightly around the dowel to form a dome shape.
Wrap a rubber around the dome. Leave it to dry.
---
>> Cut an oval piece of niu, about 3 1/2 by 2 1/2 inches. Wet the niu.

>> Place the center of the niu onto the end of a dowel. Push the niu down slightly around the dowel to form a dome shape. Wrap a rubber around the dome. Leave it to dry.

>> Unwrap niu and place it on the tutu's head. Trim excess to a desired hat shape.

>> Glue the hat to the head.

Final touches

>> Place tiny branches of Christmas berries in a small basket, and glue basket to the front of the tutu figure. Or fill basket with dried flowers (such as statice).

>> Or cut a strand of shell lei, put a dab of glue at each end of the strand to prevent shells from falling off. Place lei around the tutu's neck, glue in back.

>> Punch a hole in the tutu's back to insert string of metal hook for hanging.

Lisa Miller's tips

>> Pick materials that are free of pests and diseases. It's difficult to get the bugs off the plant materials, and the materials will not be in good shape after drying.

>> To prolong the red color of the Christmas berries, spray a thin layer of clear lacquer.

>> Clean the coconut fiber of dirt and grime by hosing it off and scrubbing gently with a brush if necessary; hang to dry. Store-bought fiber is already cleaned.

>> If you want to dye the niu, it's easier to cut the pieces first and place them in a dye bath than handling the whole sheet.

>> Don't be intimidated. The projects are easy and fun. "It doesn't take talent, just desire," Miller said.

Her reindeer are easier to make than the tutu. You'll need a pine cone or magnolia seed pod for the body; a smaller pine cone or magnolia seed pod for the head; twigs for legs, neck and antlers; and a red berry or bead for its nose. Don't forget the glue gun and glue sticks.

Cut twigs to desired length for legs, glue onto body. Cut a twig for the neck, and glue the body to one end and the head to the other end. Trim small twigs to desired length and shapes for antlers, glue to head. Finally, glue the red berry or bead to the head. Name it Rudolph if you wish.





---

Suzanne Tswei's gardening column runs Saturdays in Today.
You can write her at the Star-Bulletin,
500 Ala Moana, Suite 7-210, Honolulu, HI, 96813
or email stswei@starbulletin.com
E-mail to Features Editor
---
---
© 2001 Honolulu Star-Bulletin
http://archives.starbulletin.com