CLICK TO SUPPORT OUR SPONSORS

---

---
Tuesday, November 27, 2001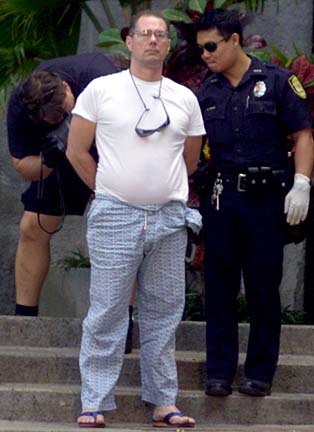 GEORGE F. LEE / GLEE@STARBULLETIN.COM
Richard Elstner was arrested Friday after allegedly
setting fire to his car at King and Bishop streets.
---
Inheritance dispute
cited in bank rage


A disgruntled Bankoh client pleads
innocent in Friday's fiery ruckus

---

By Treena Shapiro
tshapiro@starbulletin.com

Richard G. Elstner tried taking a legal route in his protest against Bank of Hawaii before allegedly setting his Mercedes-Benz on fire in front of the bank's main branch in downtown Honolulu and then spraying the intersection and the inside of the bank with fire extinguishers and paint.

Since 1999, Elstner, 49, has been involved in legal disputes with Bank of Hawaii, a subsidiary of Pacific Century Financial Corp. The disputes relate to the administration of a $2.7 million estate left to his family when his father, Richard C. Elstner, died in 1996.

Elstner pleaded not guilty to reckless endangering in District Court yesterday and remains in custody in lieu of $20,000 bail. A preliminary hearing is scheduled for tomorrow.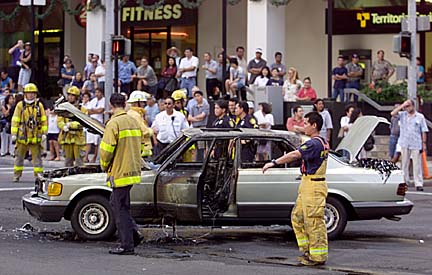 GEORGE F. LEE / GLEE@STARBULLETIN.COM
The incident closed the downtown intersection.
---
Elstner could often be seen in front of the bank carrying a sign that said "Pacific Century Thieves." He also distributed copies of a 12-page letter to Circuit Judge Colleen K. Hirai dated Oct. 6 to 16, 1999, alleging that the bank charged "outrageous" fees, allowed the family's real estate to "languish" and liquidated his father's stock portfolio into low-interest "Pacific Century Trust instruments."

In the letter, Elstner wrote that the dispute with the bank was leading him to a critical and complete emotional, physical and financial breakdown.

"When and if it is ever done, I will need years of psychiatric help, and I'm sure that my only full recovery from this burden will be my own death," he wrote.

Elstner's father left his family two trusts meant to care for Elstner's mother, who suffered from Alzheimer's disease, then to be divided among Elstner and his two younger brothers after her death.

A month after Elstner wrote the letter, court-appointed master Robert Graham issued a report in favor of Bank of Hawaii which was adopted by the Probate Court.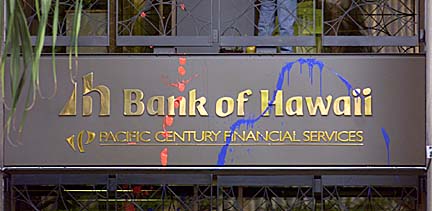 GEORGE F. LEE / GLEE@STARBULLETIN.COM
Police say Elstner also defaced a Bankoh sign
with paint, left, and set off fire extinguishers.
---
According to Graham's report, the estate was valued at $1,165,338 in early 1999, considerably lower than $2.7 million Elstner said it was worth at the time of his father's death.

Elstner, who said he had spent more than $150,000 in legal fees, was dealt another blow on Oct. 29 when the civil suit he filed in August over the same complaints was dismissed by the court.

"Mr. Elstner continues to argue the same issues in the Probate Court proceeding by filing the same objections to the final accounting for the trusts," said bank spokesman Stafford Kiguchi.

A hearing on the final accounting is scheduled for Jan. 4.

Elstner's friend and neighbor Don Groves had been planning to help Elstner try to get publicity about his story this week and was shocked when his friend called collect from jail over the weekend.

"He seems in good spirits but could not really account for what happened on Friday," Groves said.

Groves described Elstner as "a very solid individual," adding that he must have flipped out over his inability to get justice.

"If you could say that one event ruined a man's life, this event ruined his."
E-mail to City Desk
---
---
© 2001 Honolulu Star-Bulletin
http://archives.starbulletin.com