CLICK TO SUPPORT OUR SPONSORS

---

---
Tuesday, November 27, 2001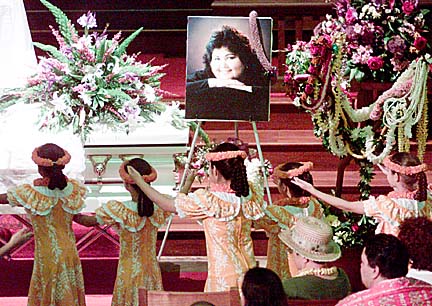 GEORGE F. LEE / GLEE@STARBULLETIN.COM
Dancers from Halau Hula Olana paid tribute to the
late Loyal Garner last night during ceremonies at
Kawaiahao Church.
---
Family, friends
remember Hawaii's
'Lady of Love'


A large, tearful crowd gathers at
Kawaiahao Church to celebrate the
life of popular singer Loyal Garner

Loyal divas

---

By John Berger
jberger@starbulletin.com

Loyal Garner -- Hawaii's Lady of Love -- was remembered by friends and family last night in services that were more about love and family than about celebrities and show business.

Her brother, Kimo, summed it up with his rendition of "Unforgettable."

That she was and always will be, and the song a perfect requiem.

"She was a Hawaiian class act. A class act all her own," Cha Thompson of Tihati Productions said.

Garner died Nov. 15 of cancer at the Queen's Medical Center.

She will be buried today at 2 p.m. at Hawaiian Memorial Park.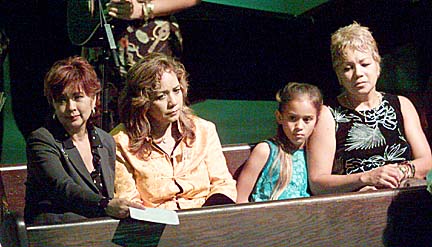 GEORGE F. LEE / GLEE@STARBULLETIN.COM
Above, surviving Divas Carole Kai, Nohelani Cypriano
and Melveen Leed attended services at Kawaiahao
Church last night for their late partner, Loyal Garner.
---
Melveen Leed, one of Garner's partners in the Local Divas, choked back tears as she recalled when she and Garner were just starting out in show business and would go over to Duke Kahanamoku's to watch Don Ho and pick up tips on how to handle a crowd and headline a showroom.

"She's been there through all my marriages, and her favorite words were always 'I told you so,'" Leed said with a smile, adding that it was Garner who helped her accept the death of another entertainer friend, Myra English, earlier this year.

"This is the first time I've lost a best friend," Leed added as her composure started to slip.

Leed and the other surviving Divas -- Carole Kai and Nohelani Cypriano -- sat with Garner's immediate ohana for most of the service.

Kai and Cypriano were among the many friends who entertained during the several hours that Garner lay in state. Some performed before going to work their own showrooms or lounge gigs. Others came in to perform -- or just pay their respects after work.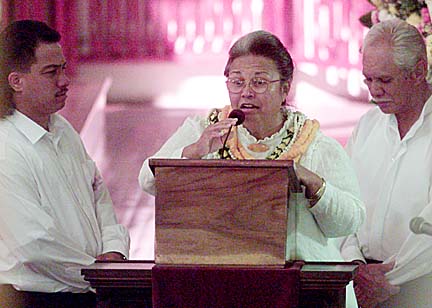 GEORGE F. LEE / GLEE@STARBULLETIN.COM
Famed kumu hula Alicia Smith eulogized Garner,
her sister, who died of cancer on Nov. 15.
---
Under normal circumstances it would have been natural to describe the proceedings as a "star-studded" event. As it was, the evening was about love, family and faith in Christ.

Alicia Smith described Garner, the baby sister she raised while their mother worked, as "my first child and a most precious sister."

Lanson Kupau, son-in-law of Garner's, and Janice Ukauka, her manager and longtime companion, choked back tears and spoke eloquently at length of the love that is there in times of darkness as well as in time of lightness and joy, and how "Grandma Lelo" -- a perfectionist in so many things -- had been a perfect grandmother who adored and spoiled her grandchildren.

Pi'ilani Smith recalled that her aunt "never took her gift for granted" and often asked in the 10 years that they worked together if the show had been OK.

"Now I have to learn what it is to create a new dream," Smith said.
E-mail to City Desk
---
---
© 2001 Honolulu Star-Bulletin
http://archives.starbulletin.com