CLICK TO SUPPORT OUR SPONSORS

---

---
Tuesday, November 27, 2001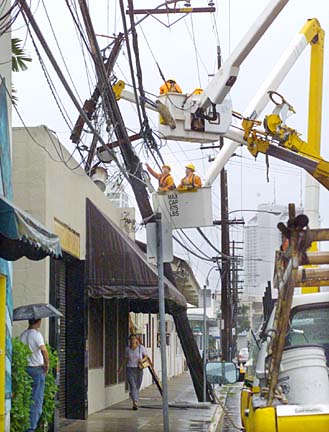 KEN SAKAMOTO / KSAKAMOTO@STARBULLETIN.COM
Hawaiian Electric Co. workers repair power lines
on Waimanu Street near Pensacola Avenue
this morning.
---
Rain drops
woes, relief


Season's first storm brings
high wind, heavy rain, and power
and phone outages, but also
much-needed rain

The worst of it

---

By Gregg K. Kakesako
gkakesako@starbulletin.com

The winter season's first major storm hit the island chain today, closing schools on Molokai and causing power outages, flooding and problems for commuters but also bringing some welcome rainfall for a drought-stricken state.

"This is the first good soaking of our wet season," said National Weather System's lead forecaster Tim Craig. "Hopefully, there will be more to come since we can use the rain."

A cold front was the cause of the high winds and heavy rainfall that left three to four inches on Oahu overnight, downing trees and branches and snarling traffic for morning commuters. The fire department said a home lost its roof in Waimanalo and there were reports of eight places being flooded -- the worst being the Ben Franklin Crafts in Market City Shopping Center.

Amy Ungos left her home in Waipahu at 6:15 a.m. The drive to Kaimuki to drop off her daughter at Sacred Hearts Academy usually takes 45 minutes. This morning it took an hour and a half.

"Just a lot of traffic," Ungos said.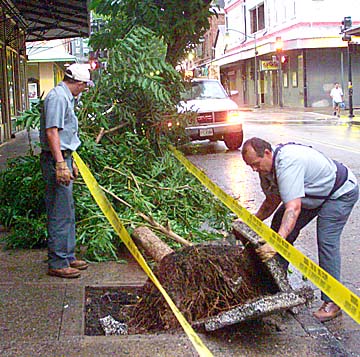 KEN SAKAMOTO / KSAKAMOTO@STARBULLETIN.COM
Workers try to remove trees toppled by strong winds
on Hotel Street near Maunakea and Smith streets
this morning.
---
Nine boats were aground this morning statewide in the face of 30 to 35 knot winds and 12 to 15 foot waves, the Coast Guard said.

Coast Guard Petty Officer Justin Acosta said there were no reports of injury.

High winds hit with gusts reported up to 55 miles per hour in some areas. More than 4,000 customers in the Waialua through Waimea area were without power for an hour beginning at 6:10 p.m. About 1,500 customers also went without electricity from 5 p.m. to 6:45 p.m. yesterday in Kailua near Oneawa Street. Power failures also were reported throughout the island. Less affected were the Waianae and Makaha areas.

In Kaneohe, a seven-hour power failure reduced the early morning run of today's Honolulu Star-Bulletin at its plant, according to Don Kendall, the paper's publisher. Kendall said the paper was able to complete the run of the Neighbor Island editions before electricity was lost.

"We were about 10,000 short of single copies," Kendall said. "However, we hope to make it up by doubling up our final run later today."

Verizon Hawaii reported cable problems causing phone service for customers in the Koko Head area.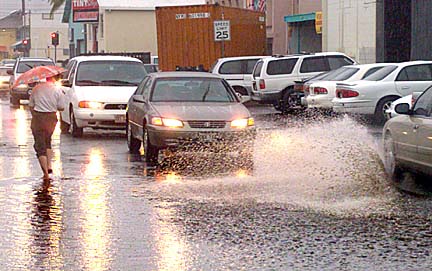 KEN SAKAMOTO / KSAKAMOTO@STARBULLETIN.COM
A pedestrian took a chance walking along the
flooded roadway at the corner of Queen and
Cummings streets today.
---
As the cold front moved southward through the chain this morning, it triggered flood watches and high-wind warnings for Maui and the Big Island, closing public schools on Molokai because of bad road conditions.

Craig said the Big Island's southern areas received the most rainfall overnight, averaging seven to eight inches in Kau, Puna and Hilo with Kapalala Ranch reporting nearly 10 inches.

Kauai, on the other end of the Hawaiian chain, received an equally heavy dose of rainfall, with the heaviest recorded in the mountains and along the North Shore -- about seven inches.

Oahu's heavy totals were recorded in the Koolaus on the Windward side of the island with Maunawili and Olomana reporting more than four inches.

The Big Island escaped major damage from the southerly storm that was moving across the state.

Flooding closed the Hawaii Belt Road between Pahala and Naalehu yesterday. Students at Kau High School and Pahala Elementary School were sent home around 12:30 p.m. while school buses could still cross flood-prone areas.

High winds hit Oahu last night, with gusts reported up to 55 mph in some areas. Acosta said a small sailing boat from the Waikiki Yacht Club went aground off Magic Island.

On Maui, three boats went aground in Lahaina last night and the whereabouts of a 49-foot catamaran from Kaanapali was unknown. Acosta said four vessels were also aground in Kailua-Kona on the Big Island.

On Oahu, there were traffic delays on Atkinson Drive between Ala Moana Boulevard and the Central YMCA, on the eastbound lane of the H-1 Freeway near the Middle Street merge, Kaneohe Bay near Castle High School and on Farrington Highway near the Makua caves because of fallen trees and large boulders.

At Pearl Harbor, flooding on Kamehameha Highway temporarily closed Makalapa Gate.

Gregg Terry believes more drivers started their commute into town earlier this morning.

"When it's raining, everybody leaves early.

Terry left his home in Aiea at 6:30 a.m. He arrived in downtown Honolulu an hour later. He said the drive normally takes 35 minutes.

Joe DeMattos left his Mililani home at 6 a.m. The drive into Honolulu took him 45 minutes this morning instead of the usual 30 minutes.

Marsha Shimabuku said her drive into town from Ewa Beach took just five minutes longer than usual. She leaves her home at 5:30 a.m. She attributes traffic slowdowns during heavy rains to inexperienced drivers.

"They don't know how to drive in the rain," she said.

---

Star-Bulletin reporters Nelson Daranciang
and Gary Kubota contributed to this report.


|





Heavy showers

Highest overnight rainfall totals for the 24-hour period ending at 8 a.m. today:

KAUAI

Kokee: 6.8 inches
Hanalei: 4.64 inches
Wainiha: 4.82

MOLOKAI

Kaunakakai: 2.26 inches

BIG ISLAND

Kapapala Ranch: 9.8 inches
Pahala: 7.37 inches
Mountain View: 5.46 inches

OAHU

Poamoho: 5.17 inches
Maunawili: 4.48 inches
Olamana: 4.43 inches
Wheeler Air Force Base: 4.39 inches

MAUI

Mahinahina: 3.89 inches

Source: National Weather Service



E-mail to City Desk
---
---
© 2001 Honolulu Star-Bulletin
http://archives.starbulletin.com