CLICK TO SUPPORT OUR SPONSORS

---

---
Friday, November 23, 2001


[ STUFFS ]
---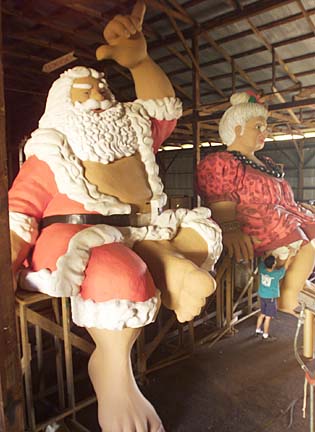 FLMORRIS / FMORRIS@STARBULLETIN.COM 20-foot-tall Santa and Mrs. Claus sculptures are ready for the
Honolulu City Lights display at Honolulu Hale. The sculptures
are created and housed in a Pearl City warehouse and will start
their trek into Honolulu on Monday.
---
Characters liven up breakfast with Santa

Colorful costumed characters will join Santa Claus and the kids when the 15th annual "Breakfast with Santa" takes place Dec. 15 at the Japanese Cultural Center of Hawaii's Manoa Grand Ballroom.

Among the characters will be Winnie the Pooh, Piglet, Tigger, Mickey Mouse, Minnie Mouse, Elmo, Barney, Dalmatian, Taz, Bugs Bunny, Tweety and Sylvester.

There will be two seatings offered, at tables of 10. The breakfast takes place from 8:30 to 10:30 a.m., and for those who don't want to wake up that early, the second seating is for lunch from noon to 2 p.m.

A donation of $18 for adults and $15 for children is requested, which includes the meal, a photo with Santa, games, a Christmas gift, face painting and entertainment by magicians and clowns. Seating is limited and tickets are nonrefundable.

Tickets are on sale for the event, a benefit for Prevent Child Abuse Hawaii. The agency's mission is to prevent child abuse through education, public awareness and advocacy.

The number of confirmed child abuse cases in Hawaii has tripled over the past 20 years, affecting as many as 40,000 to 50,000 children each year.

The JCCH is at 2454 S. Beretania St. For more information, call 591-3588.

World Art Bazaar opens

Once again, those shopping for exotic holiday gifts from around the world will find an eclectic assortment of masks, baskets, wood carvings and holiday ornaments in one place when the Honolulu Academy of Arts opens its World Art Bazaar.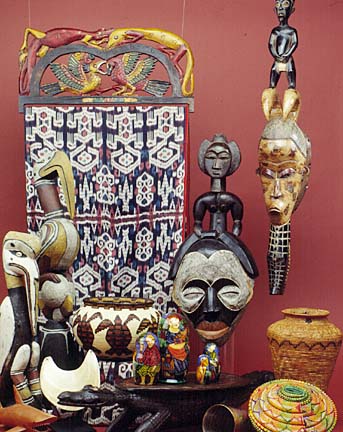 HONOLULU ACADEMY OF ART
The world of art comes to you for one-stop shopping at the
Honolulu Academy of Arts, through Dec. 9.
---
This year, the bazaar moves into a spacious new room in the first floor gallery. Textiles and ceramic wares for the home will be available, as will personal items such as antique kimono, ethnic clothing and jewelry.

The bazaar will be open during regular museum hours, and $1 validated parking will be available in the Academy Art Center lot accessible from Beretania or Young sts.

Due to increased security, purses or parcels measuring more than 16 inches will not be allowed in the gallery.

>> Place: Honolulu Academy of Arts, 900 S. Beretania St.
>> Time: 10 a.m. to 4:30 p.m. Tuesdays to Saturdays, and noon to 5 p.m. Sundays through Dec. 9
>> Admission: Free
>> Call: 532-8700

Parade salutes military, veterans

DoubleTree Alana Waikiki Hotel welcomes the holidays at 7 p.m. today, with a parade themed "Celebrating Santa and Pride in America," paying tribute to America's military forces and Pearl Harbor survivors in the 60th anniversary of the infamous attack.

The parade starts at Saratoga and heads down Kalakaua Avenue, ending at Honolulu Zoo. Featured will be 18 marching bands from mainland and local high schools, floats, clowns, costumed characters, and of course, Santa. Several Pearl Harbor survivors will also be honored as they ride in front of each band procession.

Call 941-7275. More parades in "Holiday Happenings," page 5.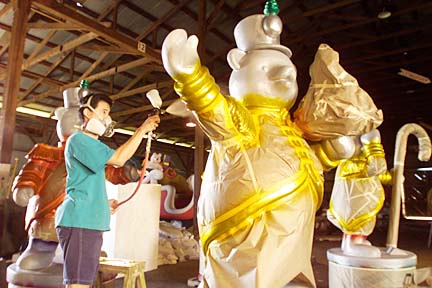 FLMORRIS / FMORRIS@STARBULLETIN.COM
Alex Ching spray paints "Sentinel Bears"created for the Honolulu
City Lights display at Honolulu Hale, opening next weekend.
---
Let there be City Lights

The workers huddle in Pearl City with care, knowing that St. Nick will soon be here. And all the warehouse is full of the sound, of Alex Ching and his fellow city and county artists making their rounds. Onto sculpted Styrofoam come layers, on cement, on polymer, on fiberglass mesh to form the creatures that will make Honolulu City Lights opening, a good night.

---

Plan ahead for the city's annual tree lighting Dec. 1 in front of Honolulu Hale, complete with music and colorful displays.

Continuing a promise to add to the exhibition every year, this year will see the debut of a spectacular family of six 9-foot-tall candy-colored bears dressed in toy soldier uniforms. The slick, bright colors come from automotive paints.

Of course they'll be joined by Santa Claus and Mrs. Claus, the Snowman family, gnomes, penguins and Rudolph's sleigh. They'll start rolling out of the warehouses Monday, so drivers, look out for elves.

---

'Surf's Up'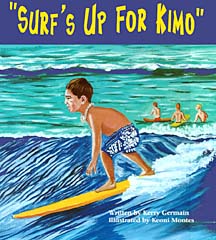 Kerry Germain, winner of the 2001 Kapalapala Po'okela Award for the best written children's book, will read her story "Surf's Up for Kimo" and give away stickers and surf wax to little surfers who stop by Native Books & Beautiful Things at the Ward Warehouse between 11 a.m. and 1 p.m. tomorrow.

Germain will also be bringing goodies from Sea Maids, such as a rash guard, a puka shell necklace just like the one Kimo wears and a keiki swimsuit, for winners of a prize drawing. You don't have to buy anything, just listen to a surf story or two.

In Germain's story Kimo learns what it takes to really be a surfer -- more than just jumping up on a board. Lots of hard work and perseverance get him out safely on the waves having a great time, just like his two older brothers.

For more information, call 845-8949.

---

Star-Bulletin






Click for online
calendars and events.





---





Send WatDat? questions, stories
or any other story ideas or comments to:
Features, Honolulu Star-Bulletin, P.O. Box 3080,
Honolulu, HI 96802 or send a fax to 523-8509
or E-mail to features@starbulletin.com.
Please include your phone number.
E-mail to Features Editor
---
---
© 2001 Honolulu Star-Bulletin
http://archives.starbulletin.com