CLICK TO SUPPORT OUR SPONSORS

---

---
Friday, November 23, 2001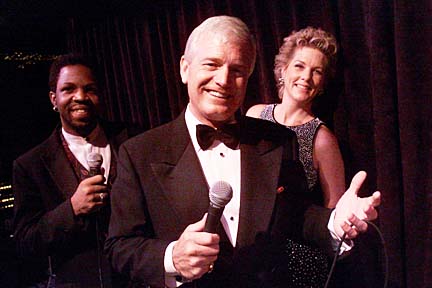 FL MORRIS / FMORRIS@STARBULLETIN.COM
Randy Smith, center, is Sinatra during performances of "An Evening
with the Music of Sinatra" at Esprit Nightclub. Behind him, are Chris
Washington, left, and Debra Canada, both also in the show.
---
Frank Sinatra tribute
sparkles in spotlight

'The Chairman of the Board' -- or a big fan
of his, anyway -- takes charge on the
Waikiki showroom stage

---

By John Berger
jberger@starbulletin.com

There are times when an entertainer's obvious enjoyment of what they're doing becomes an important part of the performance. Watching Randy Smith as he stars in "An Evening With The Music of Sinatra ... and Friends" at the Esprit Nightclub is a perfect example. Smith is a guy who grew up loving Sinatra's music, enjoys singing Sinatra songs in karaoke bars, and has been a featured performer in Jack Cione's "Mardi Gras Follies" for the Pearl Harbor Performing Arts Association. Now he's singing the songs he loves as a showroom headliner in Waikiki and loving every minute of it.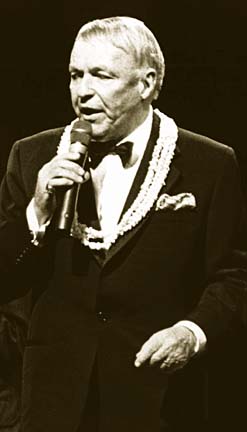 DENNIS ODA / DODA@STARBULLETIN.COM
Frank Sinatra on stage during a 1989 Hawaii concert.
---
Debra Canada and Chris Washington are Smith's musical sidekicks. They're obviously just as thrilled as Smith is to be on stage in Waikiki.

The threesome's enthusiasm is contagious despite performing with just music tracks rather than with live musicians and have only a narrow strip of stage as their performance area.

Cione is producing the show in conjunction with Byron Young, his old-time partner in ByJack Productions going back 20 years, and Yemun Chung, another long-time friend and associate whose ties with Young likewise date to the '70s. (Chung is also the manager of Tino & The Rhythm Klub, the late-evening Esprit headliners, whose instruments and related gear is concealed by the curtains). It's no stretch to imagine Cione, Young and Chung eventually putting some musicians behind Smith and marketing him as a convention act. In the meantime, they're fine-tuning the concept and giving Smith time to get comfortable as a stage performer and as the host and star of what could easily be a one-man show.

It's a great opportunity for Smith's friends, and the friends of Washington and Canada as well, to come out and celebrate a dream-come-true.




'An Evening with the Music of Sinatra ... and Friends'

When: 7:45 p.m. today and tomorrow
Where: Esprit Nightclub, Sheraton Waikiki
Cover: $20 (includes free validated parking)
Call: 922-4422




During the show, Smith and his producers hop, skip and jump through several decades of music in segments representing different chapters in Sinatra's career -- the young big band singer, the solo crooner, the '50s pop star, the Rat Pack years, and his superb "saloon singer" persona. The songs seem culled at random from Sinatra's extensive discography as songs from different decades are presented side-by-side for no obvious reason. Smith's comments puts each one in historical perspective.

Several of Sinatra's biggest hits and best-known songs are missing. "Love And Marriage," "All the Way," "Strangers in the Night" and "It Was A Very Good Year" are four of the obvious omissions.

Smith performs with style and zest throughout. His rendition of "One For My Baby," the single song selected for the saloon singer segment, is as good as any number in the show and fine example of what he can do as a performer. He introduces the song with a short explanation of the "saloon singer" genre and how Sinatra's recordings define it in the context of American pop music, then does a fine job singing it.

On the other hand, it is odd to hear anyone other than an African-American affect the "Southern black" dialect used in "Ol' Man River." True, the song dates from a time when "black face" and "minstrel show" entertainment were still acceptable in American pop music, but it strikes a jarring note in 2001.

FILE PHOTO
A boyish Frank Sinatra is shown in a 1943 photo.
---
Chris Washington had at least two good numbers when he made his local stage debut in Manoa Valley Theatre's staging of "Smokey Joe's Cafe" in September. He's making another big entry to his resume with his work here when the "Friends" part of the show recalls Sammy Davis Jr.

Washington neither looks nor sounds like Davis and wisely refrains from doing any kind of stereotypical Davis shtick. He only has a few minutes on stage but makes it clear with his rendition of "Candy Man" that he could hold a crowd for more than two or three songs.

Canada, another of Cione's "Mardi Gras Follies" discoveries, joins Smith on a series of songs that Sinatra apparently recorded as duets with various women but which never made the Hot 100 ("Somethin' Stupid," the duet with daughter Nancy that hit No. 1 in 1967, isn't included in the show).

Dancer Joni Albao, a third "Follies" alumnus who has extensive prior credits, performs a hula as Smith breaks format to sing "Blue Moon on Hawaii," a Fred Jones composition that Sinatra never recorded. Albao returns for the finale as Smith, Washington and Canada wrap it up with "New York New York," the song that hit for Sinatra in 1980.

Bobby Roberts remains Honolulu's most notable Sinatra sound-alike of recent memory, and when Jimmy Borges sings Sinatra songs, however, he uses Sinatra's own big band arrangements. But almost anyone who likes those classic pop songs will likely embrace Smith and enjoy sharing his music and memories. Some may be deterred by the $20 cover charge.





Click for online
calendars and events.
E-mail to Features Editor
---
---
© 2001 Honolulu Star-Bulletin
http://archives.starbulletin.com