CLICK TO SUPPORT OUR SPONSORS

---

---
Friday, November 23, 2001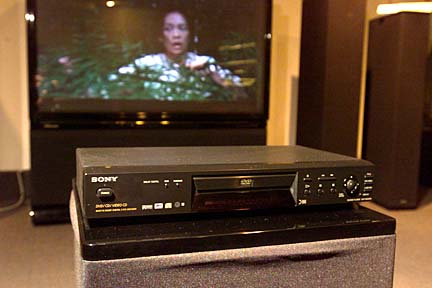 FL MORRIS / FMORRIS@STARBULLETIN.COM
A Sony DVD player (DVP-NS400D) and a Pioneer rear-projection
television (Elite PRO510HD) are paired up at Sam Sung Electronics.
---
DVD do it!


With player prices falling and
DVD movies now widely available,
the time has come to go digital

---

By Gary C.W. Chun
gchun@starbulletin.com

t was THE hot Christmas gift item last year, and will probably continue to be in this new millennium season.

The digital video disc player has been, by all reports, the fastest-selling consumer electronics product around, with more than 8 million of the machines sold in just a three-year period. In conjunction with a growing DVD purchase and rental market, it's becoming the format of choice for a growing number of consumers, catching up and soon to surpass videotape (VHS).

Whether you give or receive one yourself, be secure in the knowledge that a DVD player is a de rigueur component, much like a television or CD player. It's part of the onslaught of digitized home entertainment, and being "in denial" is futile! The day is looming when VHS goes the way of 8-tracks, Betamax and cassette tapes. But change doesn't have to be scary.

But don't ditch your VHS player/recorder right away. There are still millions of people like yourself who need to tape favorite TV shows and movies from broadcast and cable stations, and the DVD recorders on the market now are still expensive, at around $1,500 to $2,000.

The usual, reliable and popular consumer electronics brands, such as Panasonic, Sony and Toshiba, offer relatively inexpensive models. Not surprisingly, Sony leads the way with four best-selling single-disc players, ranging from their basic DVP-NS40D (costing anywhere from $150 to 230) and S560D (list price around $200) to players that -- as one buyer commented via e-mail on the Yahoo shopping site -- "interface perfectly with (a Sony) flat-screen TV and surround (audio) receiver." The DVP-S570D and NS700P (with their ability to play video CD, CD-R and, in the latter case, CD-RW discs) are going for around $220 to $300.

Panasonic and Toshiba make good basic single-disc players. Panasonic's DVD-RV30 (list around $135) and RV31K ($150 to $180), plus Toshiba's SD1700 ($126 to $150) are good first-time purchases. A dependable and solid bargain is Sam Sung's DVD-M101 player, which can cost as little as $119.

Even at that price, however, you may have to invest in a larger television, one with a 27- to 32-inch screen, to truly appreciate what DVD has to offer. The reason? "The image on DVDs are always widescreen," said Circuit City sales counselor Eric Castillo.

What's being offered is the original theatrical ratio of a movie, which is more horizontal (or "letterboxed") than the square, "pan and scan" framed images one has had to tolerate in the recent past. It wouldn't be worth the effort to hook a DVD player up to anything smaller (although there are portable -- and expensive -- DVD players out there with their own small high-definition screens attached to them, but that's another story).

Transitioning from a VHS to a DVD player is a breeze, providing, of course, that you've successfully gotten past the "blinking 12:00 timer" syndrome and are not paralyzed by technology.

"The two virtually have the same kind of mechanism," Castillo said, referring to the basic operation buttons on the remote and the machine itself. "What you're paying for (in a higher-priced model) is its ease of use, features and stereo surround-sound capabilities."

Also, if you can operate an audio CD player, you can handle a DVD player. Not only that, "all DVD players can play CDs," Castillo said, and multiplay DVD players can hold anywhere from two to five DVDs.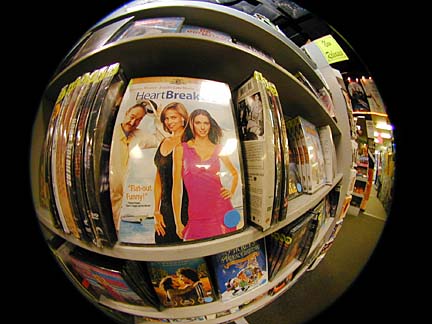 CRAIG T. KOJIMA / CKOJIMA@STAR-BULLETIN.COM
A DVD display at Diamond Head Video takes on a surreal
effect when seen through a camera's fisheye lens.
---
Your kids' gaming systems, like the Sony PlayStation 2 and new kids on the block Microsoft Xbox and Nintendo Game Cube are also DVD-compatible, as are most new computers.

Your transition from VHS to DVD will be a lot easier if you take the time to check the back of your (hopefully) large-screen television set. "There have to be additional alternate inputs into the TV, and most new TVs have alternate audio and video (A/V) inputs," Castillo said. "If you have an older set, you'll have to purchase, in addition, an RF (radio frequency) modulator for around 20 bucks," which would convert the player's audio/video signal into a usable one for your dinosaur of a set.

"Besides those basic A/V inputs," Castillo said, "it'd be great if your TV had an S-video input that would ensure better picture quality from your DVD player," and you would then purchase special S-video cable for hookup purposes.

At Circuit City "a DVD single-disc player for basic home viewing, nothing fancy, runs about $150. But if you want the ability to play discs with music burned on them, downloaded from the Internet, or movies dubbed from a computer onto a CD, you can get a player with MP3 capability for $180."

The mainland chain also provides a $50, three-year service warranty with every DVD player it sells. "Usually after about two years of regular use," Castillo said, "through regular wear and tear, you might see more image freezing, skips or even no video when playing back," although cleaning the DVD with specially treated cloths generally alleviates most of the problem.

Hollywood converting

The growing market in DVDs and high-definition televisions sets up the broadcast industry's conversion to an all-digital format. More widescreen programming is being made and shown, with the format scheduled to overtake current formats in about four years.

"Right now, we're in a transitional period where we're in between widespread use of the VHS and DVD players, between square screen and horizontal, widescreen television sets," Castillo said.

Cost is still the determining factor, and if you fancy yourself a home entertainment system buff and price is no option, buying what will be a standard 34-inch HDTV television can now run you around $3,300. But even the aforementioned DVD recorder is cheaper than before: "The second-generation DVD recorder on the market, where you can produce home recordings off of a digital video camera using DVD RAM discs, and play them back in DVD-R format, is now about $1,500 cheaper than the first-generation models," Castillo said.

Salespeople like Ki Young Ku and Robert Tober, both from Sam Sung on Keeaumoku Street, find themselves, more often than not, in the role of counselor or "audio video specialist" in dealing with a more knowledgeable clientele.

"There's more demonstrating of the equipment along with the sales side," Castillo said. "The average customer is smarter because of the Internet. Most already have half as much knowledge as us sales counselors. All we do is fine-tune.

"Basic fear of technology has gone down over the years," he added. "Every store seems to have a dot-com site" that people can refer to before even setting foot in a store.

"DVD works as a path to putting together a home theater system," Ku said. DVD's predecessor, the 12-inch laserdisc, didn't catch on with the mass market because "the sound quality was dull in comparison (to DVDs), and there weren't many titles available."

The original appeal of the laserdisc format, what with special features such as a movie's unreleased footage, behind-the-scenes documentaries and audio commentaries, has translated directly into the wider marketing of DVDs. Combine that with a markedly improved picture and sound in pristine digital quality, and the portability of a compact disc, and it's no wonder the movie studios have called the DVD the saving grace of the industry.

"The appeal of DVDs are really because of the extras," Tober said. "For instance, it's fun to see the outtakes that were made for 'A Bug's Life,' or watch and listen to interviews with the personalities involved in your favorite movie."

And the cost is not prohibitive. While a popular title like "Shrek" costs $12 to $15 on VHS, on DVD, with extra features, it costs around $20.

In comparison, laserdisc players were around $500, with the discs costing $50 to 80.

VHS going, going ...

Another appeal of the DVD format is the ever-growing number of movies being made available in the format. Chains like Blockbuster are offering a bigger selection of DVDs for rental, and Art Kusunoki, general manager of the Kahala Tower Records and Video, has eliminated VHS titles to concentrate on DVD rentals.

"We still offer new VHS titles for personal purchase, but since most new releases on tape would cost the store around $100 in their initial release, it's harder to recoup that kind of money in rental fees," he said.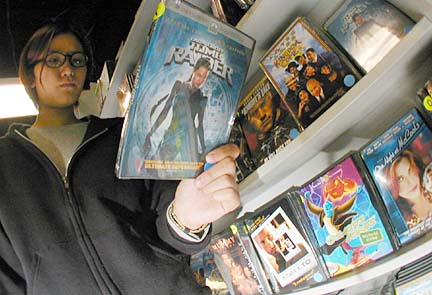 CRAIG T. KOJIMA / CKOJIMA@STARBULLETIN.COM
Valerie Wang looks over some DVD titles at Diamond Head Video.
---
"There's a lot more interest in the DVD format nowadays. Players are easier to buy because they're cheaper, plus with the appeal of the extra features on DVDs, with things like multiple endings and special audio commentaries. You get a lot more options, plus improved picture quality.

"VHS is not dead, however, by any means," he said. "There are still stores that both sell and rent out VHS tapes. But the potential interest and growth in DVD is so much greater than VHS, and stores like ours want to take advantage of that, so that's why we opted for a strictly DVD rental."

Jim Coville, owner of the three stores that comprise Diamond Head Video, said he offered the very first group of DVD titles ever offered to the public, "when a DVD player still cost around a thousand dollars."

"From those first 30 titles from Warner Bros., we now have around 4,000 DVD titles available for rental at the Kapahulu store," he said. "Something like 'Planet of the Apes' (released Tuesday on DVD), we'll probably get around 20 copies."

Coville said 20 percent of rentals are DVD-related, and while he sees an eventual phase-out of VHS titles, "as long as demand for VHS is there, we'll continue to offer it.

"It's hard to project when there'll be a complete switch from VHS to DVD -- I've heard it could be anywhere from a year to five years -- but we still have 16,000 titles on VHS because there's still a demand for older and foreign movies that aren't available on DVD," he said.

For now, Coville sees that "the primary home video setup, for now, will consist of multiple players of both DVD and VHS," as the rental market for both independent stores like his and corporate mainland chains like Tower and Blockbuster offer the same rental fees for both DVD and VHS titles.





Click for online
calendars and events.
E-mail to Features Editor
---
---
© 2001 Honolulu Star-Bulletin
http://archives.starbulletin.com