CLICK TO SUPPORT OUR SPONSORS

---

---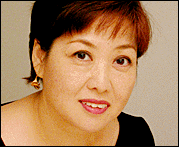 In The Garden



Friday, November 23, 2001
By Suzanne Tswei
---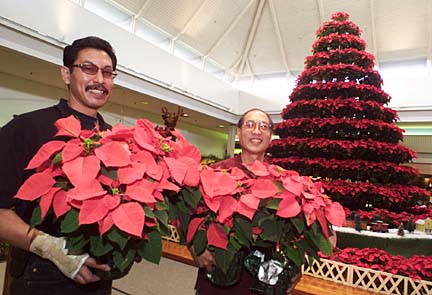 CRAIG T. KOJIMA / CKOJIMA@STAR-BULLETIN.COM
Clayton Fukuda, left, and Thomas Chuck of Kahala Mall hold
the blossoms used in their holiday displays. Red poinsettia make
up the mall's traditional tree and other displays.
---
20-foot poinsettia tree
coming right up

You would think creating a 20-foot-tall poinsettia tree would be a giant headache. Not for Clayton Fukuda, who has been doing just that for 20 years for Kahala Mall.

"I've been doing it for so long, I can do it with my eyes closed. I pretty much know everything backwards already, and so does my crew," says Fukuda, mall operations director.

"The tree frame is made out of steel, and it's 16 feet wide (in diameter) and 20 feet high. There are 12 layers, and every year I have to order 246 poinsettia plants just to fill that tree. Then I have another 100 plants under the tree," Fukuda says.

The eye-catching holiday centerpiece just inside the Ewa entrance (by Starbucks Coffee) always goes up before Thanksgiving, in time to kick off the holiday shopping season. The crew begins at 6 a.m. and gets it all done by 10 a.m. when the mall opens.

"It's not hard putting up the tree. The frame was especially made for us (in the late 1970s), and it's in great shape. We just have to fill it with plants, and that takes time," Fukuda says.

The person who has the difficult job is Thomas Chock, who must grow the poinsettias and make sure they are in their peak bloom at the right time.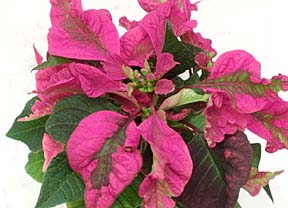 KEN SAKAMOTO / KSAKAMOTO@STAR-BULLETIN.COM
Plants from Star Garden Supply in Moiliili show some of the
multicolored variety available in poinsettia: the two-toned "Carousel."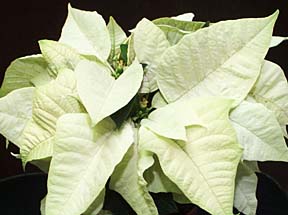 KEN SAKAMOTO / KSAKAMOTO@STAR-BULLETIN.COM
Poinsettia: "Marble White."
---
"The plants I grow have to be in the best shape. They have to look good through Christmas; that means they have to last more than a month," Chock says.

As owner of Tropical Rainbow, Chock runs a nursery specializing in top-grade poinsettias for high-end florists, malls and hotels. He has been supplying the holiday plants for Kahala Mall, which requires about 600 plants each season, for nearly 20 years.

Fukuda says not all poinsettias are equal, and Chock has consistently grown the best he has seen.

"We pay more for his plants. We could buy cheaper ones from other nurseries, but shoppers have come to expect that poinsettia tree, and we have to make sure it looks beautiful every year," Fukuda says.

Chock says his plants are beautiful for good reason: because he goes through many time-consuming steps to ensure that they are in top shape. For example, to supply Kahala Mall, he and his workers spent hours handpicking 600 plants from the several thousands at the nursery to select ones with the biggest blooms, matching colors and sizes.

"The plants have to be 18 inches tall -- no more, no less -- to fit in the tree. I went around with a little bamboo stick measuring each one. That's how crazy I am. All people see is the beautiful poinsettia tree, but they don't know how I have to suffer for it," says Chock.

Chock, who has a bachelor's degree in landscape architecture from the University of Oregon, orders rooted cuttings from mainland suppliers and begins growing his crop in June. He keeps his plants in greenhouses to protect them from harsh weather, and spaces the plants far apart to give them plenty of room to grow.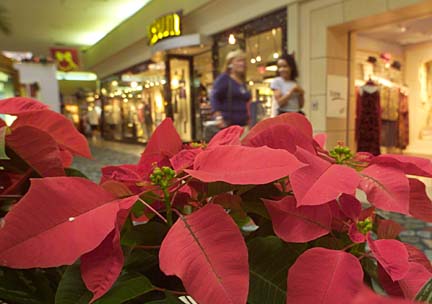 CRAIG T. KOJIMA / CKOJIMA@STAR-BULLETIN.COM
About 600 poinsettia plants are needed to complete all the
holiday displays at Kahala Mall.
---
"I can keep the plants closer together to save on the cost, but then the plants wouldn't grow the same. If you give them a lot of space, they can really branch out, and you can get a nice, full shape. Plus the plants can get plenty light so the color will be nice," Chock says.

His plants are fertilized regularly and receive treatments to prevent insect and disease damage.

Genetic engineering has helped the timing of the blooms (by Thanksgiving and then in early December), but Chock can never be sure of how well things turn out every year.

This year, for some reason, his salmon pink poinsettias are particularly good looking, he says, and his customers have snapped most of them up. He also grows a white variety in addition to red poinsettias, which are about 90 percent of his crop. He says he is happy with the quality of his crop this year, although the plants are blooming later than he expected.

"For as long as I've been doing this, which is since 1982 when I started the nursery, I never quite know what I am going to get every year. I can do everything the same, but dealing with Mother Nature can be so frustrating," Chock says.

Kahala Mall gives them away in January

You can't buy Thomas Chock's poinsettias just anywhere; only high-end florists carry them and prefer not to reveal they come from Chock. But he plans to sell his off-grade and late-blooming plants to the public during the two weekends before Christmas.

Look for him on Farrington Highway near Hakimo Road Dec. 15, 16, 22 and 23. Hours are flexible; call 668-7760.

Or, you can get a poinsettia for free if you can wait until after Christmas. Kahala Mall gives away its plants when the giant poinsettia tree is dismantled. The giveaway is usually in the second week in January.

Shoppers aware of the tradition line up before the mall opens to get the best plants. By 10:30 a.m. they are usually all gone. Call 732-7736 after Christmas for the date. One plant per person, please.

Chock says the best way to care for poinsettia is to water thoroughly every few days. Let the soil dry out between each watering. If you want the plant indoors, place it by a window where it can get plenty of light.

The plant should last through Christmas, but it's not worth it to try to keep it for next year. Poinsettia requires a lot of care and is prone to white fly infestation. Even if the plant stays alive, it won't bloom well.





---

Suzanne Tswei's gardening column runs Saturdays in Today.
You can write her at the Star-Bulletin,
500 Ala Moana, Suite 7-210, Honolulu, HI, 96813
or email stswei@starbulletin.com
E-mail to Features Editor
---
---
© 2001 Honolulu Star-Bulletin
http://archives.starbulletin.com