CLICK TO SUPPORT OUR SPONSORS

---

---
Thursday, November 22, 2001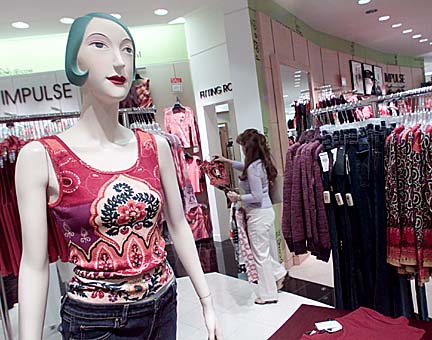 GEORGE F. LEE / GLEE@STARBULLETIN.COM
Macy's has changed the Liberty House department
store in Ala Moana Center to reflect its own style.
The store opens as Macy's tomorrow.
---



Starting tomorrow, Liberty House
becomes a Christmas shopping
memory while a national chain
faces a melancholy Hawaii
retail market

Backgrounder

---

By Rick Daysog
rdaysog@starbulletin.com

Even for the casual shopper, the difference is obvious. A larger women's shoe department, more upbeat fashions and increased attention to customer service.

Macy's, is banking that big changes will transfer to the cash register.

Tomorrow, Macy's will change all 18 Liberty House department stores and specialty outlets to its own brand. The move comes after the retailer's parent company, Federated Department Stores Inc., acquired 152-year-old Liberty House for $200 million in July, soon after it emerged from three years in bankruptcy protection.

"Of course, Macy's is going to do the job better than Liberty House did during the last 10 years," said Marty Plotnick, president of Creative Resources Inc., a local marketing analysis company. "They're going to be focused as a department store and not as an investment to bleed."

Stephany Sofos, president of S.L. Sofos & Co., a local real estate consulting firm, believes that Macy's will be able to run the former Liberty House franchise much more efficiently than its former owners, Chicago-based JMB Realty Corp., Los Angeles-based Oak Tree Capital Management LLC and Massachusetts-based DDJ Capital Management LLC.

GEORGE F. LEE / GLEE@STARBULLETIN.COM

---
As a unit of the Federated retail chain, the company can use its considerable leverage to negotiate the lowest prices from its vendors. And due to its size, the company can better spread its expenses, Sofos said.

"They're sitting in the best position," she said. "They have the biggest stores and better economies of scale."

Deena Nichols, Macy's senior vice president and director of its Hawaii stores, said Macy's sees opportunity in its acquisition and makeover of the Liberty House stores, despite the economic downturn since Sept. 11.

Although the local operations would be hard pressed to match the $400 million-plus in revenues that Liberty House enjoyed in the early 1990s, Macy's sees plenty of room to improve Liberty House's $289 million in sales last year.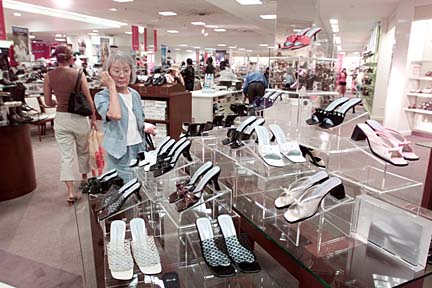 GEORGE F. LEE / GLEE@STARBULLETIN.COM

---
Nichols said that Macy's has spent $15 million on the conversion process, which includes store upgrades as well as new computer and telephone systems.

For the busy holiday shopping season, Macy's also has brought in $10 million in new merchandise at its flagship Ala Moana store to complement its current $30 million inventory.

For Nichols, the goal is to create a more dynamic and interactive shopping experience for its customers.

Under the so-called "retailer theater" concept developed at its San Francisco department store, the Macy's approach is distinguished by bold, colorful in-store designs that call attention to product displays.

Customers also will notice in-store kiosks and booths where they can pick up samples or receive a makeover.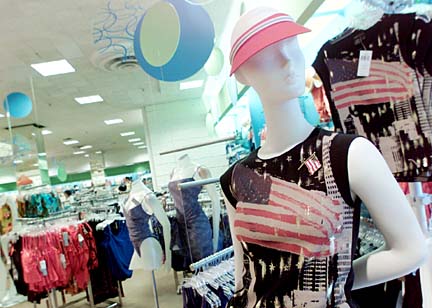 GEORGE F. LEE / GLEE@STARBULLETIN.COM

---
As for the merchandise, the retailer will have an aggressive markdown policy. If a product doesn't move in three months, the retailer will reduce its price 25 percent to keep its inventory fresh, Nichols said.

"We don't use a lot of the techniques used in the past by Liberty House and in many other discount-oriented stores where they put a lot of tables or chrome fixtures in aisles," Nichols said. "We want to create inviting environments that allow the consumer to see the whole breadth of assortments."

Nichols said the company plans to phase in the additions over the following year.

But the changes are already present in the company's flagship Ala Moana Center store, including:

>> An expanded women's shoe department. Macy's said it recently doubled the size of its women's shoe department to about 8,000 square feet.

>> Upgraded table top, home textiles and home features departments, featuring upscale brands like DKNY, Waterford and Wedgewood.

>> A new upscale juniors section dubbed Impulse, which features trendy fashions from designers like Max Studio and BCBG. Macy's has added the same section at its Waikiki store.

>> A larger section for women's size. The old LH Women's section, which will be renamed Macy's Woman, will go from 2,400 square feet to about 8,000 square feet.

Nichols said that Macy's will avoid the mistake that plagued Liberty House's previous owners.

During the late 1980s and early 1990s bubble years, local customers often complained that the retailer targeted upscale Japanese tourists at their expense.

And when economic bubble burst, purchases from the Japanese visitors tumbled while local customers shopped elsewhere.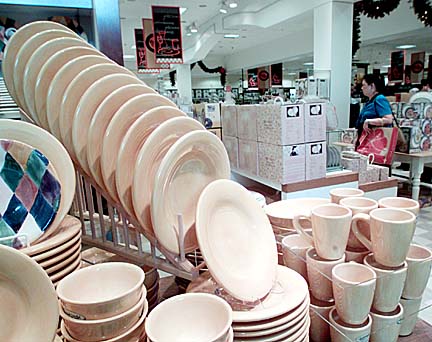 GEORGE F. LEE / GLEE@STARBULLETIN.COM

---
Nichols -- saying she's heard the same complaint from many of Liberty House's current employees -- said the retailer's main focus will be the local customer.

The retailer will implement a nationwide one-price network where Hawaii customers will pay the same price that a mainland buyer would pay for the same product.

Macy's is also beefing up its inventory from local manufacturers, Nichols said. Vendors like Tori Richards, Reyn Spooner and Young Hawaii will continue to be displayed prominently in the Ala Moana Center store.

"We've learned to be very strategic about doing things," Nichols said. "We come to the islands to listen, look and learn."




About Macy's

The West

Established: 1850
Parent: Federated Department Stores Inc.
Chief Executive Officer: Jeremiah Sullivan
Annual Sales: $4.6 billion
Stores: 137
Employees: 30,000

Macy's Hawaii

Established: 1849 as Hackfeld's Dry Goods
Top Executive: Deena Nichols (Senior vice president and director of stores for the Hawaii region)
Annual Sales: $289 million
Stores: 18
Employees: 2,500



E-mail to Business Editor
---
---
© 2001 Honolulu Star-Bulletin
http://archives.starbulletin.com