CLICK TO SUPPORT OUR SPONSORS

---

---
Tuesday, November 20, 2001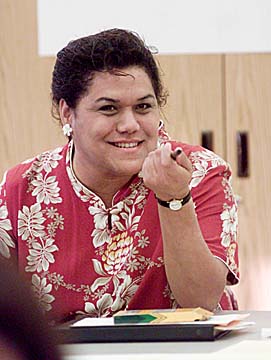 KEN IGE / KIGE@STARBULLETIN.COM
University of Hawaii professor Kerri-Ann Hewett
directs a class for Leeward teachers.
---
Some new teachers
tread slippery path to
balance discipline, culture


Mainland transplants get extra help
to learn about island attitudes

Second of two parts | Part One

---

By Pat Gee
pgee@starbulletin.com

What does a teacher do if a student speaks pidgin English in class? Tell him to speak "standard English" or allow him to continue with the pidgin out of respect for his culture?

And if a student says he did not do his homework because he lives on the beach and does not have electricity, should it be treated on the same level as "My dog ate my homework"?

These are just two examples of the issues facing new teachers, many from the mainland and unfamiliar with the local culture.

To help them become better teachers and understand Hawaii's particular cultural attitudes, University of Hawaii professor Kerri-Ann Hewett, who specializes in how to teach Hawaiian children, leads a semester-long class called "Teaching Strategies for Leeward Teachers in a Diverse Culture."

The Hawaii State Teachers Association sponsors the bimonthly classes for $25 a head and four professional credits.

KEN IGE / KIGE@STARBULLETIN.COM
Susan Bitler, a Hawaii State Teachers Association
field representative, talked to a class of Leeward
teachers about pidgin at a recent session at
Kapolei High.
---
At the Leeward seminar recently, the topic was pidgin in the classroom. Hawaii-born Lee Matsumoto, a Campbell High School teacher, said he "switches from pidgin to standard English" to "get the message across" more efficiently and sometimes as a tension breaker. Some of his students can speak only pidgin.

HSTA field representative Susan Bitler interjected, "Many students don't know they're speaking pidgin until an adult tells them."

Monica Hilty, a second-year teacher at Waipahu Elementary School originally from Pennsylvania, said she does not "allow pidgin in my class. There's a time and place for it -- like recess. But I teach standard English. They need to learn to look me in the eye, not at the ground -- because that gives a bad impression -- speak up and answer me properly. If they go for a job and they speak pidgin, that's when they'll feel as if they don't fit in."

But Hewett pointed out that "in some cultures we're taught not to make eye contact to show respect. If you look at a grown-up in the eye, you're thought of as a smarty-pants. If you explain the difference, it's OK."

She added that teachers should "prepare students to be successful in two worlds" -- their family and friends, and any arena in which standard English is important.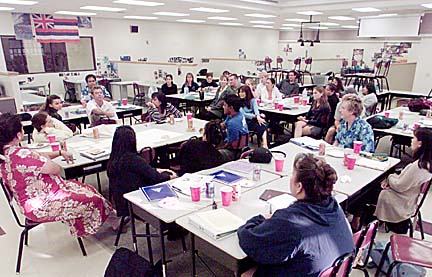 KEN IGE / KIGE@STARBULLETIN.COM
University of Hawaii professor Kerri-Ann Hewett
said teachers should "prepare students to be
successful in two worlds" -- their family
and friends, and any arena in which
standard English is important.
---
Jonah Kaye, a special-education teacher at Waianae Intermediate who recently moved from the mainland, brought up the subject of how important it was to build self-esteem as a key to helping students learn. He was told by other teachers, "Don't crack a smile until December," in order to get students to respect him, but "I don't know how to be a disciplinarian, and I don't want to be one."

Behavior worsens when his students feel pressure to perform a task they dislike, so he tries to put their self-esteem first.

"But I'm worried that the administrators will come in and say something like, 'You guys aren't even on fractions yet.' I'm worried about not being a great educator," Kaye said, as others in group nodded in agreement.

Patrice Burgener, a first-year teacher at Lehua Elementary School, said she tries to make her students "feel safe and have fun" by teaching in a laid-back way.

Hilty said she has found that "kids will respect you a whole lot more if they like you. A lot of praise and encouragement works" to make them want to learn instead of detaining them after school.

Bitler said there has to be a balance between building self-esteem and getting schoolwork done by making special accommodations for the child if their home situations are not conducive to studying.

"You'd be surprised how many kids don't do their homework because they don't have electricity. They may live on a beach or out of a car, or in someone else's back yard. They're ashamed so they don't admit it," she said.

Bitler suggested having students come in to school early or stay during recess or after school to do their work.

Hewett agreed that offering such options will make students take the responsibility of doing their homework instead of making excuses.

"That's building self-esteem, making students take responsibility so teachers don't become homework whip masters. Allowing them to make excuses perpetuates the stereotypes of 'lazy Hawaiians' who are irresponsible, always late, or that they never do their homework," she said.

But Hewett advised teachers to "be sensitive to the culture at home" to understand why a student may perform the way he or she does.

"For many, many children, school is heaven -- it's you and their classrooms and lunch, which is probably the best meal they'll have all day. They probably have responsibilities that you and I can't even imagine. They may get lickings if they didn't make the rice or didn't rake the leaves. They may come from generations of cultural experiences (such that) their daddy doesn't work, their mommy doesn't work and they're on welfare. Or daddy beats up mommy," she said.

"Any kind of positive interaction you can give them -- a hug, some praise, a smile -- that is dynamically the best thing that can happen to them," Hewitt said. "We have to remind ourselves that beyond reading and writing, to many children you are their lifeline. If they don't have you, they're in plenty trouble, plenty trouble. The Leeward Coast children are very lucky to have you."
E-mail to City Desk
---
---
© 2001 Honolulu Star-Bulletin
http://archives.starbulletin.com