CLICK TO SUPPORT OUR SPONSORS

---

---
Tuesday, November 20, 2001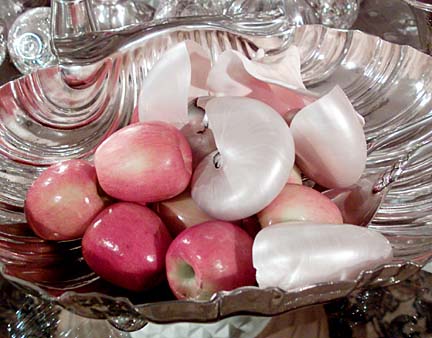 CRAIG T. KOJIMA / CKOJIMA@STARBULLETIN.COM
>> 1: With their bright red color and smooth skins,
ripe apples are the perfect complement to shiny table
accessories. Here, the apples are paired with polished
nautilus shells and placed in a giant Cipolla pewter
punch bowl, at one of the Neiman Marcus-decorated
tables at C. S. Wo.
---
Tables of Content


Festive holiday table settings
make glorious use of the
humblest of ingredients

---

By Suzanne Tswei
stswei@starbulletin

Persimmons, apples, pears, cranberries and walnuts aren't just for eating. Their rich colors and textures also are the perfect trimmings for festive holiday table settings.

A vivid orange persimmon can go a long way in adding a creative dash of color to a table. And what's more, fruit are inexpensive and, in a one-night party setting, perfectly edible at eve's end.


Douglas Jago, visual presentation manager for Neiman Marcus, and his staff designed eight festive tables with a winter harvest theme, on view through next Tuesday at C.S. Wo Gallery.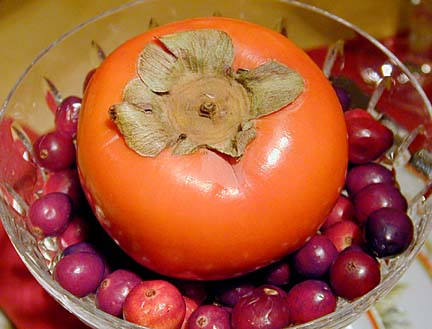 CRAIG T. KOJIMA / CKOJIMA@STARBULLETIN.COM
>> 2: Hermes le Jardin de Pythagore, is a
whimsical presentation of pomegranate served
atop cranberries. Actually, the idea here is not
about dessert but about bringing the rich of
colors of fall to the holiday table.
---
The pictures presented here offer a few ideas to start with. Add some fresh flowers and sparkly elements, such as beaded place settings, for a personal touch, he advises. Choose a color scheme to complement your china and linen.


A vase filled with cranberries and topped with tulips can be a centerpiece in itself.

A bowl of water lettuce and fresh lilies can last through the holiday season with refills of clean water.

One trick to remember when using cranberries is to fill a vase with the fruit before adding water, otherwise the berries will float. They can easily last a week without refrigeration.

C.S. Wo Gallery is at 702 S. Beretania St. Store hours are 10 a.m. to 7 p.m. weekdays and 10 a.m. to 6 p.m. weekends. The store will be closed Thanksgiving Day. Call 543-5388 for more information.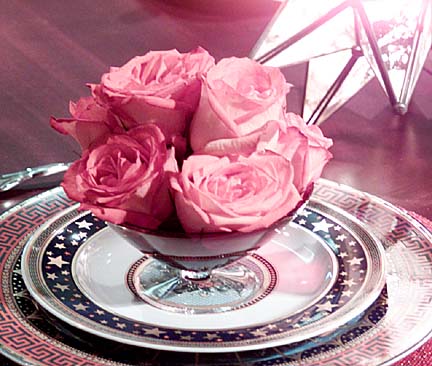 CRAIG T. KOJIMA / CKOJIMA@STARBULLETIN.COM
>> 3: At the Versace table, pink is the color
scheme, including a delicate compote of roses.
Save a few Christmas ornaments for the table
after you're done trimming the tree. Hang them
on a wire Christmas tree with a couple of star
lanterns to create an eye-catching table.
---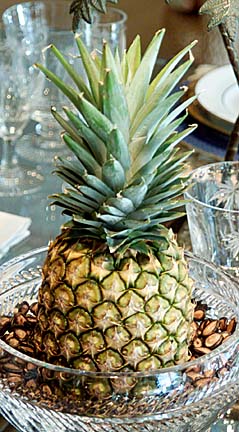 CRAIG T. KOJIMA / CKOJIMA@STARBULLETIN.COM
>> 4: All you need is one pineapple, some
preserved watermelon seeds and a clear glass
or crystal bowl for this centerpiece. As a bonus,
the fresh scent of the pineapple will add to a
home's festive atmosphere.
---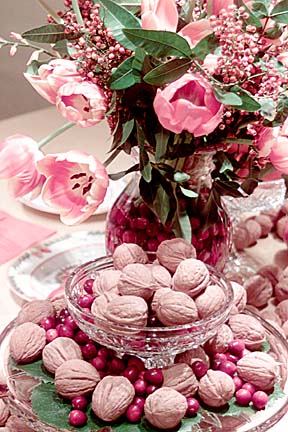 CRAIG T. KOJIMA / CKOJIMA@STARBULLETIN.COM
>> 5: At the Hermes le Jardin de Pythagore table,
a cake dish pulls a little overtime duty as a vessel
for earthy walnuts and cranberries. Place a nutcracker
next to the arrangement and don't be surprised if the
dish is left bare by the end of a party.
---




Click for online
calendars and events.
E-mail to Features Editor
---
---
© 2001 Honolulu Star-Bulletin
http://archives.starbulletin.com