CLICK TO SUPPORT OUR SPONSORS

---

---
Island Images



Saturday, November 17, 2001
---
CHRISTMAS TREE COMING TOGETHER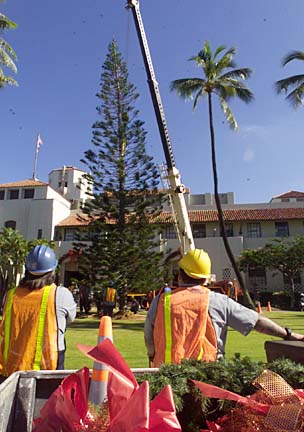 KEN SAKAMOTO / KSAKAMOTO@STARBULLETIN
City workers placed a 65-foot-tall Christmas tree, donated by
Mr. and Mrs. Francis Arrastia, on the front lawn of Honolulu
Hale yesterday. The crew will begin decorating the tree Monday
in preparation for the tree-topping ceremony Friday, and
opening night ceremonies Dec. 1.
---
TIME FOR SOME FOOD AND A SNOOZE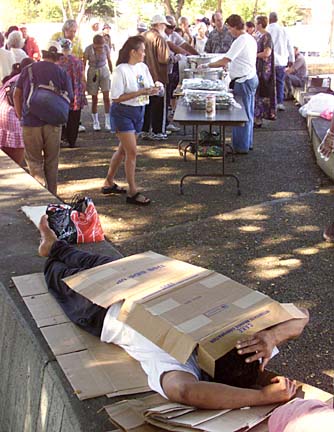 KEN SAKAMOTO / KSAKAMOTO@STARBULLETIN.COM
Members of the Aloha Harvest social services network served
food yesterday to those in need at Aala Park as one man rested
nearby. Aloha Harvest, founded in 1999, collects and delivers
free food as a complement to other anti-hunger programs.
---
NO IFS, ANDS OR BUTTS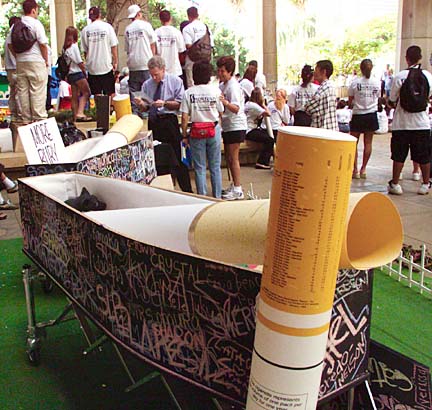 KEN SAKAMOTO / KSAKAMOTO@STARBULLETIN.COM
The Great American Smokeout's 25th anniversary was observed
Thursday at a rally in the state Capitol courtyard, where teenagers
put the "Big Butt" to rest in its ashtray. The Smokeout is an
annual national event, aimed at encouraging smokers to quit,
that grew out of a 1971 event in Randolph, Mass., asking people
to give up cigarettes for one day and to donate the money saved
to a high school scholarship fund.
---
E-mail to City Desk
---
---
© 2001 Honolulu Star-Bulletin
http://archives.starbulletin.com