CLICK TO SUPPORT OUR SPONSORS

---

---
Saturday, November 17, 2001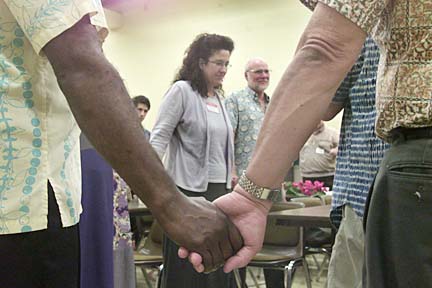 DENNIS ODA / DODA@STARBULLETIN.COM
Participants at last Wednesday's interfaith fellowship dinner
and discussion prayed at the Nuuanu Congregational Church.
The church will be the scene of an Interfaith Thanksgiving
Eve Service at 7 p.m. Wednesday.
---
Hands across a
wounded land


Some 50 Oahu churches will unite
for prayer and a social services
expo on Thanksgiving Eve

A seasonal tradition of ecumenical
services continues across Oahu

---

By Mary Adamski
madamski@starbulletin.com

Hundreds of islanders headed for church when they were hit with the shocking news of the Sept. 11 attack, and the Sunday head count continues to be high as people struggle with emotional turmoil, job loss, war and other effects.

That response planted the seed for a Thanksgiving Eve Christian prayer rally, "For Such a Time," which will open at 7 p.m. Wednesday at Stan Sheriff Center.

"Out of a horrible tragic situation, we are hoping to bring a lot of good will," said the Rev. Dan Chun, pastor of First Presbyterian Church of Honolulu. Chun brought the organizational resources of Hawaiian Island Ministries, which he founded, to bear in planning the event, for which he secured grants from the Hawaii Community Foundation, Harold K.L. Castle Foundation and First Hawaiian Bank.

The congregations of at least 50 Oahu churches are expected to participate, said Chun, who predicts that as many as 9,000 people will attend.

"Praying and practical help" are planned, he said, with 18 social service organizations lined up to operate booths outside the arena. Information on education, jobs, credit counseling, family services, food and other help for the needy will be available, as well as opportunities for church people to sign up as volunteers.

"One of the things it hopefully will do is cause churches to recognize they are not isolated groups interested in protecting ecclesiastical turf," said the Rev. Steve Murphy of Olivet Baptist Church. "We are bigger than any church; we are kingdom people. We want to join in prayer with the much larger Body of Christ at a critical time in this nation."

Nuuanu Baptist Church has canceled its usual Thanksgiving Eve Chinese dinner, one of several events that individual congregations canceled in order to be part of the bigger picture. Nuuanu Baptist pastor the Rev. Rick Lazor said, "I'm telling people I think it is a watershed event.

"What seems to be happening among evangelical, charismatic churches is a oneness I've never seen," said Lazor, a Honolulu pastor for 26 years. "We have had fits and spurts of unity, but the course we're on now I've never seen. Sept. 11 was a catalyst."

Unlike the usual interfaith trend for Thanksgiving services, it is a definitely Christian event.

Representatives of the Catholic and Episcopal dioceses will be among the prayer leaders, as will mainline Protestants. But to stress the theme of unity, no one will be introduced by denomination, said Chun.

"For Christians, who want to pray to Jesus Christ, it's not that they are trying to be exclusive, but they realize this is what they do best," Lazor said. "It's an accomplishment enough to get a variety of denominations of Christians together!"

"For Christians to stand up and say we have a distinctive message is not exclusionary at all. If we believe Jesus is 'the way, the truth and the life,' we need to lovingly say so," he said.

Waianae Assembly of God pastor Jeff Yamashita, whose members also canceled a Thanksgiving event to join in, said that unlike the usual Christian arena event, "this is not meant to be a concert, not an evangelizing crusade. We are coming together in unity. We all have our doctrines and theology, but we all want to seek God's direction.

"There is an urgency, I think. We all had the same urgency."

Yamashita said he sees adding the element of social service agencies as important. "That is our job, the ministry of caring. My thought is that government shouldn't have gotten involved in welfare in the first place. The churches will be taking back what belongs to us. We have a big responsibility in addressing the social ills of the community.

"We need to reach out. We need to be unified, to do it together and work with social agencies," Yamashita said.

"People have got to have hope."

---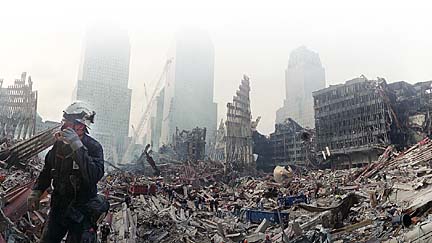 ASSOCIATED PRESS / SEPT. 24, 2001
From the Sept. 11 attacks sprouted Wednesday's Thanksgiving
Eve service at the Stan Sheriff Center. "Out of a horrible tragic
situation, we are hoping to bring a lot of good will," said the
Rev. Dan Chun, pastor of First Presbyterian Church of Honolulu.
Shown are rescue workers at the ruins of the World Trade Center.
---
A seasonal tradition of
ecumenical services
continues across Oahu

---

By Mary Adamski
madamski@starbulletin.com

"We hope there will be a place at the table for everyone," said the Rev. Thomas Fujita.

The Nuuanu Congregational Church pastor was speaking to an interfaith gathering Wednesday night, expressing not just Thanksgiving plans, but a broader theological theme. He and other panelists explored how their religious philosophies can be open to each other in the pluralistic society.

The church at 2651 Pali Hwy. will be the scene of an Interfaith Thanksgiving Eve Service at 7 p.m. Wednesday.

The idea of sharing the holiday is 40 years old in the Nuuanu Valley worshipping community. They started at a time when it was unusual for Catholics to join Protestants at services, let alone having the Buddhists of Honpa Hongwanji Betsuin and the Jewish congregation of Temple Emanu-El join the Christians.

It's a theme that has become popular in modern times when diversity has become a political goal, and never more avidly sought than the past two months as people want to show a unified front in adversity.

This year, the Muslim Association of Hawaii will join the Nuuanu mix, which also includes the Hawaii Baha'i Community, the Brahma Kumaris (Hindu) Meditation Center and First Unitarian Church.

"We each bring a unique flavor and texture," Fujita said, comparing the eclectic roll call to the ingredients in a stew.

Unitarian pastor Mike Young said, "The basic assumption that hovers in back of each of us is that this is the only place where the truth is." He instigated the preview session, attended by 50 people, with the goal of deepening everyone's appreciation of the shared participation coming up Wednesday night.

The message will be offered by Sister Joan Chatfield, a Maryknoll nun who serves as a nongovernment organization representative at the United Nations and was formerly active in ecumenical efforts here.

The 14 congregations represented in the program of music, readings and prayers will also include Aldersgate United Methodist Church, Community Church of Honolulu, Harris United Methodist Church, First United Methodist Church, Nuu Lotu Congregational Church, Judd Street United Church of Christ and St. Stephen's Church.

The service is open to the public.

Other ecumenical Thanksgiving services include:

>> Central Oahu Community Service. The Wahiawa Ministers Association will sponsor a 7 p.m. Wednesday celebration of patriotism and thanksgiving at Our Lady of Sorrows Church, 1403 California Ave. The Rev. John L. Parish of Wahiawa Christian Church will speak. Food and cash offerings will support the Wahiawa community food banks.

>> Windward Coalition of Churches. Thirteen congregations will gather at 7:30 p.m. Wednesday at Kailua United Methodist Church. "Give Thanks in All Circumstances" will be the topic of the Rev. Al Miles, head of chaplaincy services at the Queen's Medical Center. Attendees are asked to bring canned goods for the food pantry at St. Anthony's Church, and cash donations will benefit the coalition's Prison Scholarship Fund.

>> Honolulu. Central Union Church, scene of the longest-running ecumenical Thanksgiving Day service, will host 10 congregations and service agencies at a 9 a.m. Thursday program. "Transforming Tragedy into Thankfulness" will be the theme. The Rev. Vaughn Beckman of First Christian Church will speak, and the Honolulu Boy Choir will sing.





Click for online
calendars and events.
E-mail to Features Editor
---
---
© 2001 Honolulu Star-Bulletin
http://archives.starbulletin.com