CLICK TO SUPPORT OUR SPONSORS

---

---
Friday, November 16, 2001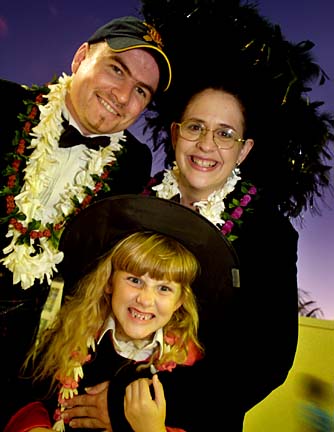 DENNIS ODA / DODA@STARBULLETIN.COM
Pete and Timmie Sinclair, with daughter,
Brynna, 6, dressed up last night to attend
the new Harry Potter movie at the Ward Theater
complex. Timmie Sinclair had won 200
tickets to the film.
---
'Harry' bewitches
young crowds


Isle Potter fans give
the film thumbs up

Ticket winners find chilling reception
Some Christian leaders concerned

---

By Scott Vogel
svogel@starbulletin.com

Whether we're talking Hagrid or Madam Hooch, Hermione or Hogwarts, one thing's for sure: Honolulu is just wild about Harry.

Or such was the consensus at last night's preview screening, when several lucky young children from the Voyager Charter School got an advance peek at the heavily hyped, yet nevertheless much-anticipated blockbuster-in-the-making, "Harry Potter and the Sorcerer's Stone."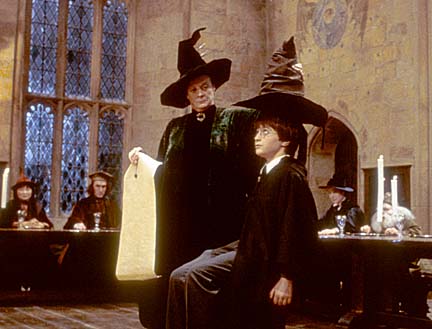 WARNER BROS.
Harry encounters the Sorting Hat.
---
Thanks to a Web site design contest won by her mom, 6-year-old Brynna Sinclair and her classmates did not have to brave long lines in search of the town's hottest ticket. But if this merry band of kid critics and their parents is any indication, a date with "Harry," which opens nationwide today on over 8,000 screens, is well worth any hoops you might have to jump through, not to mention any golden Galleons you might have to cough up, on the way to the theater.

"It was great," said Anthony Aiello, 8, dressed in full wizard regalia, sorcerer's hat and magic wand included.

Similarly enthusiastic was his mom, Tonya. "It was very true to the book and was actually what he and I had visioned," she said.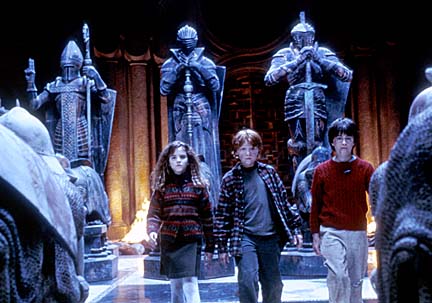 WARNER BROS.
From left, Hermione Grainger (Emma Watson), Ron
Weasley (Rupert Grint) and Harry Potter (Daniel Radcliffe)
are allies in magic in "Harry Potter and The Sorcerer's Stone."
---
"I haven't read the book," confided Anthony's dad, Tom, somewhat sheepishly. "But usually when I watch a movie, I know five minutes into it what's going to happen. This was fun, though."

"It's very, very good," said Timmie Sinclair, the aforementioned contest winner, before reconsidering and adding a third "very." That said, "They needed about six more hours. Because it's film, it's like the highlight reel of the book. You don't get a lot of the character depth."

That mild bit of carping aside, Harry seemed to meet with unanimous approval.

But wait. Isn't there anything the book's adapters might have done to make this a better movie? (After all, didn't one kid critic from London sniff that Harry bears a striking and unhappy resemblance to that woman on "The Weakest Link"?)

"Nothing," stated 12-year-old Marcella Davila flatly. In fact, she's already made plans to return tomorrow and sit through all 2 1/2 hours again.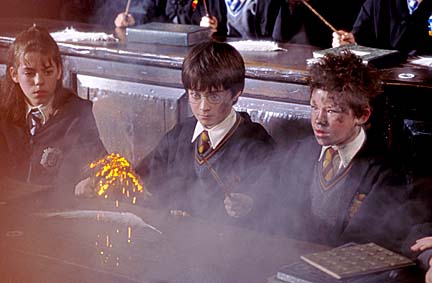 WARNER BROS.
Harry Potter (Daniel Radcliffe) and Seamus (Devon
Murray) are surprised by the sudden explosion
of a magic wand.
---




Click for online
calendars and events.
E-mail to Features Editor
---
---
© 2001 Honolulu Star-Bulletin
http://archives.starbulletin.com