CLICK TO SUPPORT OUR SPONSORS

---

---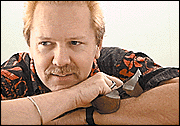 Island Mele



Friday, November 16, 2001
By John Berger
---
"Holomua"

Sean Na'auao
Poi Pounder

The title translates as "progress, improvement" and describes Sean Na'auao's first album of traditionalist Hawaiian music perfectly. With luck it will inspire younger Jawaiian and "island music" artists who say that they don't play Hawaiian music because they don't speak Hawaiian to start learning. That's what Na'auao is doing, and "Holomua" is a big step forward.

Most of the songs are modern. Na'auao and his wife, Kaui Dalire Na'auao, wrote two of the sweetest; he wrote two more with other lyricists. Na'auao also draws on the work of Kawaikapu Hewett and Dennis Kamakahi. "Lepe 'Ula'ula" and "Aloha 'Oe" honor older traditions. Lorna Lim and Jerry Santos guest on separate tunes, and Greg Sardinha's steel guitar adds grass-roots ambience, but Na'auao remains an appealing vocalist.

www.mountainapplecompany.com

---




"My Soul Sings"

Shanita Akana
No label

Shanita Akana produced her debut album with donations from friends and an assist from Pierre Grill. Her voice is a glorious instrument, and the resourceful Grill surrounds her with a richly textured electronic symphony. The arrangements range from the exquisite simplicity of a single voice and acoustic piano to a multilayered choir and expansive, powerful orchestra.

"Give Them Jesus" is one of six original statements of Christian faith. It was written before the Sept. 11 attacks but is even more relevant now in helping kids deal with the trauma of inexplicable events. It is a stand-out number in a spectacular debut by a Christian artist who is well worth hearing.

shanita@catholic.org

---




"Progression"

Sean Na'auao
Poi Pounder

With "Progression," Na'auao, a leader in the "island music" scene, again brings fresh ideas to the search for a truly original Hawaiian approach to reggae-beat music. There's a generic Jawaiian remake or two to ensure play on Hawaii's "island music" radio stations, but his best work uses reggae rhythms in a broader context.

Remakes of "Easy" and "Let's Stay Together" are imaginative and non-Jawaiian in style. "Hawaiian Warriors," one of six originals, adds a catchy nationalist anthem to the collection.

www.mountainapplecompany.com





---




John Berger, who has covered the local
entertainment scene since 1972, writes reviews of recordings
produced by Hawaii artists. See the Star-Bulletin's Today
section on Fridays for the latest reviews.
E-mail to Features Editor
---
---
© 2001 Honolulu Star-Bulletin
http://archives.starbulletin.com