CLICK TO SUPPORT OUR SPONSORS

---

---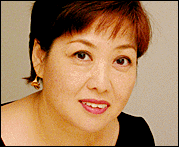 In The Garden



Friday, November 16, 2001
By Suzanne Tswei
---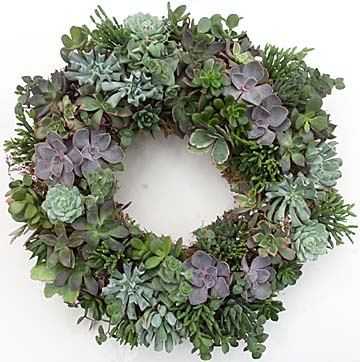 KEN SAKAMOTO / KSAKAMOTO@STARBULLETIN.COM
---



Take a succulent approach
to create holiday decorations
that endure for weeks

Cacti and succulents tend to be lumped together in one breath. To be absolutely correct, all cacti are succulents but not vice versa. All cacti are succulents to varying degrees and belong to one family, Cactaceae, whereas succulents can belong to many different plant families.

The one common trait, whether cacti or succulent, is the plant's ability to store water, which makes them hardy and an unexpected alternative for maintenance-free holiday decorations.

If you've never tried succulent corsages or wreaths for the holidays, the Cacti and Succulent Society of Hawaii will show you to how to make them next week at the organization's annual holiday sale. Succulent aficionados will be on hand to share plant tips as well as demonstrate techniques for creating various types of living wreaths and corsages.

The sale will include plants, materials for wreath and corsage making, and finished wreaths and corsages. The sale will be held at the Ewa end of Ward Warehouse from 9 a.m. to 4 p.m. Nov. 24.

Here is a preview of the how-to techniques the experts will be sharing.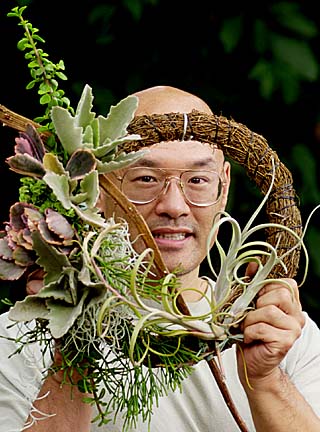 DENNIS ODA / DODA@STARBULLETIN.COM Michael Miyashiro, president of the Cactus & Succulent Society of Hawaii, holds a wreath made of succulents. A Buri wreath available at craft stores forms
the base. Attached to it by wire are Kalanchoe Aurora
Borealis, Rhipsalis, Curly Pussy Willow , Portubra,
Spanish moss and Tillandsia paucifolia.
---
For corsages:

1. Select succulent cuttings. For added interest, include other types of flowers, leaves or seed pods. You need only three to four pieces of plant material to make a corsage.

2. Wrap each cutting or plant material with florist wire and tape.

3. Gather the stems in an arrangement you prefer. Wrap together with florist wire.

4. Add a ribbon or lace bow and a corsage pin, and it is ready to wear. Afterward, you can take the corsage apart and plant the succulents to begin new plants.

For a wreath:

1. Select succulent cuttings or plants. Feel free to include other material, such as a dried curly branch as Michael Miyashiro has done for the finished wreath pictured on this page.

2. Use a wreath base with a wire loop on back for hanging. Our example is a buri wreath available at craft stores, but other types will do also.

3. Place the plant materials onto the wreath and secure with florist pins. Use raffia or string to wrap the plant materials onto the wreath. The wrapping ensures the wreath won't fall apart before the holiday season is over.

4. Add some Spanish moss, or Pele's hair, with florist pins, a bow or Christmas bells, and the wreath is ready for hanging.

The succulents will attach themselves to the wreath and continue to grow. To maintain it as a living wreath, it's best to keep the wreath in plenty of light and mist it with water regularly. Remember succulents don't like too much water, so go lightly with the misting.




Plant Sale

Presented by the Cacti and Succulent Society of Hawaii

Place: Ewa end of Ward Warehouse
Time: 9 a.m. to 4 p.m. Nov. 24
Call: Nathan Wong, 522-7063, or Michael Miyashiro, 591-9999








---

Suzanne Tswei's gardening column runs Saturdays in Today.
You can write her at the Star-Bulletin,
500 Ala Moana, Suite 7-210, Honolulu, HI, 96813
or email stswei@starbulletin.com
E-mail to Features Editor
---
---
© 2001 Honolulu Star-Bulletin
http://archives.starbulletin.com